Texturize & Stabilize your Formulations with our Wide Range of Premium Specialties
For producers creating dairy alternatives, and plant-based products, the challenges revolve around building a desirable and indulgent texture, and a formulation with stable shelf-life.
In this interview, Bastien Berepion, Ph.D., Technical Support Manager, highlights the potential of Nexira's all-natural hydrocolloids. Locust bean gum, Tara, Guar and Acacia are all selected for their unique texturizing, stabilizing and emulsifying properties.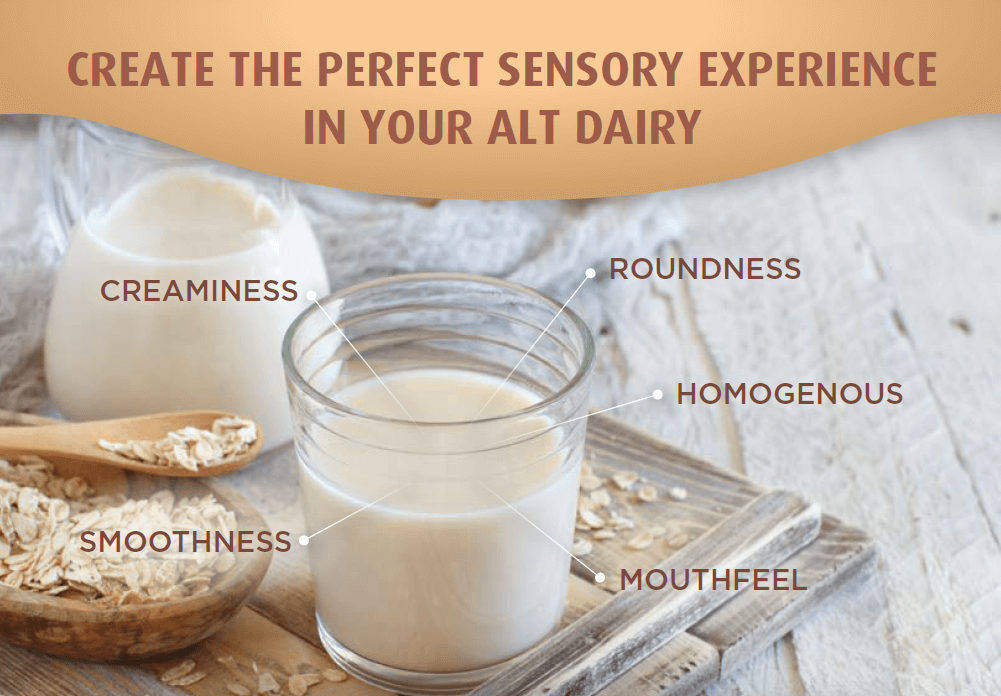 What specific ingredients related to non-dairy options do you offer brands in food and beverage development applications, either sweet or savory?
With more than 125 years of experience, Nexira offers premium plant-based solutions specifically designed for the successful development of non-dairy innovations formulated to fulfill consumer expectations for sensory experiences and clean-label products. Our range includes natural and clean label hydrocolloids for texture improvement, such as acacia fiber, locust bean gum (LBG) a/k/a carob, tara, and gellan. We also have ready-to-use blends of natural hydrocolloids that make formulation easier for our customers.
What unique benefits do your non-dairy ingredients offer to food and beverage manufacturers? Nutrition? Texture? Color? Taste? Other?
Nexira's all-natural hydrocolloids are selected for their unique texturizing, stabilizing and emulsifying properties.
VIDOGUM™L, our premium line of LBG, is extremely white without black specks, and suitable for products that pass through a heating process; it brings a creamy, typical mouthfeel.
Our naltive LBG is best-in-class: it develops the highest viscosity at lower temperature, as compared to regular LBG. This results in smoother texture, improved creaminess, and controlled syneresis, especially in case of rising temperature throughout the process. Due to this special functionality, naltive LBG is fully efficient at lower processing temperatures (50°C), providing texturizing properties, while protecting the nutritional properties of the food matrix.
VIDOGUM™SP, our range of Tara, is utilized primarily for products which require a unique mouthfeel such as mayonnaise and dressings. VIDOGUM™SP delivers high viscosity to cold-processed products, and develops a higher viscosity after heat treatment.
VIDOGUM™GH, our Guar Gum range, provides a longish texture which is frequently appropriate in applications such as sauces. VIDOGUM™GH is cold soluble and offers a high viscosity which is increased after heat treatment. VIDOGUM™GH has a neutral taste, due to our proprietary process.
Thixogum™G is the high-performance combination of a natural emulsifier (acacia) and a natural stabilizer (gellan) obtained by a co-process. Thixogum G acts as a suspensoid, stabilizing insoluble ingredients with minimal impact to viscosity, which is precisely why it's the perfect stabilizer for dairy alternative beverages. Obtained from a unique proprietary process, Thixogum™S is an all-natural texturizer, combining the emulsifying properties of acacia with the suspending properties of xanthan.
What are some applications for this ingredient(s)? How could food and beverage manufacturers apply it?
Our portfolio includes a broad range of hydrocolloids, enabling us to provide solutions for all plant-based applications. As each formulation is unique, our technical support is here to help you choose the best ingredient or combination.
In plant-based beverages, our natural stabilizer Thixogum™G stabilizes fat fractions and suspends insoluble particles [e.g. pulps and fibers]. For example, in whole almond drinks it maintains a homogenous suspension. naltive™ LBG enhances stability and texture.
For plant-based ice creams, Thixogum™S can be selected to add mouthfeel; VIDOGUM™L or VIDOGUM™SP delivers both creaminess and mouthfeel, while controlling and stabilizing crystallization.
In plant-based spreadable cheese, naltive™ LBG adds creaminess and improves mouthfeel and roundness.
VIDOGUM™SP is often used in cheese analogues as a thickener.
Manufacturers use our VIDOGUM™GH to add a longish texture to plant-based yogurts.
In plant-based puddings, Thixogum™G brings creaminess and mouthfeel. Associated with other hydrocolloids, naltive™ LBGoffers a unique synergy, resulting in specific smoother texture. VIDOGUM™GH is used as a thickener for its specific longish texture.
Do your ingredient solutions have a particular supply chain story or special certifications?
In terms of clean label expectations, Nexira delivers the most natural ingredients possible. For example, our locust bean gum is minimally processed, by roasting, which is a purely physical and natural process. The majority of our ingredients are available in organic grades.
Need information? Samples?
---
This communication is not intended to the final consumer. It provides scientific information for professionals only. Communications to the final consumer have to be checked according to local regulations in force, since the conditions of use are beyond our control. This statement has not been evaluated by the FDA. This product is not intended to diagnose, treat, cure, or prevent any disease.