Acerola: A Super Antioxidant for Food Protection
When it comes to the preservation of Meats, and Fruit Desserts, acerola's vitamin C is an excellent solution to meet American consumers' demands for clean label, natural and understandable ingredients. Worldwide, the USA is the first country using acerola extract in its NPL. Nevertheless, its uses for Food Protection and its properties as dough conditioner are not so well-known in America.
With its high content in vitamin C, acerola (Malpighia glabra L.) is a super antioxidant with many properties. As powerful O2 Scavenger, the vitamin C contained in Acerola Extract contributes to preventing oxidation and maintaining the organoleptic properties while increasing shelf-life.
A Natural Superfood
Acerola (Malpighia glabra L.) is a Spanish name for "maple cherry". A handful of fresh fruits/berries is traditionally eaten in Brazil to support energy and vitality. Particularly rich in vitamin C, there is 40 to 100 times more vitamin C in a glass of acerola juice than in a glass of orange juice. This ingredient is a natural superfood.
Particularly rich in vitamin C with a powerful antioxidant activity, acerola is a natural superfood with a large array of health nutritional benefits:
Supports energy & vitality
Helps the immune system for body protection
Involves in biosynthesis of collagen, it protects cells from oxidative damage
An Enriched Nutrient Profile With Potent Functional Food Appeal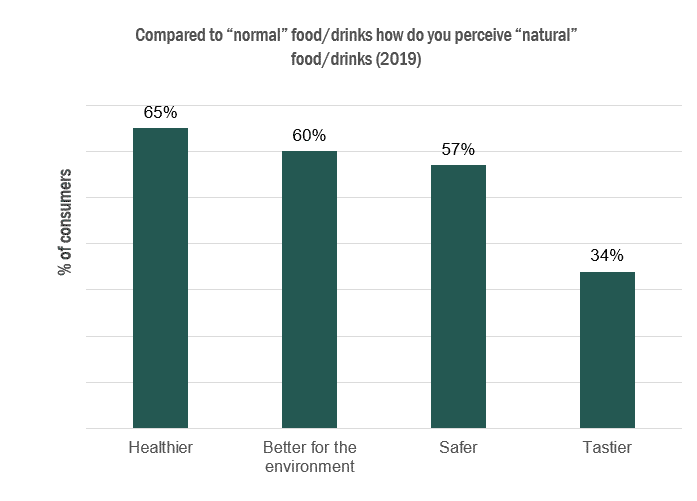 According to Innova Market Insights (2020), compared to "regular" food & drinks, "natural" food and drinks are perceived as healthier for 65% of consumers, better for the environment for 60%, safer for 57% and tastier for 34%.
Formulating with acerola extract containing natural Ascorbic Acid is an easy way for food producers to maintain the freshness of fruit desserts, while keeping the list of ingredients simple. Consumers want to read an easily-understandable label with minimally processed familiar ingredients, as opposed to a list of synthetic compounds, which will not be perceived by them as being 'healthy'.
Thanks to its antioxidant properties, this little supercherry is also a super plant-based alternative sed by the food-processing industry. Acerola extract is the ideal ingredient for food protection thanks to its multiple properties.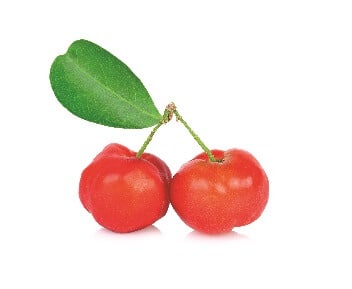 Acerola Extract in Raw & Cured Meat
In meat, color stability is a major challenge and natural solutions are in high demand.
Organic Acerola Extract is used around the globe to replace synthetic ascorbic acid and erythorbate sodium, and helps customers offer shelf-stable organic meat products.
All-natural Gluten Network Booster in Bakery
In Bakery acerola is recognised as amazing natural dough conditionner .
Although primarily known as an antioxidant, Vitamin C is actually used as an oxidant in bread dough. Its ability to oxidise sulphur bindings strengthens the gluten network required for baking bread with a good volume and shape, increasing the size of gluten proteins.
A Superfruit for Fruit Preparations
Acerola Extract delays fruit browning.
Fruits naturally contain phenols. As an oxygen scavenger, Vitamin C of the Acerola Extract reacts with O2 and prevents oxidation of phenols in quinones and melanin. The shelf-life is extended.
Nexira's Premium Acerola Extracts Range
Directly sourced from Brazil and carefully selected through a long-term supply chain partnership, Nexira offers a range of Acerola Extracts (Malpighia glabra L.) standardized in native or added vitamin C from 17% to 36%. Nexira's Acerola Extracts are manufactured in France in their own factory using a gentle process (water extraction and spray-drying in fine powder) to preserve the high vitamin C content. GMO-free, organic grade & Kosher certified, our acerola extracts are also suitable for vegetarian & vegan diet:
Standardized in native vitamin C from 17% to 36%
NEW reference with Acacia gum carrier
Soluble at 80% (at least)
Sustainably sourced from Brazil
Kosher and halal certified
Suitable for vegetarian & vegan diet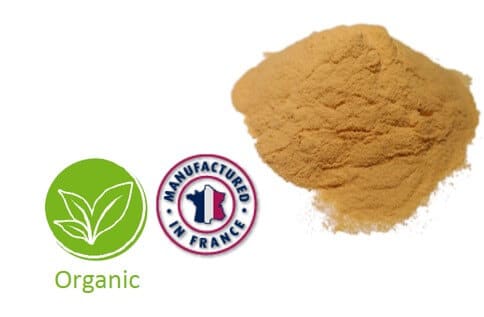 ---
*Any voluntary business to consumer information in relation to the presence or absence of certain food additives or food ingredients must comply in particular with Article 7 of Regulation (EU) No 1169/2011.
Outside EU, we recommend that the compliance be checked according to local regulation. Great caution should be exercised in such communication to avoid that consumers are misled. To avoid misleading the consumer, it is recommended not to use negative claims such as « without [technological function] ».
This communication is not intended to the final consumer. It provides scientific information for professionals only. Communications to the final consumer have to be checked according to local regulations in force, since the conditions of use are beyond our control. This statement has not been evaluated by the FDA. This product is not intended to diagnose, treat, cure, or prevent any disease.