Clean-Up Your Labels With Natural & Innovative Ingredients
The clean label movement is growing in scope and magnitude with each passing year. According to Nielsen, clean label market sales is expected to reach $180 billion globally in 20201.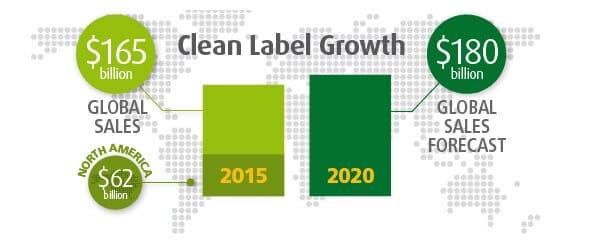 Nexira Has Natural Solutions to Clean-Up Your Labels
With more than 120 years of experience, Nexira is a world leader in natural and innovative ingredients. Our ingredients are very fitting for clean label.
Do you need natural ingredients with functional properties or with enhanced nutritional benefits? Nexira is ready to help you with your clean label challenges.
What Is Clean Label?
When it comes to the ingredients list, fewer is definitely more! 67% of consumers in the US agree that the fewer ingredients in a grocery product is better, whilst 65% believe that grocery products that contain fewer ingredients are often better quality.2

"Clean label is a consumer driven movement, demanding a return to real food & transparency through authenticity. Food products must contain natural, familiar, simple ingredients that are easy to recognize, understand, and pronounce, without any artificial ingredients or synthetic chemicals."3
This ingredient simplification offers consumers maximum reassurancewhen it comes to the content and safety of grocery products. Consumers are more than ever interested in information about the source, production methods and components of the food products they eat. The clean label movement is closely linked with the trends for natural, organic and sustainable foods.
---
[1] 2017 Nielsen study "It's clear: Transparency is winning in the US retail market", [2] FMCG Gurus research in the US (2017), [3] https://gocleanlabel.com/
This communication is not intended for the final consumer. It provides information for professionals only. Communications intended for the final consumer shall comply with the local regulations in force. This statement has not been evaluated by the FDA. This product is not intended to diagnose, treat, cure, or prevent any disease