A Two-Day Online Version with Virtual Conferences
Mark your calendar and join us at Flavorcon Virtual, a two-day online version of its industry-leading event with virtual conferences.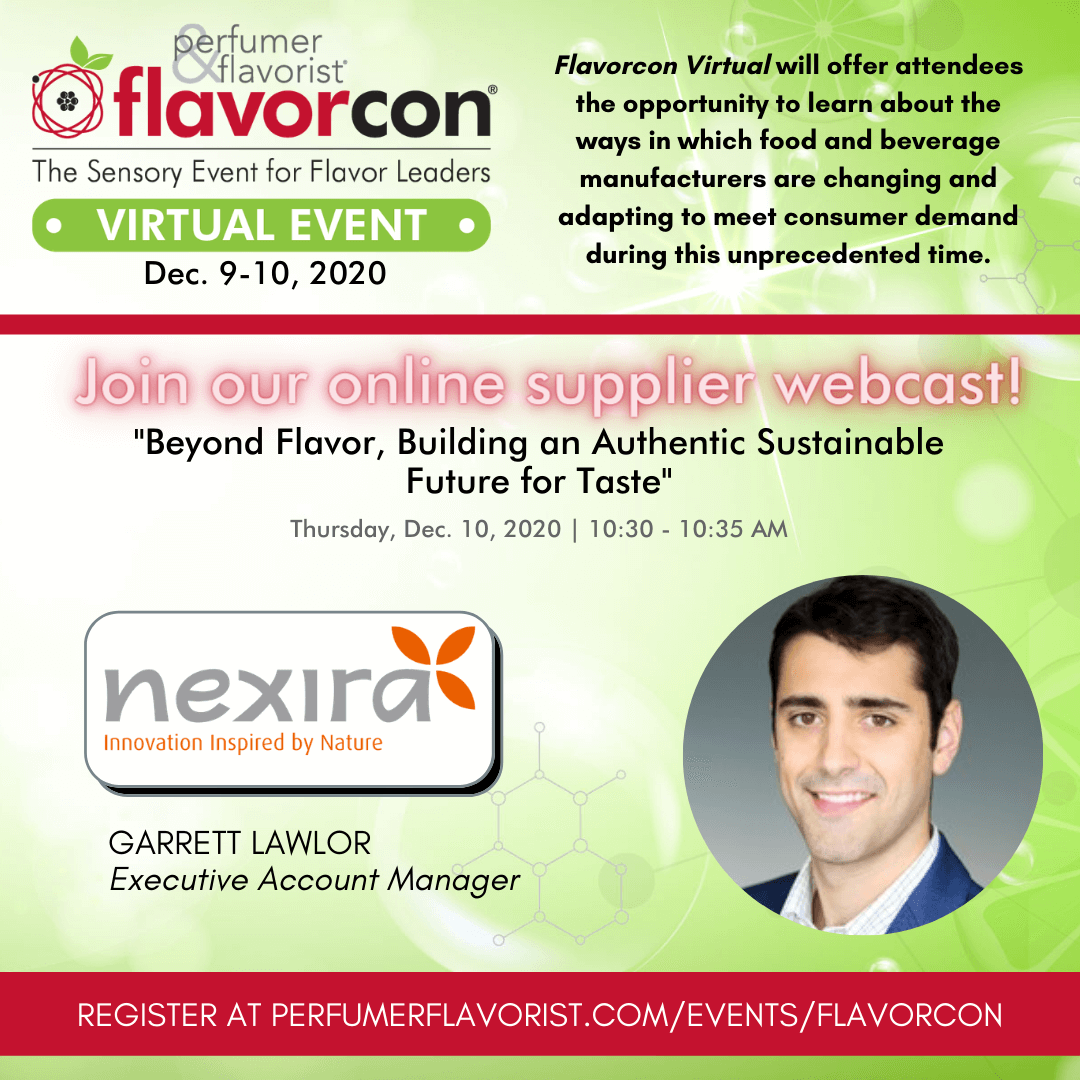 Creating Stable Emulsions With Natural and Organic Ingredients

Whether you are looking to achieve cost savings, create an organic product, or keep your emulsion stable in an alcoholic beverage, Nexira has an innovative range of solutions specifically designed for the Flavor & Beverage industries. Join Garrett Lawlor on Thursday, December 10, 2020 at 10:30 AM Central Standard Time.

Presented by Garrett Lawler, Executive Account Manager for Nexira's US Food division.
Garrett has 8+ years of experience selling hydrocolloids to food and beverage manufacturers.
He is a graduate of DePauw University.
What you will explore
"The amount of beverage innovation moving from the bech-top to pilot trials is amazing. Soda consumption was trending down before COVID, and that has just accelerated. Driven by curious consumers, Hard Seltzers and pre-mixed cocktails have been popular for a couple years, but this category still has a lot of runway…", Garrett Lawlor.
Take the opportunity to learn about the ways in which food and beverage manufacturers are changing and adapting to meet consumer demand during this unprecedented time. Discover new insights and trends about the US food & beverage market; the burst of popularity of Hard Seltzers and pre-mixed cocktails, the flavor varieties forecasted to be the next biggest trends… Garrett will also present Nexira's all-natural and organic solutions that can help you stabilize from standard to challenging emulsions. Don't miss his best advice to tap into this growth area!
Is it for you?
You are a flavorist or a food and beverage manufacturer using emulsions. If you're seeking to overcome your formulation challenges with natural and organic solutions or achieve stable emulsions, this is the perfect opportunity.
Don't leave it until the last minute!
Register by November 9, 2020 for only $49. Prices will increase November 10.