Comment les prébiotiques soutiennent la santé digestive et favorisent le bien-être général
Dans la catégorie santé digestive, la demande d'ingrédients prébiotiques efficaces augmente rapidement. Les consommateurs sont conscients des multiples avantages pour la santé d'un microbiote bien équilibré, et la santé digestive est souvent associée à l'immunité en raison de son lien avec la barrière intestinale ; la consommation de prébiotiques peut être considérée comme un moyen de prévention.
Selon Natural Marketing Institute, 75% des consommateurs seraient intéressés par des suppléments pour gérer des problèmes digestifs.
Dans cette interview, Franck Gillet, directeur des ventes aux États-Unis, souligne le potentiel de nos deux formulations prébiotiques performantes pour soutenir un système digestif sain et leurs bienfaits pour le corps à un niveau holistique.
Quels ingrédients spécifiques liés aux prébiotiques, aux probiotiques et/ou aux postbiotiques, ou au support enzymatique proposez-vous aux marques dans les applications nutraceutiques ?
Nexira propose deux ingrédients prébiotiques : acacia prébiotique [inavea™ PURE ACACIA] et baobab & acacia [inavea™ BAOBAB ACACIA], qui est une formulation synergique entièrement naturelle et biologique. Nous avons sélectionné des ingrédients répondant aux besoins des consommateurs et des fabricants :
Haute performance prébiotique
Facile à utiliser dans un large éventail d'applications, des compléments en poudre aux aliments et boissons fonctionnels
Une plante exotique à l'histoire/storytelling unique, grâce à son origine africaine et la notoriété du baobab
Faible impact environnemental : biologique, issu de sources durables et neutre en carbone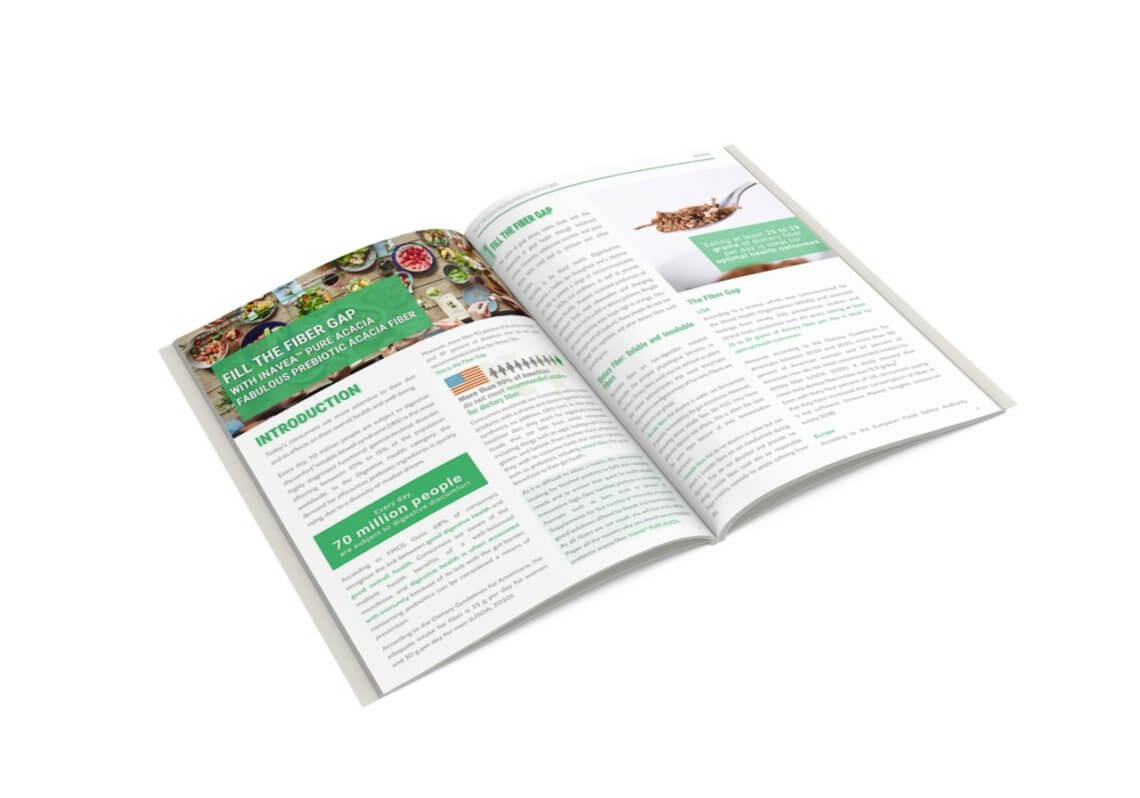 Découvrez notre nouveau Livre Blanc : Fill the Fiber Gap with inavea™ PURE ACACIA, Fabulous Prebiotic Acacia Fiber
De nouvelles avancées et études sont-elles disponibles pour améliorer les innovations de nouveaux produits ?
Traditionnellement consommé pour la satiété par les communautés nomades d'Afrique du Nord, les effets prébiotiques de l'acacia ont été démontrés depuis plus de 40 ans dans plus de 40 études.
Nos études exclusives pour les deux ingrédients indiquent fortement des améliorations de plusieurs paramètres de santé intestinale :
Effet prébiotique prouvé à partir de 10g/jour pour inavea™ PURE ACACIA et seulement 5g/jour pour inavea™ BAOBAB ACACIA
Fermentation à spectre complet, c'est-à-dire une action dans le côlon proximal et distal
Microflore équilibrée avec la stimulation de bactéries bénéfiques
Activation de la production de métabolites bénéfiques à partir du microbiote
De plus, nous avons également démontré une protection du microbiote par une activité antioxydante et une modulation des marqueurs inflammatoires.
Chaque ingrédient a un impact différent sur différentes bactéries et différents résultats sur les SCFA et post-biotiques, correspondant à la demande des consommateurs pour des options plus sophistiquées dans cette catégorie :
Deux études in vitro3,4 ont démontré que la synthèse des SCFA est plus élevée avec l'acacia prébiotique par rapport au témoin et aux FOS, ainsi qu'à la CMC et au psyllium. inavea™ PURE ACACIA a prouvé son effet prébiotique lors d'essais cliniques sur des volontaires sains2. La dernière étude menée par Nexira démontre une augmentation de la diversité du microbiote (marqueur sain). Des souches spécifiques sont stimulées : B. Longum (probiotique), Prevotellaceae & Lachnospiraceae (SCFA), F. Prausnitzii (inflammation).
Pour inavea™ BAOBAB ACACIA, l'étude a montré la promotion de bactéries bénéfiques, dont les Bifidobacterium spp., et des familles de bactéries spécifiques telles que les Akkermansiaceae et Christensenellaceae.
Parce que votre santé commence dans votre intestin, prendre soin de votre barrière intestinale favorise un système immunitaire sain. inavea™ PURE ACACIA améliore la barrière intestinale en régulant les marqueurs inflammatoires6,7.
Nous avons également démontré une tolérance digestive élevée. Alors que de nombreux prébiotiques sont associés à une perception négative due aux ballonnements ou à l'inconfort digestif, nos ingrédients sont tous deux certifiés compatibles FODMAP-friendly.
Vos solutions d'ingrédients ont-elles une histoire particulière de chaîne d'approvisionnement ou des certifications spéciales ?
Depuis 50 ans, l'entreprise s'implique dans le développement durable. Nexira travaille aux côtés de l'ONG SOS SAHEL, pour prévenir la déforestation et contribuer au développement économique et social des populations, par exemple à travers le projet pharaonique de la grande muraille verte.
Nous avons anticipé les nouvelles réglementations et, avec l'appui d'une entreprise indépendante et leader dans les stratégies environnementales et carbone, nous avons mesuré nos émissions de carbone, programmé et lancé un plan de réduction ambitieux et compensé nos émissions restantes. Ce processus nous permet d'annoncer que inavea™ est la première marque d'ingrédients neutres en carbone. Nous pouvons fournir des ingrédients biologiques comptant pour zéro émission dans l'empreinte carbone du client. Découvrez notre chemin parcouru pour atteindre la neutralité carbone !
---
Références
[1] Terpend K., Possemiers S., Daguet D. et al., Arabinogalactan and fructo-oligosaccharides have a different fermentation profile in the Simulator of the Human Intestinal Microbial Ecosystem (SHIME®). Environ Microbiol Rep. 2013 Aug;5 (4):595-603.
[2] Cherbut C., Michel C., Raison V. et al., Acacia Gum is a bifidogenic dietary fiber with high digestive tolerance in healthy humans, Microbial Ecology in Health and Disease 2003;15:43-50.
[3] Michel C., Kravtchenko T.P., David D., et al., InVitro prebiotic e¡ects of Acacia gums onto the human intestinalmicrobiota depends on both botanical origin and environmental pH, Anaerobe, 1998, 4, 257±266, Article No. an980178 Bliss DZ., Weimer PJ., Jung HJ. et al., In vitro degradation and fermentation of three dietary fiber sources by human colonic bacteria., J Agric Food Chem. 2013 May 15;61(19):4614-21.
[4] Matsumoto N, Riley S, Fraser D, et al., Butyrate modulates TGF-beta1 generation and function: potential renal benefit for Acacia(sen) SUPERGUM (gum arabic)?, Kidney Int. 2006 Jan;69(2):257-65.
[5] DAGUET D., PINHEIRO I., VERHELST A. et al., Acacia gum improves the gut barrier functionality in vitro, Agro FOOD Industry Hi Tech, 2015, vol 26(4) – July/August 2015
[6] Daguet D., Pinheiro I., Verhelst A., Arabinogalactan and fructooligosaccharides improve the gut barrier function in distinct areas of the colon in the Simulator of the Human Intestinal Microbial Ecosystem, Journal of Functional Foods 20, 2 0 1 6, 369–379