How Prebiotic Acacia Supports Digestive Health and Promotes Overall Well-Being
In the Digestive Health category, the demand for efficient prebiotic ingredients is quickly rising, due to a diversity of market drivers. Consumers are aware of the multiple health benefits of a well-balanced microbiota, and digestive health is often associated with immunity because of its link with the gut barrier; consuming prebiotics can be considered a means of prevention.
According to Natural Marketing Institute, 75% of consumers are interested in supplements to manage a range of digestive issues.
In this interview, Franck Gillet, US Sales Director, highlights the potential of our two performing prebiotic formulations to support a healthy digestive system and their benefits for the body on a holistic level.
What specific ingredients related to prebiotics, probiotics and/or postbiotics, or enzyme support do you offer brands in supplement applications?
Nexira offers two prebiotic ingredients: prebiotic acacia [inavea™ PURE ACACIA] and our recently launched baobab & acacia [inavea™ BAOBAB ACACIA], which is an all-natural and organic synergistic formulation. We have selected ingredients answering consumers and manufacturers' needs:
High prebiotic performance
Easy-to-use in a large array of applications from supplements in powder to on-the-go functional foods and beverages, with a clean labeling.
An exotic plant with unique history/storytelling, thanks to its African origin and the notoriety of baobab
Low environmental impact: organic, sustainably sourced and Carbon Neutral.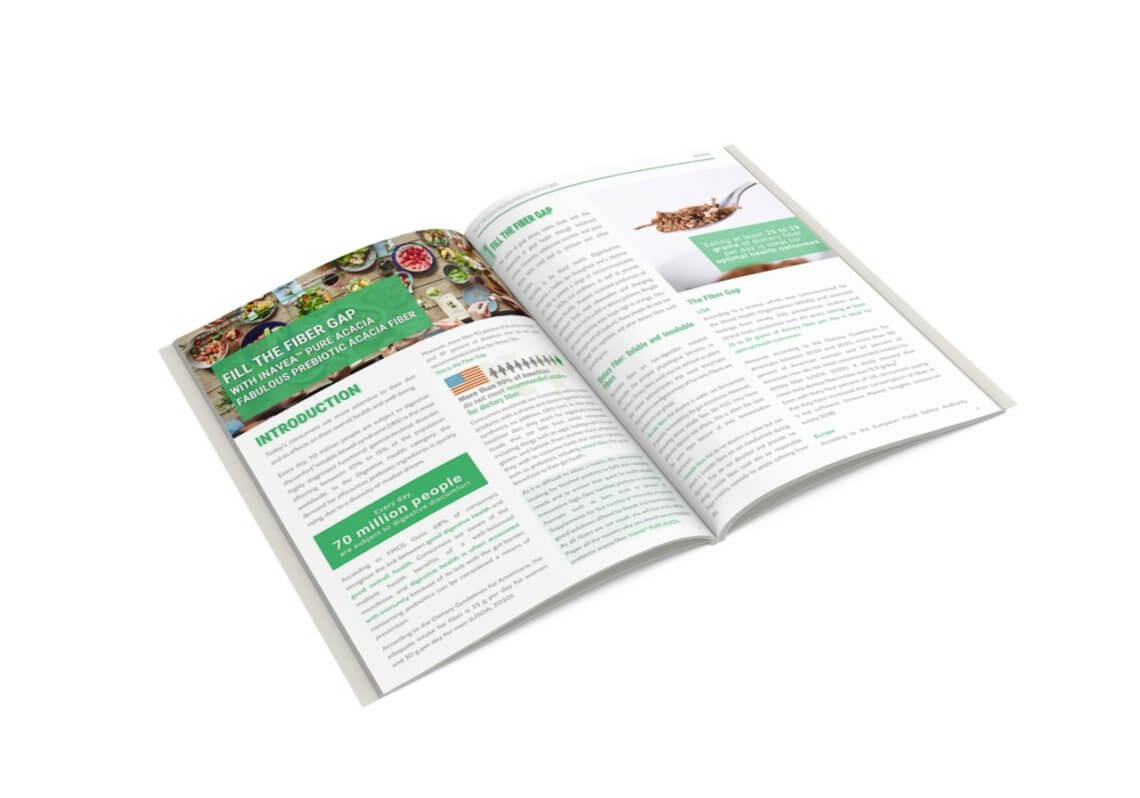 Get more information about inavea™ PURE ACACIA, download our NEW white paper: Fill the Fiber Gap with inavea™ PURE ACACIA, Fabulous Prebiotic Acacia Fiber
Are there new advancements and studies available to enhance new product innovations?
Traditionally consumed for satiety by nomadic communities in North Africa, the prebiotic effects of acacia fiber have been demonstrated for >40 years in more than 40 studies.
Our proprietary studies for both ingredients strongly indicate improvements in several gut health parameters:
Proven prebiotic effect from 10 g/day for inavea™ PURE ACACIA and only 5 g/day for inavea™ BAOBAB ACACIA
Full spectrum fermentation, ie an action in the proximal and in the distal colon
Balanced microflora with the stimulation of beneficial bacteria
Activation of the production of beneficial metabolites from microbiota
Further, we have also demonstrated a protection of the microbiota through antioxidant activity and a modulation of inflammatory markers.
Each ingredient has a different impact on different bacteria and different results on SCFA and post biotics, matching consumer demand for more sophisticated options in this category:
Two in vitro studies3,4 have demonstrated SCFA synthesis is higher with prebiotic  acacia compared to control and FOS, and CMC and Psyllium. inavea pure acacia has proven its prebiotic effect during clinical trial on healthy volunteers2. The latest study conducted by Nexira demonstrates an increase of microbiota diversity (healthy marker). Specific strains are stimulated: B. Longum (probiotic), Prevotellaceae & Lachnospiraceae (SCFA), F. Prausnitzii (inflammation).
For inavea™ BAOBAB ACACIA, the study showed the promotion of beneficial bacteria, including the Bifidobacterium spp., and specific bacteria families such as Akkermansiaceae and Christensenellaceae.
Because your health starts in your gut, taking care of your gut barrier promotes a healthy immune system. inavea™ PURE ACACIA improves the gut barrier by regulating inflammatory markers6,7.
We have also demonstrated a high digestive tolerance. While many prebiotics are associated with a negative perception due to bloating or digestive discomfort, our ingredients are both FODMAP-friendly certified.
Do your ingredient solutions have a particular supply chain story or special certifications?
For 50 years, the company has been involved in sustainable development. Nexira works alongside the NGO SOS SAHEL, to prevent deforestation and contribute to the economic and social development of the populations, for example through the pharaonic project of the great green wall.
We have anticipated new regulations, and, with the support of an independent and leading company in environmental and carbon strategies, we have measured our carbon emissions, scheduled and launched an ambitious reduction plan and compensated our remaining emissions. This process allow us to announce that inavea™ is the first carbon neutral ingredients brand. We can supply organic ingredients counting for zero emissions in the customer's carbon footprint. Discover our journey towards carbon neutrality!
---
References
[1] Terpend K., Possemiers S., Daguet D. et al., Arabinogalactan and fructo-oligosaccharides have a different fermentation profile in the Simulator of the Human Intestinal Microbial Ecosystem (SHIME®). Environ Microbiol Rep. 2013 Aug;5 (4):595-603.
[2] Cherbut C., Michel C., Raison V. et al., Acacia Gum is a bifidogenic dietary fiber with high digestive tolerance in healthy humans, Microbial Ecology in Health and Disease 2003;15:43-50.
[3] Michel C., Kravtchenko T.P., David D., et al., InVitro prebiotic e¡ects of Acacia gums onto the human intestinalmicrobiota depends on both botanical origin and environmental pH, Anaerobe, 1998, 4, 257±266, Article No. an980178 Bliss DZ., Weimer PJ., Jung HJ. et al., In vitro degradation and fermentation of three dietary fiber sources by human colonic bacteria., J Agric Food Chem. 2013 May 15;61(19):4614-21.
[4] Matsumoto N, Riley S, Fraser D, et al., Butyrate modulates TGF-beta1 generation and function: potential renal benefit for Acacia(sen) SUPERGUM (gum arabic)?, Kidney Int. 2006 Jan;69(2):257-65.
[5] DAGUET D., PINHEIRO I., VERHELST A. et al., Acacia gum improves the gut barrier functionality in vitro, Agro FOOD Industry Hi Tech, 2015, vol 26(4) – July/August 2015
[6] Daguet D., Pinheiro I., Verhelst A., Arabinogalactan and fructooligosaccharides improve the gut barrier function in distinct areas of the colon in the Simulator of the Human Intestinal Microbial Ecosystem, Journal of Functional Foods 20, 2 0 1 6, 369–379