Consumers are now having a positive attitude toward fiber and its daily intake importance but it does not necessarily translate into action. With our modern diets, it is difficult for consumers to meet the fiber recommendations via traditional foods. More novel fibers are emerging, including those made from acacia and baobab. These unique solutions are key to success for product developers and brand owners wanting to create truly differentiated innovative fortified products to help consumers increase their intakes and fill the fiber gap.
Discover how to create clean labeled functional foods and beverages with Nexira's innovative acacia fiber, the best natural fiber boasting multiple technical advantages and significant versatility.
Acacia Fiber: A Functional and Versatile Natural Ingredient for Healthy Microbiome
Consumer Interest in Fiber Consumption
The notion of good dietary habits deals with the maintenance of good health through balanced nutrition. Consumers generally know that consuming fibers is good for them as it is a key nutritional components even if they may not understand all of its health benefits, especially the prebiotic and gut microbiome-related effects.
When asked to select up to five attributes that best define a healthy food, 24% of consumers checked "good source of fiber". 53% of the respondents also said they aim to get fiber (IFIC, 2022, Food and Health survey).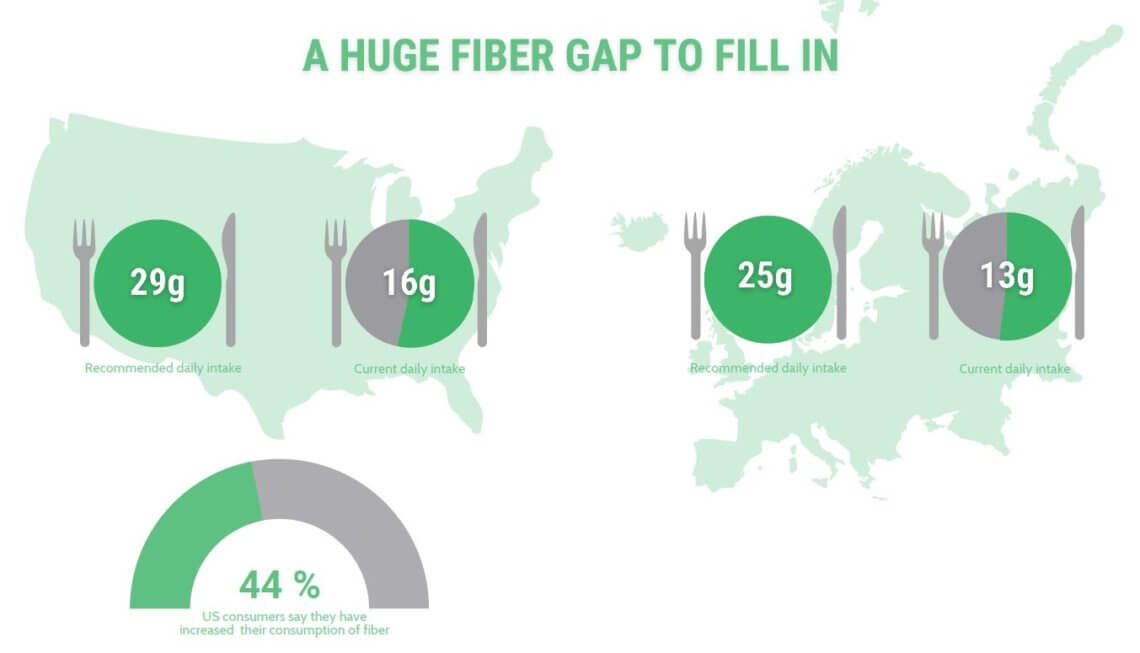 The World Health Organization [WHO] asserts that dietary fiber intake should be 25-30g/day for a healthy lifestyle. The advantages of a diet rich in fiber relates to the digestive process and a healthier intestinal tract. Fiber consumption can enable additional positive health activities including colonic fermentation stimulation, reduction of cholesterolemia and reduction of postprandial glycaemia [European Commission, Regulation [EU] n°2016/854]
Unfortunately, even if consumers typically view fiber favorably, they still fall short on intake and need help getting enough. When IFIC asked its survey respondents which information they seek out most frequently when reading Nutrition Facts, fiber ranked a lowly 13th .
USDA and HHS have officially designated fiber as a "dietary component of public health concern."
Brands have a great opportunity to help by developing high-fiber products that meet consumer demand for nutrition, taste and texture.
Learn more about the Fiber gap, download our infographic:

Digestive Health, A Key to Success in 2023
Products for gut health have traditionally been more popular in Europe than North America, but that trend is changing as more American people get on board with the concept of boosting digestive health through food and beverages.
Dietary fiber is one of the key components to improve digestive health, with extensive use of fortifying soluble fibers to improve the nutritional profile of finished products, both for fortification and to improve texture and mouthfeel. Digestive health is key to success in 2023. It's is one of the most profitable dietary supplement categories. According to data from SPINS (Chicago), digestive health was the third-leading health condition in the mainstream U.S. dietary supplements channel in 2022, with $912 million in sales. In the U.S. natural supplements channel, digestive health ranked first, with $148 million in sales in 2022. No doubt food and beverage manufacturers will take advantage of this mainstream success and benefit awareness to create innovative functional products.
Consumer interest in fueling a healthy gut microbiome will continue to escalate in 2023 with factors driving this growth:
Concerns about the fiber gap
More products for specific digestive issues such as low-FODMAP plan
Growing in popularity of gluten-free foods to reduce grain intake
Increased consumer awareness of the effects of a healthy microbiome on overall brain health
Growth of Functional Foods
The paradigm shift in prioritizing health and wellness in food choices is a critical food industry trend. Overall consumer demand for functional foods continues to increase globally, with nutritional content often cited as the key driver as consumers select one food or beverage instead of another, making conscientious choices to support their digestive health.
According to Innova Market Insights, there has been a +10% average annual growth in prebiotic product launches over the last five years (Q4 of 2017 – Q3 of 2022), with 40% of those launches occurring in Europe, with supplements taking second place at 12%.1
The functional beverage market continues to grow significantly over the past years with immune-boosting benefits leading the space. Already on the rise, the pandemic forced this once-seasonal need state to the forefront with consumers being more aware of their overall health and wellness. An old-school approach was to link fibers only with transit modulation. It is still true and important but today, consumer awareness around the microbiome and its importance in general health gives fibers a larger spectrum. Consumers associate fibers with healthy weight management and with glycaemia & cholesterol control. Acacia fiber is also a recognized prebiotic, acting for a diversified microbiota and by extension supporting immunity.
"As an ingredient, acacia gum is fabulous. It is an emulsifier, stabilizer, texturizer, encapsulating agent, fiber and has prebiotic properties. It is soluble, easy to use and can be added to any formulation." said Julie Impérato, Marketing & Communication Manager at Nexira, to FoodBev. Acacia is a fabulous prebiotic fiber for the trendy immune-boosting beverage category.
Acting on the intestinal barrier, Nexira's acacia fiber promotes the growth of microorganisms that contribute to gut and bowel health, thereby boosting immunity and overall wellbeing.
The Fabulous Prebiotic Acacia Fiber by Nexira
Acacia is naturally high in fiber with a high digestive tolerance, therefore making it the perfect natural ingredient for functional foods and beverages and supplements.
The advantages of a diet rich in fiber are crucial to the digestive process, by shortening the time food passes through the intestinal tract, increasing bulk and stool production, and preventing constipation. Some added benefits of acacia fiber include the increased sensation of satiety, resulting in reduced calorie intake which may help with weight management. Using acacia fiber in functional foods may enable benefits such as colonic fermentation stimulation and reduction of cholesterolemia. [European Commission, Regulation [EU] n°2016/854].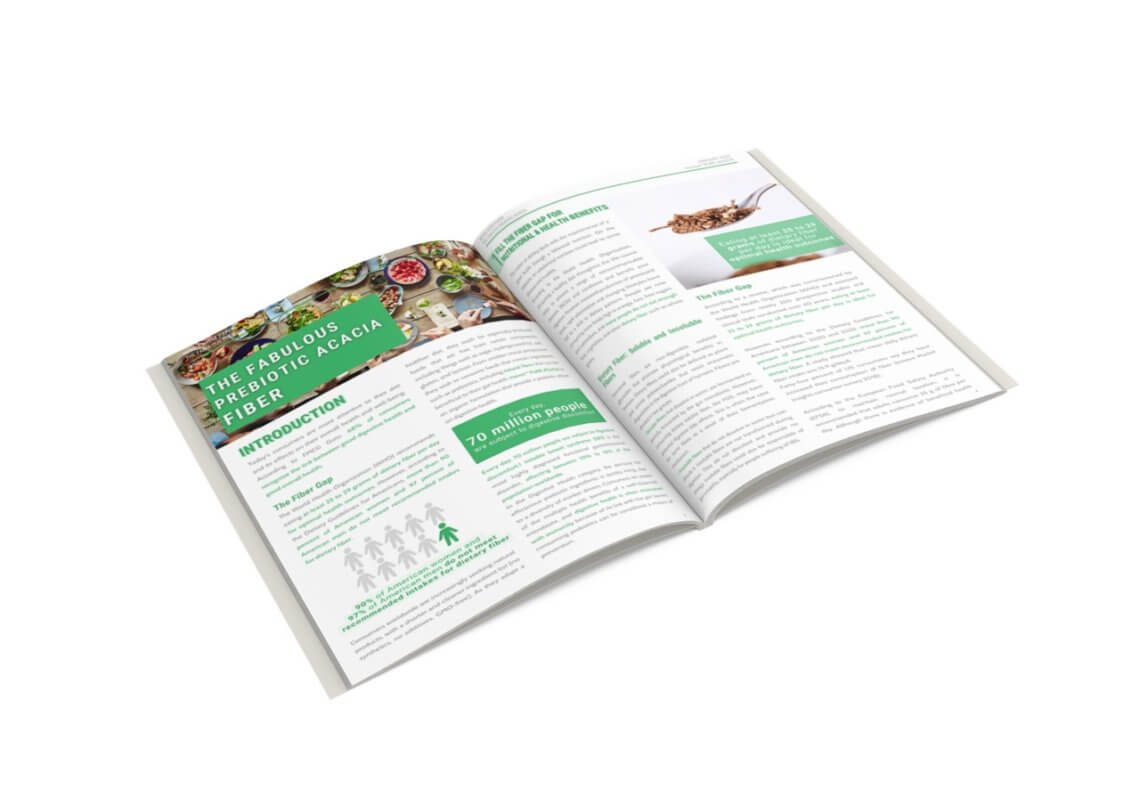 Fabulous Prebiotic Acacia Fiber, The New White Paper by Nexira
What's in it?
Market Demand to Fill the Fiber Gap
Acacia Fiber Approved in USA
Easy-to-Use in High-Fiber Fortified Products
Clean-label, Organic
The First Carbon Neutral Ingredient
Strong Proprietary Scientific Support for Health Benefits
Nexira, world leader in acacia, is a pioneer in scientific research on the nutritional and health benefits of acacia as a native source of soluble dietary fiber. The company offers two ingredients under the brand inavea™: pure acacia and baobab & acacia. We have selected ingredients answering consumers and manufacturers' needs: high prebiotic performance and rich in fiber.
Inavea™ On-Trend Functionality
Nexira's inavea™ range meets multiple consumer demands for digestive health :
Clean Label Trend – Prebiotic acacia is an all-natural dietary fiber of 100% vegetable origin, meeting consumer demand for no artificial ingredients, allowing clean-label products. Additionally, inavea™ range is organic and sustainably sourced with a carbon neutral footprint. 
Positive Nutrition – With a 90% soluble fiber content [on a dry weight basis], acacia fiber enables manufacturers to list High Fiber content on nutritional labels.
External Certifications – To promote a high level of transparency and trust, Nexira's acacia ingredients have a number of valuable certifications, including: Non-GMO Project verified, organic certfied, and FODMAP-Friendly™ certified. In addition, acacia is officially confirmed as a dietary fiber by the FDA.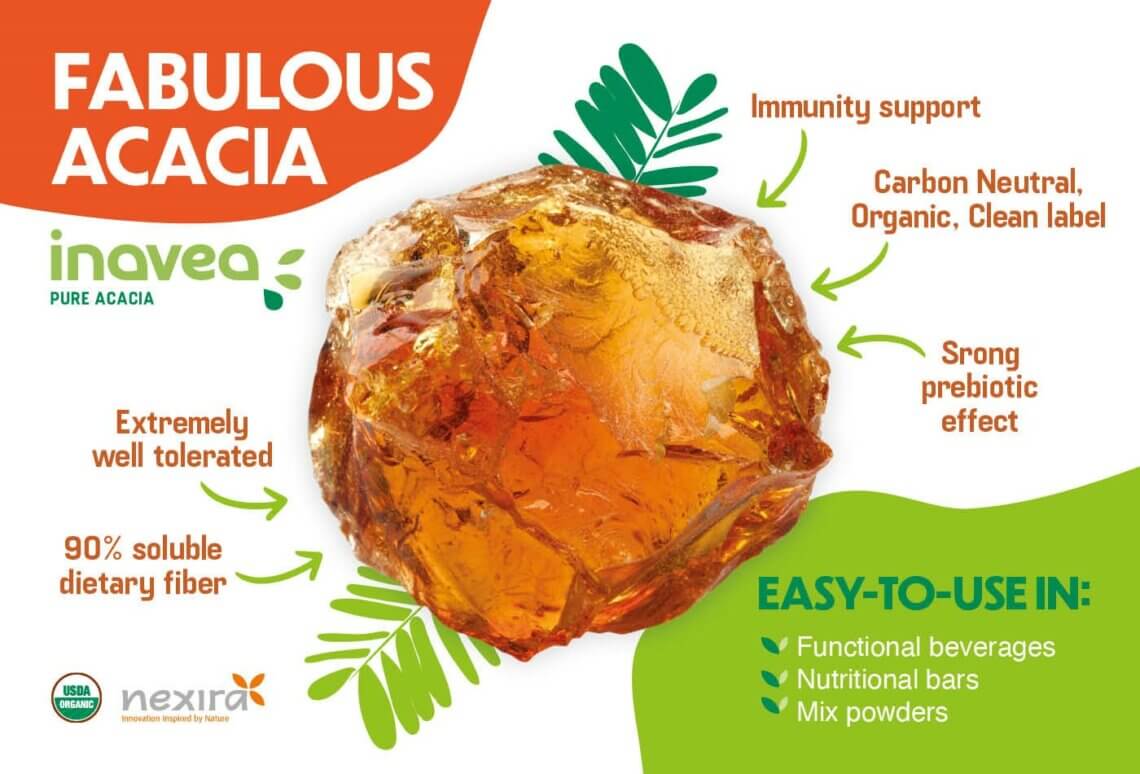 For manufacturers, this 100% soluble acacia fiber offers an excellent dispersibility and is non-hygroscopic. Purified, free flowing and dust free, our powder is odorless, colorless, and tasteless in solution. All these great technical advantages make inavea™ easy-to-use in a large array of applications. In Nutritional powders, inavea™ brings mouthfeel and enhances flavor release. In Beverages, inavea™ offers other benefits such as great stability through extreme processing (pH and heat treatment), low viscosity and high clarity. In Bars, like cereal, energy or sport nutrition bars, inavea™ acts as a binder and helps to maintain texture by stabilizing moisture content and water activity. For more information on its functionalities in food applications, check out this blog post.
inavea™ baobab acacia brings a little tangy taste to your formulation and adds an ethic and ethnic positioning through the African sourcing.
New Advancements On Inavea™ to Enhance New Product Innovations for Support of Microbiome Balance
In January 2022, thanks to Nexira's proprietary study, the FDA recognized again Acacia as a dietary fiber. The study demonstrated that the consumption of inavea™ pure acacia has beneficial physiological effects on human health by attenuation of post-prandial blood glucose and insulin levels.
The 2022 clinical study on our prebiotic acacia fiber has demonstrated its benefit on transit modulation by improving constipation.
Our proprietary studies for both ingredients strongly indicate improvements in several gut health parameters. A proven prebiotic effect has been demonstrated with a dosage of 10 grams per day of pure acacia and only 5 grams a day of baobab & acacia. The ingredients act on microflora balance and diversity, stimulate beneficial bacteria and activate the production of beneficial metabolites.
Thanks to its highly branched structure, inavea™ pure acacia is gradually fermented from transverse to descending colon with a high digestive tolerance.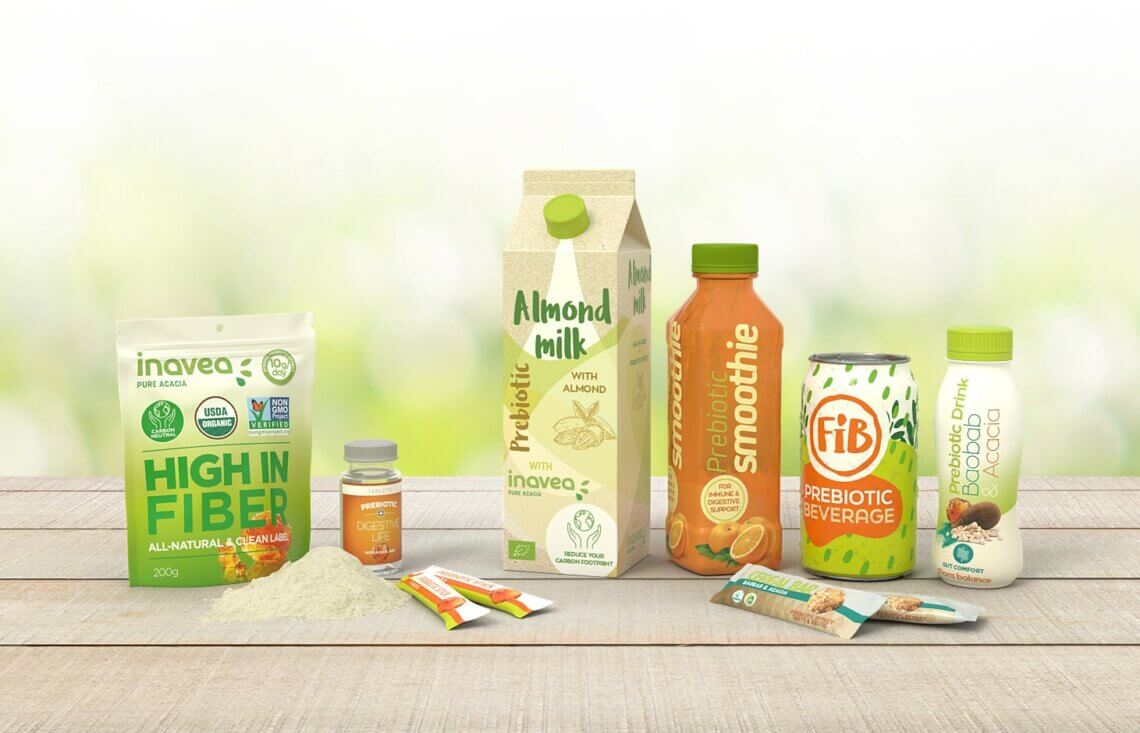 Take the opportunity to create the high fiber products consumers need.
Ready to formulate?
---
1- https://www.nutritioninsight.com/nutrition-focus/Prebiotics-672.html
This communication is not intended to the final consumer. It provides scientific information for professionals only. Communications to the final consumer have to be checked according to local regulations in force, since the conditions of use are beyond our control. This statement has not been evaluated by the FDA. This product is not intended to diagnose, treat, cure, or prevent any disease.