Cognitive function is one of the key ways to measure a person's quality of life. It enables one to consistently process information needed to function in daily life.
Nootropics may help maintain healthy cognitive function.
How Does Cognition Work?
Cognitive function is the process our brain uses to integrate, analyze information, and adapt to a new situation. Cognitive function enables us to acquire knowledge and skills. We have six cognitive functions divided into two levels:
Low-level cognitive processes:
Gnosis: senses (sight, hearing, taste, smell, and touch)
Praxis: motor task performance (e.g. running)
Language: comprehension and expression (oral and written)
High-level cognitive processes:
Attention: selective (one thing at the time) or divided (focus on several things at the same time)
Memory: the working memory (short-term memory) and the long-term memory
Executive function: behavioral adaptation when facing a new situation
All these cognitive functions are interconnected. Nowadays, we are constantly solicited by the modern world via emails, text messages, and social media. Our brains are busier than ever. We are overstimulated with a constant flow of data from multiple sources, which must be processed. To help navigate this complicated situation, we can use supplements that contain nootropics in order to help improve cognitive function.
A Booming Cognition Market
There are different forms and degrees of cognitive needs, spanning all age ranges : children for brain development, young people to improve learning process and/or concentration, workers who battle stress, athletes who want to boost their performance, and older people who want to stimulate and maintain healthy cognitive function. Industry analysts had forecast the cognition supplements market to grow at a CAGR of 13.9% during the period 2018-2022[1].The brain health supplements market is particularly predicted to surge with the increase of an aging population as they look for new ways to maintain cognitive health.
Nootropics have a major role to play on the cognition market.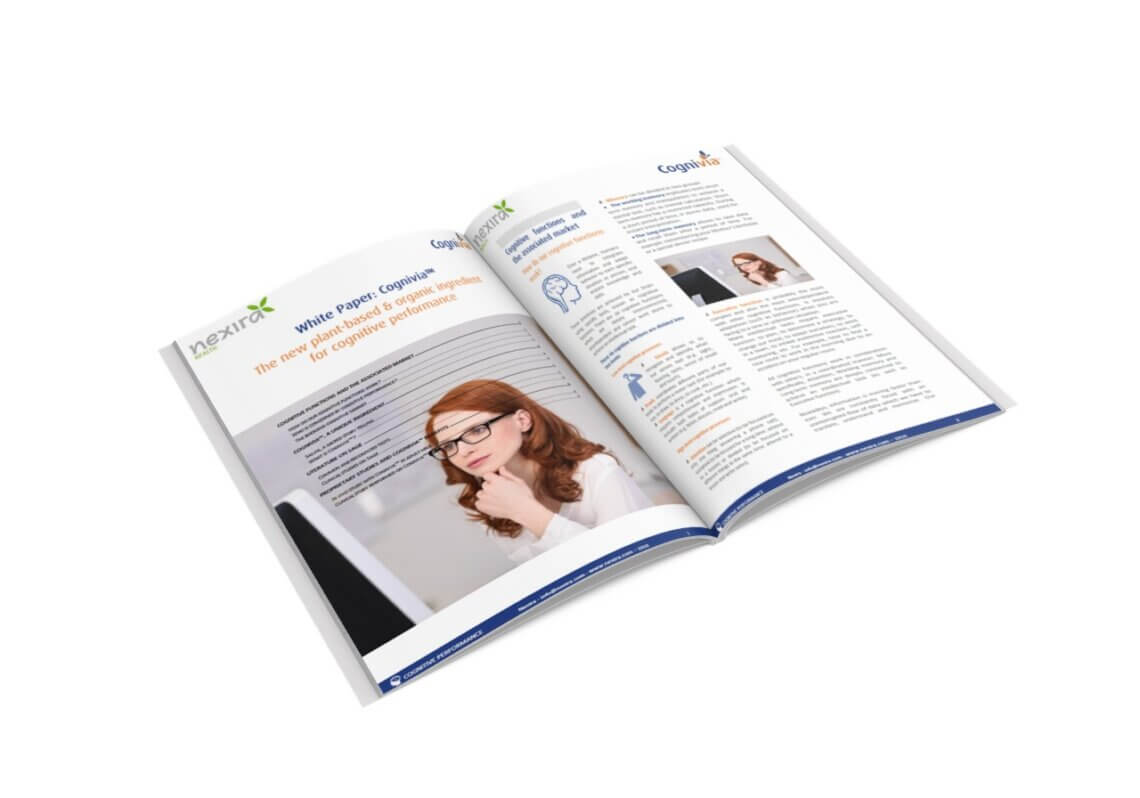 Download our white paper to discover how Nexira premium and natural solution can improve memory and concentration.
What you'll find inside:
Cognitive functions and the associated market
Cognivia™, a unique ingredient
Literature on sage
Proprietary studies and Cognivia™ benefits
What Are Nootropics?
Also known as "smart drugs", nootropics are found in cognitive enhancement products such as supplements, drugs, or other substances. They modulate neurons' metabolism and allow an increase in cognitive capacities, such as memory, learning, and mental performance.
Some nootropics are synthetic, while others are natural. For example, Salvia officinalis known as Garden sage and Salvia lavandulifolia, known as Spanish sage, are herbal nootropics. Some varieties have been used for centuries. Traditionally, sage has been used for its memory and concentration properties.
CogniviaTM, The Vegetal Nootropic
Nexira offers an innovative formulation with synergistic activity. CogniviaTM combines Garden Sage leaf extract and Spanish Sage encapsulated essential oil for an enhanced efficacy. The essential oil and the aqueous leaf extract are micro-encapsulated with acacia gum.
Nexira's recent in vivo study published online, shows the beneficial synergistic efficacy of Cognivia™ on memory:
✔ Acute effect on memory (single intake)
✔ Chronic effect on memory (after 14 days of intake)
The study, conducted in partnership with the Nutribrain research center, has just been published in Nutrients.
Our research in partnership with Brain Performance and Nutrition Research Centre of Northumbria University at Newcastle, in England, shows that CogniviaTM can help improve cognitive health naturally. The combination of two kinds of sage has a synergetic effect responsible for the improvement of working and long-term memory.
Therefore, CogniviaTM is easy to use as a food supplement ingredient in capsule, tablet, stick pack, or powder. Moreover, CogniviaTM is organic certified and benefits from EU pending claim on salvia lavandulifolia essential oil.
CogniviaTM is a finalist for the NutraIngredient Award 2020 in the Healthy Aging and Cognitive Function categories!
Want to go further? Test your cognitive performances with the CogniviaTM App
Get the chance to join our on-demand event to watch the full replay of our latest webinar webinar
"Cognivia™, top awarded nootropic to boost your working memory" and learn more about our clinical study results, assessed by well-known COMPASS battery of cognitive tests.
---
[1] Global Banking and Finance, Urgent Care Market 2019, 2019
This communication is not intended to the final consumer. It provides scientific information for professionals only. Communications to the final consumer have to be checked according to local regulations in force, since the conditions of use are beyond our control. This statement has not been evaluated by the FDA. This product is not intended to diagnose, treat, cure, or prevent any disease.