Nutricosmetic is the point at which nutrition and cosmetics meet. The term encompasses the beneficial effects on beauty resulting from consuming nutrients through the use of food supplements.
The global Nutricosmetics market has experienced massive growth in the past few years. Its importance has significantly increased, as consumers are seeking natural ingredients that promote beauty from the inside out. Ingesting nutrients or active ingredients is a new addition to the beauty routine, whose function is to nourish skin, hair, and nails.
A Booming Global Market
Nutricosmetics, which first hit the market in the 1980s, are now on the brink of a major revolution. The global market was valued at USD 5.36 Billion in 2020.1
The undisputed leader in Nutricosmetics, with a 42% market share2, is the Asia-Pacific region, dominated by China and Japan. They are highly innovative3, particularly with skin care products for the anti-aging and brithening categories.
Europe, with a 30% market share, shows the strongest growth rate (8.5% for 2020-2025) for products that improve appearance of skin, hair and nails. America, currently with a 24% market share, is positioned third, still needing more time to mature.
By 2026, the Nutricosmetics market could potentially reach 8.8 billion euros.4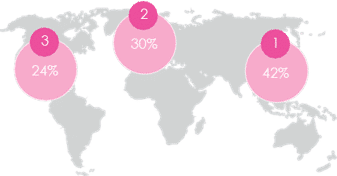 What Consumers Are Looking For
Global consumers are seeking a synergy in their routines, with products that can provide beauty benefits and improve skin health from the inside out.
In the U.S. and Europe, senior women over 60 are looking for effective products with scientific backing, while their younger counter parts between 25-35 desire natural and clean label products that will do them the most good.
In Asia, particularly in Japan and China, two market-leading countries, nutricosmetics are aimed at young fans of new instagrammable trends, employing the strong use of social networks. In another sector, Asian seniors over 60 are driven by the culture of "aging well", and are looking for products that will help them in their ongoing fight against aging.
Key Objectives: Developing Products to Meet Consumer Demands
A Holistic Approach or 'Inside Out' Approach: The traditional beauty routine is reinventing itself and food supplements are finding pride of place.
Sustainable Transparency: Consumers have shown an increased awareness of origins [particularly vegetal], and how products are sourced and manufactured.
A Sensory Experience: The desire for emotional and sensory consumption is being met with an emergence of new formats, including drinks, vials, droppers and gummies.
Natural Solutions: There is an increasing demand for simply formulated, minimally processed natural products, including plant-based supplements. Plant-based or vegan claims on supplements grew by 34 percent between 2015 and 2019 and have shown no signs of slowing down since.5
Key Market Segments
| | | |
| --- | --- | --- |
| | | |
| Skin Care | Anti-aging | Hair & Nails |
| By far the most popular segment, a major concern of consumers, is the beauty of their skin. Solutions are provided to address skin issues caused by dehydration, imperfections, and even unsatisfactory nutrition. | The anti-aging segment strongly contributes to the maintenance of skin functions which are relevant to battling the effects of aging. | Highly developed in Europe, there are a range of products that strengthen and add volume, luster, and/or length to hair and nails, utilizing a healthier approach, particularly with products to prevent hair loss. |
---
1 Nutricosmetics market – https://brandessenceresearch.com/pharmaceutical/nutricosmetics-market-size
2 Global nutricosmetics Markethttps://www.marketresearchfuture.com/reports/nutricosmetics-market- 2048
3 Inside out solutions will boost beauty products, Mintel report, 2018.
4 Wise Guy Reports, Discover Global Nutricosmetics Market Upcoming Trends, Growth Drivers and Challenges, 2018
5 Plant-based trends, nutrition insight newsletter, October 2020