The New Holistic Weight Management Market
FMCG Gurus and Nexira will co-present the "new" weight management market in their webinar: "Holistic Weight Management: How to address this shifting market and adapt your nutraceutical offer?".
SESSION ONE: 20 April 2023     START TIME: 03:00 PM BST     DURATION: 45 Minutes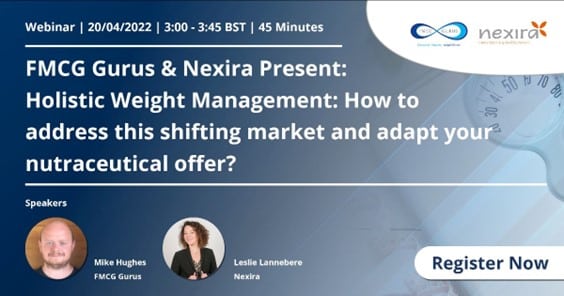 Presentation Description
Body weight perception has changed throughout the pandemic. Back to normal, more consumers are looking to lose weight putting Weight Management back on stage. But consumer expectations have changed from "miracle weight loss pill" to the concept of "holistic weight management"; a change of paradigm requiring an adaptation of the Nutraceutical offer.
What you will learn:
Weight management is back on stage with new market opportunities
As a result of a necessary adaptation, the holistic approach must combine diet, physical activity with natural solutions
Nexira will introduce its 360° approach to address the "New" Weight Management market
Your Speakers
International Marketing Manager Health, NEXIRA
With more than 15 years in the Nutrition & Health industry, Leslie has held various positions related to Marketing and Sales both in BtoB and BtoC. Strong believer in the power of Nature, building robust and substantiated stories on botanicals is probably her biggest passion ; as well as contributing to the facinating world of Biotics.

Head of Research and Insight, FMCG Gurus
Mike Hughes has over 13 years' experience analysing consumer trends, attitudes and behaviours and currently heads up the research and insight division at FMCG Gurus. Mike has a particular interest in highlighting how consumer attitudes and behaviours can often differ and what the true meaning of trends are for the industry.
About FMCG Gurus 
FMCG Gurus provides research and insight on consumer attitudes and behavior across the food, beverage, and supplement markets around the globe. FMCG Gurus has a specific focus on understanding the latest trends and innovations focusing on areas such as taste and nutrition, healthy aging, and medical nutrition. Our global reach includes ingredient analysis, future trend mapping and actionable recommendations.

---
This communication is not intended to the final consumer. It provides scientific information for professionals only. Communications to the final consumer have to be checked according to local regulations in force, since the conditions of use are beyond our control. This statement has not been evaluated by the FDA. This product is not intended to diagnose, treat, cure, or prevent any disease.