Create the perfect sensory experience with naltive
Globally, plant-based alternatives are becoming a popular lifestyle choice for consumers. Taste preference, general health & well-being, environmental impacts and ethical concerns are some of the main reasons expressed. To fulfill the growing consumers' expectations for flavorful plant-based foods and beverages, Nexira introduces naltive, a complete range of premium and performing texturizing locust bean gum grades.
The growing plant-based market
Plant-based eating expands its customer base. According to Innova Meat, Dairy & Alternatives Protein Survey 2021, more than 1 in 3 regularly eat plant-based: 38% agree that "I regularly eat plant-based foods as alternatives to meat and/or dairy" and 49% say that they have noticed more plant-based foods in the supermarket.
Dairy alternatives, meat analogs and other plant-based options continue to flood the marketplace. Indeed, +50% average annual growth in F&B launches tracked with a plant-based positioning (US, CAGR 2018-2021).
Watching out for dairy alternatives, non-dairy cheese and dairy-based ice cream & frozen yogurt remain the top fastest growing categories with a plant-based claim (US, CAGR 2018-2021):
+110% non-dairy cheese
+63% non-dairy ice cream and frozen yogurt

In Europe (CAGR 2017-2021), the non-dairy ice cream & frozen yogurt category registers an average annual growth of +28%.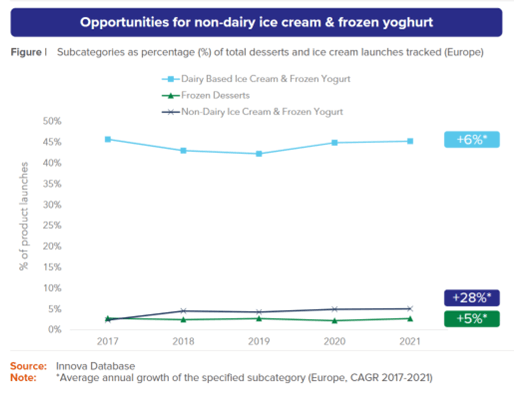 Consumers want healthier (less sugar & fat but more nutritional compounds), clean label and plant-based products but only if the texture fulfills consumers' expectations as well as the traditional product. This is particularly true in Confectionery, Bakery and Snacks, Dairy (milk, yogurt, cheese, dessert, textured ice-cream) and Meat alternatives.
Regardless of the application, formulating appealing products with good taste, desirable and indulgent texture, and overall appearance gets more challenging due to the highly functional sugar / fat / protein properties.
Achieving the right texture and stabilizing the recipe with naltive
Nexira, world leader in acacia and plant-based ingredients, greatly expands its premium and performing naltive locust bean gum texturizing range.
These premium plant-based solutions have been specifically designed for the successful development of non-dairy innovations formulated to fulfill consumer expectations for sensory experiences and clean-label plant-based foods and beverages.
World-leading expert in the production of Locust Bean Gum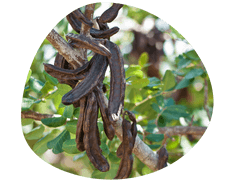 Our Swiss-based factory is a world-leading expert in the production of Locust Bean Gum (LBG), which is used for its thickening and stabilizing properties. We manufacture a range of high-quality LBG for a large array of applications.
naltive locust bean gum, a complete range to meet your needs
Demand for locust bean gum has increased in recent years due to its exceptional functionality and suitability for many rapidly growing traditional and plant-based product applications such as ice cream. Innova Market Insights notes that in 2021 LBG was used in 50% of new global ice cream launches and 64% of western European ice cream launches.
Minimally processed, naltive locust bean gum is best-in-class as compared to regular LBG. The large range provides specific technical benefits for enhanced sensory experience benefits:
Prevents the growth of crystals in ice cream and improves the resistance to heat-shock, thus delivering both creaminess and mouthfeel;
Extends the shelf-life of bakery products;
Provides thickness and stabilizes any kind of sauce and gravy.
Application bulletins are available upon request.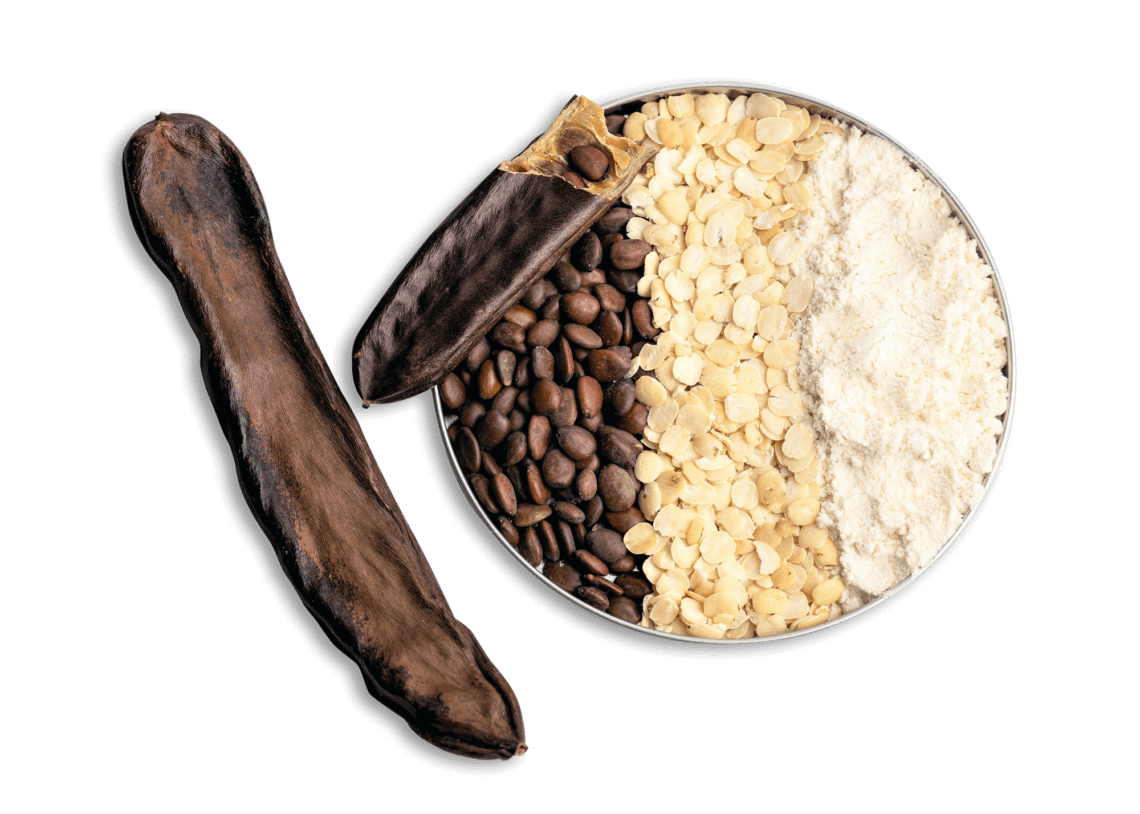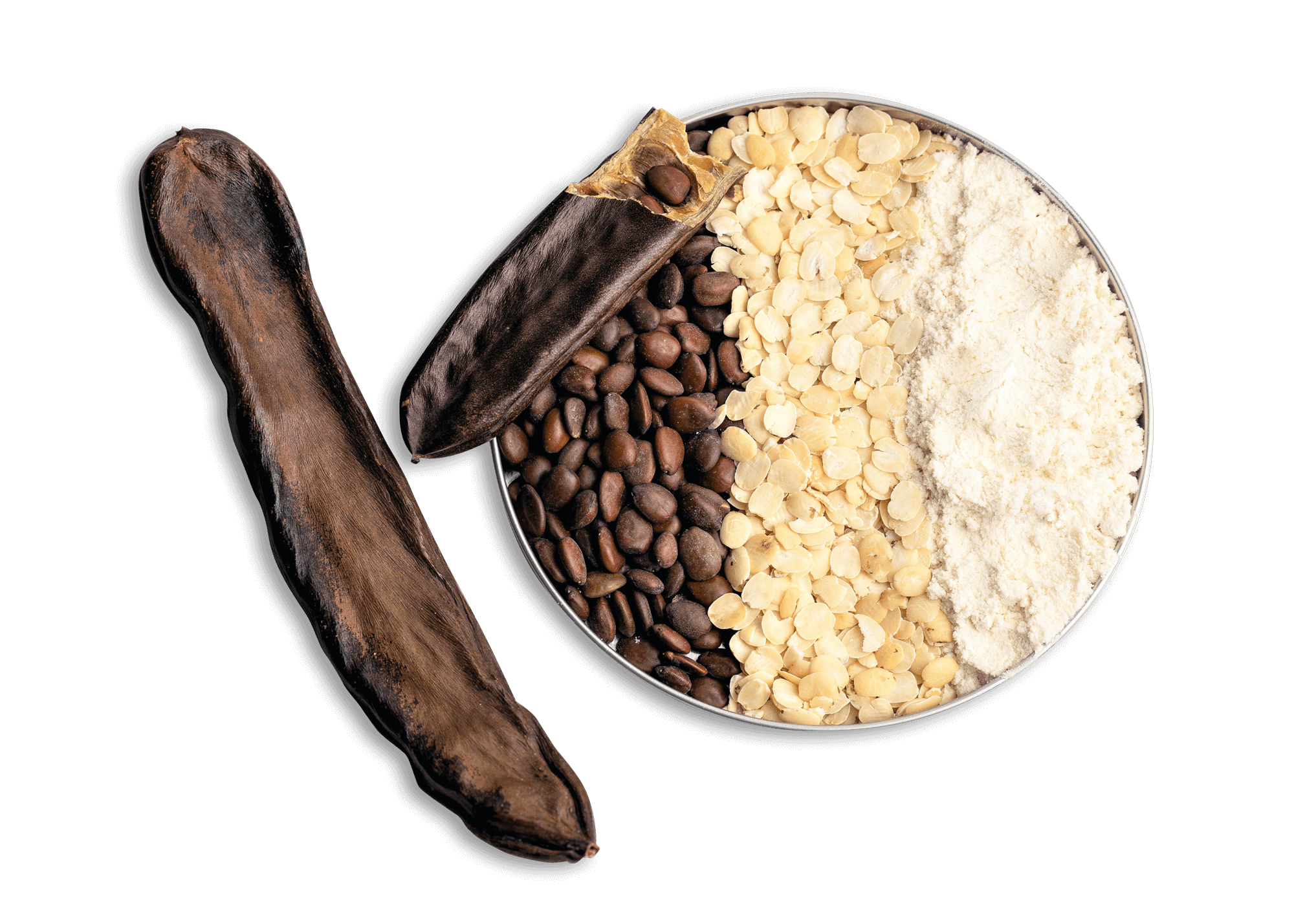 naltive locust bean gum range includes different grades, enabling us to provide solutions for plenty of traditional and plant-based applications:
Premium grades: two extra high grades with advanced functionalities
Standard grades: several grades with different levels of viscosity
As each formulation is unique, our technical team is here to help you choose the best grade and support your product formulation to set your business on the right track.
Ready to formulate with naltive locust bean gum?
---
This communication is not intended to the final consumer. It provides scientific information for professionals only. Communications to the final consumer have to be checked according to local regulations in force, since the conditions of use are beyond our control. This statement has not been evaluated by the FDA. This product is not intended to diagnose, treat, cure, or prevent any disease.