With the extensive growth of the clean label movement, Nexira has extended its range of high-quality grape extracts to offer a new generation of grape seed extracts with the highest content of phenolic compounds, to support a healthy lifestyle.

How is Nexira's Grape Seed Extract Made?
The careful selection of high-quality Californian grapes and the unique, proprietary process explain the exceptional quality of our grape seed extracts. The water extraction of fresh grape seeds offers the highest content of phenolic compounds guaranteed, with 95% polyphenols content and 50% OPC.

VinOseed SO FreeTM, the New Generation of Grape Seed Extract
Nexira has extended its Grape extracts range with VinOseed™ SO free, a sulfite-free, clean label grape seed extract that provides the highest antioxidant activity.
Thanks to its content in OPCs, which are predominately bioavailable compounds VinOseed™ SO free offers scientifically supported health benefits. Nexira's solution is an easy-to-use nutraceutical ingredient in capsules, tablets, stick packs, and suitable for powders
Technical properties

More than 50% OPC
Only Fresh Seeds Raw Material
Water extraction
Gentle process
Sulfite free*
ORAC** > 19 000
Multiple advantages :

Clean Label
Suitable for Vegans
NON-GMO
Kosher
Distinctive Grape Seed Extract Benefits for Applications
Grape extracts have been used for centuries for their multiple health benefits.
NEW in vitro proprietary study: VinOseed™SO free offers the highest antioxidant activity on the market

ANTIOXIDANT PROPERTIES FOR ANTI-AGING BENEFITS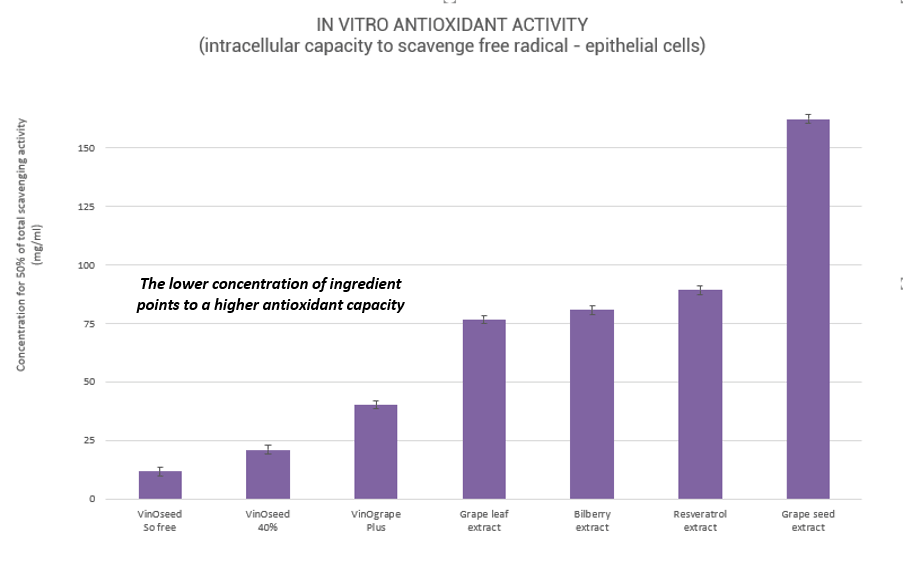 AntiOxidant Power method (AOP)[1] assesses the capacity to decrease cell oxidation from free radicals, within a living cell.
The comparison test has been performed on epithelial (Caco2) cells which is the first cell type through which oral ingredients cross into the body (intestinal barrier).
The unit of measurement is the concentration of the ingredient necessary to enable a standardized antioxidant efficacy. Thelower concentration of ingredient points to a higher antioxidant capacity.
Grape seed proanthocyanidin extract is a far more powerful antioxidant than vitamins E, C and beta-carotene[2].
HEART HEALTH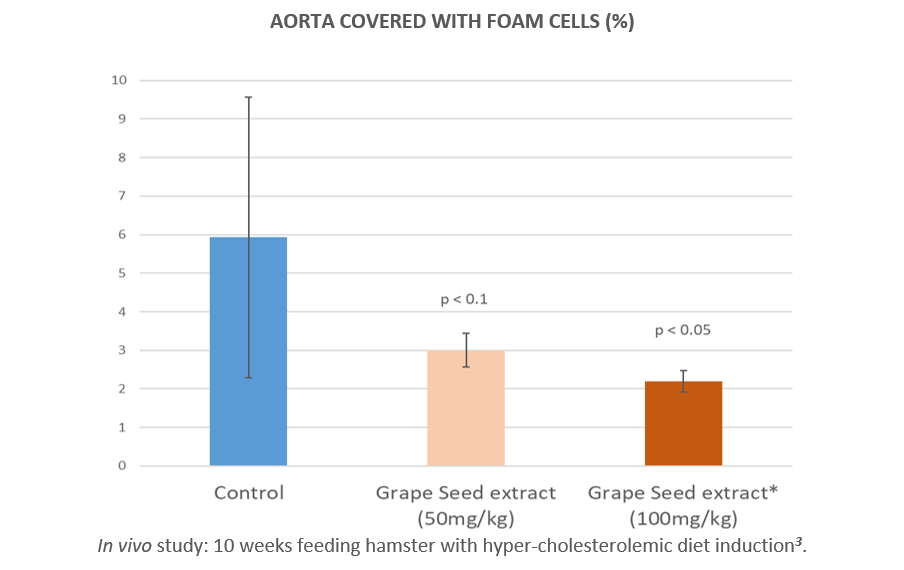 Effects of grape seed extracts on cardiovascular health are demonstrated by lower blood pressure [3][4].
A study demonstrated that grape seed OPCs significantly attenuated the increased expression of soluble adhesion molecules in the plasma.
If you'd like more information about our natural solutions, our experts are here to help!
---
[1] Derick S. et al. LUCS (Light-Up Cell System), a universal high throughput assay for homeostasis evaluation in live cells. Scientific reports, 2017, vol. 7, no 1, p. 1-11. [2] Bagchi et al, 1998. [3] Sivaprakasapillai, 2009. [4] Vinson 2002. 5: Kalfin 2002.
*<10ppm** µmol T eq./gr
This communication is not intended to the final consumer. It provides scientific information for professionals only. Communications to the final consumer have to be checked according to local regulations in force, since the conditions of use are beyond our control. This statement has not been evaluated by the FDA. This product is not intended to diagnose, treat, cure, or prevent any disease.