Consumers are increasingly interested in their microbiota. The growth of the prebiotics market bears witness to the rising consumer interest in microbiota and its effects on their overall health and well-being. Prebiotic ingredients, along with their multiple applications, are increasingly being highlighted. Efficiency, premium sourcing, clean label…these are the key components that will influence tomorrow's innovations.
• The Prebiotics Market is Following in the Footsteps of Probiotics
Probiotics are living bacteria that are either the same or very similar to the bacteria that already exist within the body that are intended to have beneficial effects on health. Prebiotics selectively stimulate the growth or activity of desirable microorganisms. In particular, they produce metabolites that cause macroscopic biochemical cascades throughout the body.
The probiotics market is still experiencing growth as it continues to further develop and mature. For their part, prebiotics are gaining weight with a market estimate of $ 9.3 billion in 2025 and a CAGR of 11.4% between 2017 and 20251. Easier integration into food matrices with proven benefits enable prebiotics to perform well.
Prebiotics occupy a central place in the vision of the microbiota. They contribute to the diversity of the microbiota and to the maintenance of the intestinal barrier. Therefore, this results in positive systemic health effects that are more far-reaching than just digestive well-being.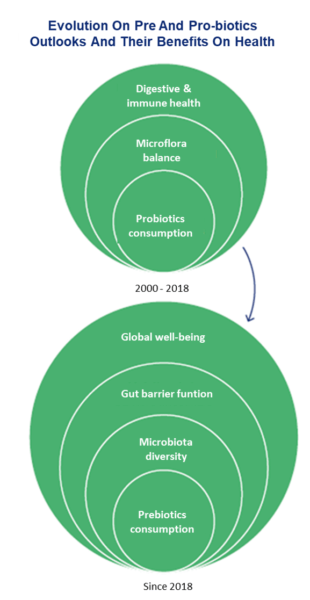 • Spotlight on the Barrier Function of the Intestine
The intestinal tract contains the body's largest interface between a person and their external environment: the microbiota. This plays several roles:
A barrier role that protects the organism from microbes or toxins.
A maintenance role that renews the intestinal mucosa and ensures the maturation of the digestive tract.
A defense role through the development of the intestinal immune system.
A metabolic role that draws on the food consumed. It stimulates, among other things, the production of short-chain fatty acids such as butyrate, acetate, and propionate.
More and more, products are being positioned with a strong emphasis on the important roles of prebiotics in maintaining intestinal permeability.
• Trend Towards More Premium Sourcing
Today's consumers are very interested in the ingredients contained in the products they use. Beyond the health benefits, they are looking for ingredients with high added value. Based on scientific evidence lasting assets, and a clean label claim. All sectors are concerned including functional food & drinks and food supplements.
Many prebiotics are already on the market like FOS, GOS and XOS. However, they remain classic and do not provide substantial elements of differentiation. Consumers are looking for natural fibers* extracted by the use of responsible sourcing and supported by scientific evidence.
• inavea™ PURE ACACIA, Organic and Sustainable Acacia Fiber*
inavea™ PURE ACACIA is a dietary fiber* made from a specific selection of acacia gum. It is natural, clean label, organic and non-GMO project verified. inavea™ PURE ACACIA has powerful prebiotic properties. This is because these fibers* stimulate beneficial bacteria and contribute to the production of short-chain fatty acids. Studies performed on inavea™ PURE ACACIA have shown an improvement in microbiome diversity and demonstrate that it plays a role in the restoration of the intestinal barrier.
• inavea™ BAOBAB ACACIA, Organic, Sustainable and Synergistic Prebiotic Ingredient
To complete our range of natural and sustainable prebiotic ingredients, we are launching inavea™ BAOBAB ACACIA, an all-natural and organic synergistic formulation of two African treasures. inavea™ BAOBAB ACACIA offers a proven prebiotic effect contributing to the microflora balance and to gut comfort. inavea™ BAOBAB ACACIA is also a gentle prebiotic ingredient, FODMAP-friendly certified.
The significant prebiotic effects from both of our high-performing formulations have been scientifically proven through our proprietary study.
inavea™ PURE ACACIA and inavea™ BAOBAB ACACIA are easy-to-use and suitable for vegan products and FODMAP-friendly certified products. They are perfectly suitable for the food, health and nutrition industries to fortify a large array of applications including beverages, confectionery, baked goods, and dairy products.
With a unique sustainability commitment, Nexira's goal is to attain a carbon-neutral footprint for the inavea™ brand.
If you need to fortify your product formulation with high-prebiotic ingredients, do not hesitate to contact our experts!
*to be checked in compliance with local regulations.
This communication is not intended to the final consumer. It provides scientific information for professionals only. Communications to the final consumer have to be checked according to local regulations in force, since the conditions of use are beyond our control.