From Africa to India, acacia gum is the perfect solution for confectionery
Nexira offers a comprehensive range of purified acacia gums with multiple properties to answer specific markets and customer's needs across India.
All natural and non-GMO, our spray-dried acacia gums perfectly match the rising demand for healthy confectionery. If you wish to tap into this growth area, this is the perfect opportunity to join our free on-demand webinar.

Make In India
In 2019, Nexira, the world leader in acacia gum, gets stronger in India with the opening of a new spray-drying tower dedicated to the production of acacia gum.
With this new state-of-the-art production site, Nexira can supply large quantities of spray-dried acacia gum to Food & Health industries in India.
Acacia gum is a dried exudate from the stem and branches of Acacia Senegal or Acacia Seyal trees found in the acacia gum belt.
In India, acacia gum is widely known as babul gond. It is traditionally used in Northern cuisine for texturizing and nutritional properties. In particular gond ke laddus are energy balls made of flour, babul gond, nuts and dried fruits.
Spotlight on the food & beverage market in India
The food and beverage industry in India is the fifthlargest sector in manufacturing. Total consumption of the F&B segment in India is expected to increase from US$ 369 billion to US$1.142 trillion by 2025. Considering its attractiveness in the Indian F&B industry, confectionery is one of the top ten high-growth segment.
Consumers are so health-conscious today that they seek health and wellbeing in every thing they consume, including confectionery. One of the major trends that is driving this segment is towards sugar-free and healthy products. "Manufacturers are shifting toward recipes that have more natural and organic ingredients. Apart from this, candy companies are expected to incorporate more nutritious add-ins like nuts, seeds, and fruits to appeal to the health-conscious demographic", notes Prashant Bhosale from Nexira, India. Industry players are facing new challenges to meet consumers' expectations.
Nexira's solutions for confectionery
Clean label, vegetable origin, sugar-free: acacia gum perfectly matches the rising demand for natural and healthy confectionery.
Thanks to our long experience and leadership in acacia, our technical team has a thorough understanding of confectionery applications. Nexira, global leader in natural and innovative ingredients, invites you to discover the unique properties of acacia gum in our 40-min on-demand webinar.
Let's tap into this growth area with Nexira's unrivalled technological expertise!

Is it for you?
You are a manufacturer or brand of confectionery. Whether you want to develop new formulations or solve technical issues with acacia gum, this is the perfect opportunity.
Highlights of the event
• The key technological and nutritional benefits of acacia gum in confectionery.
• How acacia gum can enhance coating and texture in a broad scope of applications: chewy candy, starch-molded confectionery, hard-boiled candy, tablet…
• How to develop healthy formulations thanks to acacia gum properties such as sugar reduction, gelatin-free, safe for teeth, low caloric value, dietary fiber.
Presented by our confectionery experts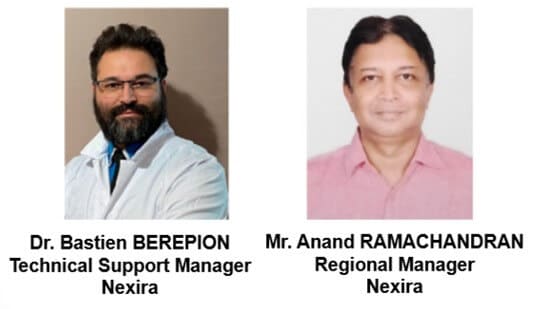 Watch our on-demand webinar now: