The New Holistic Weight Management Market
Global leader in natural ingredients, Nexira explains how consumers' weight management goals changed, and how wellness brands are responding in the market.
What Is Weight Management and What Impact Can It Have On Wellness?
Weight management can be defined as the practice of implementing long-term lifestyle changes to maintain a healthy body weight based on an individual's age, gender, and height. The most effective approach to weight management is generally both behavioral and psychological. There are three categories that fall under the umbrella of weight management: being underweight, overweight, or obese. Neglecting or improperly managing one's weight increases the risk of experiencing major health issues such as diabetes, heart disease, and joint problems. Hence, weight management may help to prevent illnesses linked to obesity, being overweight, or other eating disorders.
Who Is Concerned About Weight Management and Why?
In 2023 and beyond, consumers will continue to look to protect their health for the longer term, through diet and physical activity.
There are several groups that are identified as being most concerned with the concept of weight management: obese individuals, health-conscious individuals, those who are suffering from health issues due to their current weight, or those who worry that they will experience health issues in the future if they don't begin to manage their weight now.
Due to rising obesity rates in North America, consumers are seeking new weight-loss strategies in addition to the traditional low-calorie meals, beverages, and sweeteners. Some other commonly-known approaches to weight management include meal replacements, herbal and green teas, exercise regimens, and even surgical procedures in extreme cases. Recent studies have revealed that the Covid pandemic had a significant influence on health-related behaviors, general wellbeing, and weight management.
The pandemic had a profound impact on many aspects of consumers' physical and mental wellbeing. Even if fear around COVID-19 has largely disappeared, consumers remain committed to improving health, and weight management is seen as an integral part of holistic health. Body weight perception has changed throughout the pandemic. In 2019, 26% of global consumers thought themselves to be overweight, increasing to 31% post-pandemic. In 2022, the proportion of consumers who wanted to lose weight has grown by 7% since 2019, rising to 40%.
Watch the webinar replay to learn more about this "new" holistic market: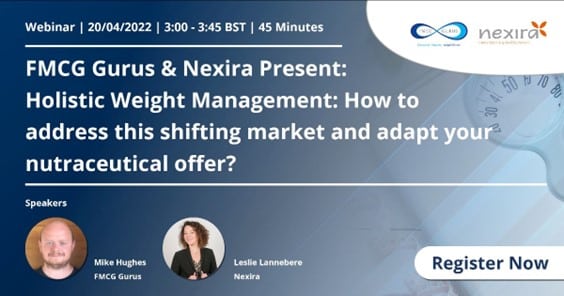 Understanding Consumer Expectations Around Weight Management Goals
Many consumers admit that they have struggled to diet long-term or maintain weight loss. Many also share that they are shifting away from the simple diet mentality, and instead they seek a long-term solution to enhance their overall health – and feel good about it at the same time.
Back to "normal" (post-pandemic), most consumers are looking to lose weight through a holistic approach by exercising and modifying their diet. It is not only a question of appearance, but also a way to feel better and to reach a general well-being. Consumers are now willing to consider weight management using holistic methods, as part of a healthy diet and lifestyle.
In addition, they are becoming more aware of the science behind nutrition. Instead of looking for specific weight management claims on product labels, many consumers are seeking claims regarding positive quality nutrition, such as ingredients that boost energy or immunity. Additionally, most consumers believe that exercise is linked with mental health and they frequently associate weight management with self-care, going far beyond the numbers on the scale.
That said, research published by FMCG Gurus states that two of the key indexes by which consumers measure their health are physical appearance and weight management; and they know that excessive weight directly affects their energy and alertness levels, as well as impacting their emotional wellness. It is important to acknowledge that emotions play a key role in weight management. Even though the psychological or emotional "feel good" component is significant, consumers still want to see measurable outcomes. To that end, consumers want validation and evidence to support health claims made on products. When buying health and wellness products, 28% of global consumers say that branded health ingredients play an important role in shaping their perceptions of value.
It's worth noting that green and clean-label ingredients are just as important as functional claims. Consumers also want ingredients deemed good for them and good for the earth and are asking for transparency: Brands that protect the planet, and ingredients which are described as real, authentic, green, and clean.
On the FMCG Gurus' Health and Wellness 2023 survey, weight management ranked sixth on the consumers' list of health goals. 36% of global consumers claim that over the next 12 months, they want to improve their weight. Consumer insights published by FMCG in 2021, saw a similar number, 37% of consumers worldwide, stating that following the pandemic lockdown, they had become more aware of their weight, while only 21% of respondents said this in April 2020. Those changes in eating and drinking habits during the lockdowns were one factor that caused consumers to worry about their weight. Weight loss in general is regarded differently now than it was in pre-pandemic 2019.
With an historic leadership on the Weight Management market, Nexira launched two new ingredients for microbiome modulation and appetite control in nutritional supplements – and at Vitafoods, Nexira also introduced its 360° approach to continue addressing all consumer needs while filling the gap with innovative solutions.
Need more information?
---
1 FMCG Guru, 2022
This communication is not intended to the final consumer. It provides scientific information for professionals only. Communications to the final consumer have to be checked according to local regulations in force, since the conditions of use are beyond our control. This statement has not been evaluated by the FDA. This product is not intended to diagnose, treat, cure, or prevent any disease.