Premium Weight Management Nutraceutical Solutions
A leader in the weight management market, Nexira introduced at Vitafoods a 360° approach: the right answer, the natural way – with premium nutraceutical solutions.
Nexira's 360° approach provides consumers with the right answer, the natural way – with premium nutraceutical solutions designed to address specific needs: GET FIT!
Provide the right answer with premium nutraceuticals
From image through social media to the "body positive" movement, body weight perception has been influenced over recent decades. Consumers are willing to consider weight management through a holistic approach.  To do so, a change of paradigm is necessary, requiring an adaptation and a specialization of the Nutraceutical offer. The use of nutritional  supplements is a natural contribution to boost results that sometimes are not rewarded from just a modified diet or enhanced physical activity.
Fat burners, appetite blockers, supplements and shakes that provide an extra source of protein, and meal replacements for weight loss are proliferating on the weight management market. One of the most popular upward-trending categories is dietary supplements. Consumers want validation and evidence to support health claims made on products. When buying health and wellness products, 28% of global consumers say that branded health ingredients play an important role in shaping their perceptions of value. To learn more about the '"new" holistic Weight Management market, we invite you to watch our webinar replay, co-presented with FMCG Gurus.
Watch the on-demand webinar replay: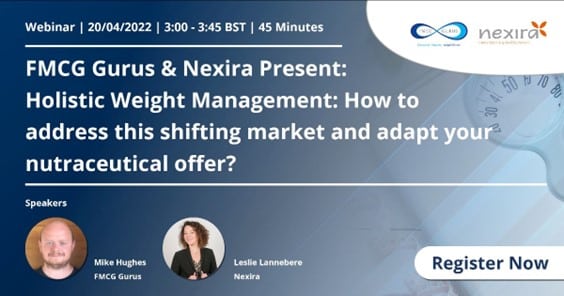 Based on product type, the weight management market is expanding to provide premium nutraceutical solutions in addition to weight loss or weight gain supplements, low-calorie foods and beverages, and meal replacements. Nexira now offers solutions for appetite control, enzyme inhibition, detox, microbiome modulation, water elimination, and fat binding.
Its large range of premium nutraceutical solutions is perfectly designed to provide the right answer, the natural way: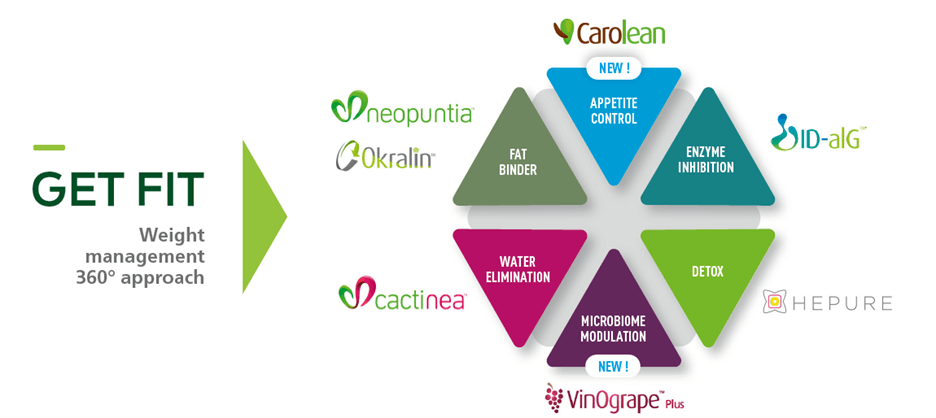 *Okralin™ outside Europe only
Nexira has launched two new ingredients for nutritional supplements, as a natural contribution to boost weight management programs.
Carolean™, Nexira's latest innovation for appetite control
Carolean™ is a thoughtfully designed, innovative solution which is both convenient and effective for appetite control. Carolean™ is a proprietary patent-pending complex which contains, among others, our recently acquired carob ingredient, Nopal.
VinOgrape Plus for Microbiome modulation
VinOgrape™ Plus, a natural grape extract rich in powerful antioxidant compounds (OPC and anthocyanins) has been shown to significantly modulate the gut microbiota profile after dysbiosis induction. VinOgrape™ Plus has also significantly increased the abundance of Akkermansia muciniphila, suggesting it may play a beneficial role for metabolic disorders.
Ready to formulate?
---
This communication is not intended to the final consumer. It provides scientific information for professionals only. Communications to the final consumer have to be checked according to local regulations in force, since the conditions of use are beyond our control. This statement has not been evaluated by the FDA. This product is not intended to diagnose, treat, cure, or prevent any disease.