Jump into our Monthly Acacia Insights World Tour – France in the spotlight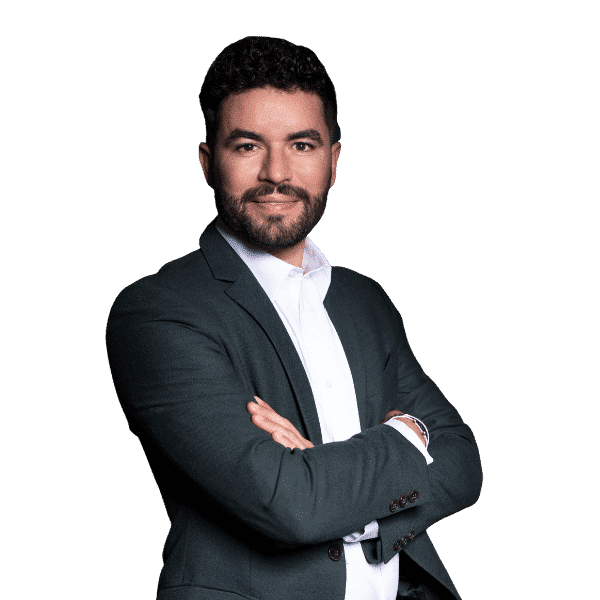 Curious about new food and beverage insights?
Each month, we invite you to visit our LinkedIn page to explore insights about Nexira's presence in various regions. This month, Rafael XIMENES, Area Sales Manager, provides insights into the French market and explains why acacia is the ultimate clean label ingredient for food and beverage products.
How is the French food & beverage market going?
A trend that has been popular for several years but is still relevant in the French market is the use of healthy ingredients such as superfoods, as well as vitamins, probiotics, and prebiotics in consumer products. This superfood trend is gaining popularity in various forms, including snacks, bowls, and powders.
The line between food and food supplements is blurring. On one hand, food products are evolving towards nutraceuticals by incorporating nutritional ingredients that offer health benefits, such as acacia for fiber enrichment. On the other hand, nutraceuticals are "foodifying", blurring the boundaries between the two categories.

In this healthy eating approach, there is also a growing demand for transparency. Consumers are increasingly interested in the origin of their products, how they were sourced, and other related questions.
Welcome to the era of the clean label!
What are the driving factors?
Vegetarian and flexitarian diets continue to grow in popularity. The demand for plant-based alternatives is driving new products development for our manufacturing clients.
Taking care of one's health has also become important after the pandemic. Consumers are keen on maintaining the healthiest lifestyle possible. They recognize the importance of dietary fiber for overall health and well-being.
Functional foods, which are sometimes referred to as dietary foods or nutrition, can help them in achieving their health goals.
What are the main challenges faced by manufacturers?
Manufacturers often face the challenge of finding fibers that can be easily incorporated into food and beverage products.
Some fibers, for example, are sensitive to heat and low pH conditions, making them unsuitable for certain beverages.
Furthermore, fibers interact with the human body in various ways, and many fibers are associated with side effects.
What advice would you give to your clients?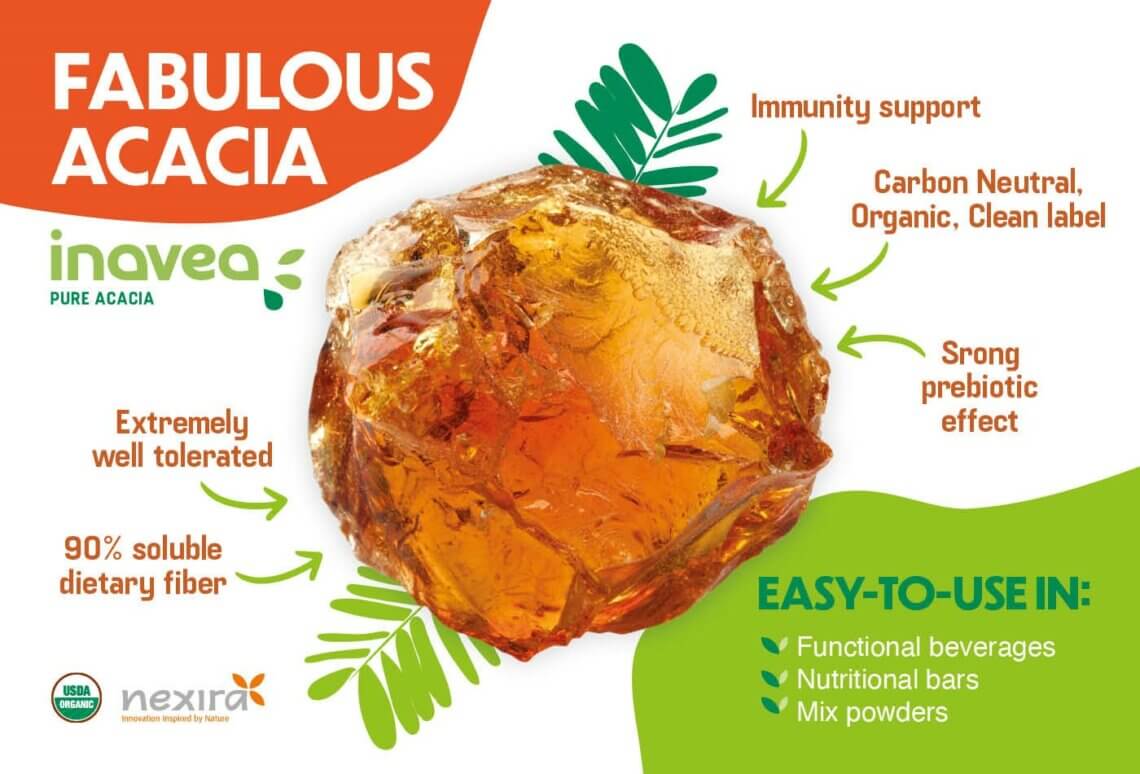 To meet the growing demand from manufacturers looking for an appropriate prebiotic fiber, I always recommend Nexira's acacia fiber: an all-natural, organic, and Non-GMO Project Verified dietary fiber sourced from carefully selected acacia trees.
With a minimum of 90% fiber content guaranteed on dry weight and its high digestive tolerance, it is the ideal clean label ingredient for fiber fortification.
In addition to its health benefits, it also simplifies the formulation processes in specific applications.
Nexira, World Leader and Expert in Acacia
With more than 40% market share, Nexira is the world leader in acacia, sometimes elegiacally referred to as the "golden tears of the Acacia tree". Nexira controls the full supply chain of its acacia gum: from production in the Sahel Gum Belt to the time it arrives at the Nexira factory in France, consistently ensuring the best acacia gum for their customers around the world.
Explore our comprehensive assets, covering the entire value chain, encompassing sustainable and reliable sourcing, in-house manufacturing in France, worldwide distribution, and value-added services that include scientific, technical, regulatory support, and marketing across our extensive portfolio of specialty products.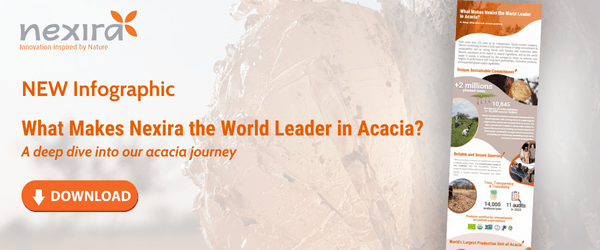 Acacia fiber is no longer just an ingredient food brands use for its functional properties. Recent shifts in consumer perceptions and preferences have seamlessly aligned with acacia's attributes, making it a natural choice for clean label food products.
The Ongoing Rise of Acacia fiber in Food & Beverage: Embracing the Clean Label Era
Consumer interest is driven by a desire for transparency and increasing awareness of the healthy dietary benefits that can often be found in clean label products. According to Innova Market Insights, food with clean label claims are growing by 5% per year (2017-2022 CAGR) as 63% of consumers globally state a preference for clean labels over flexible ones.
Interestingly, what makes a label clean is twofold – certainly, the ingredients that are used in the product and the way that it's made, matter greatly.
The fact that acacia is sustainably sourced is an important factor for many consumers, who adhere to the principle that what is good for the environment, is good for them.
As global leader, Nexira is also committed to supply an extensive extraction, purification and spray-drying capacity with high quality products, supported by several internationally recognized certifications to satisfy our customers' needs and requirements for their formulations: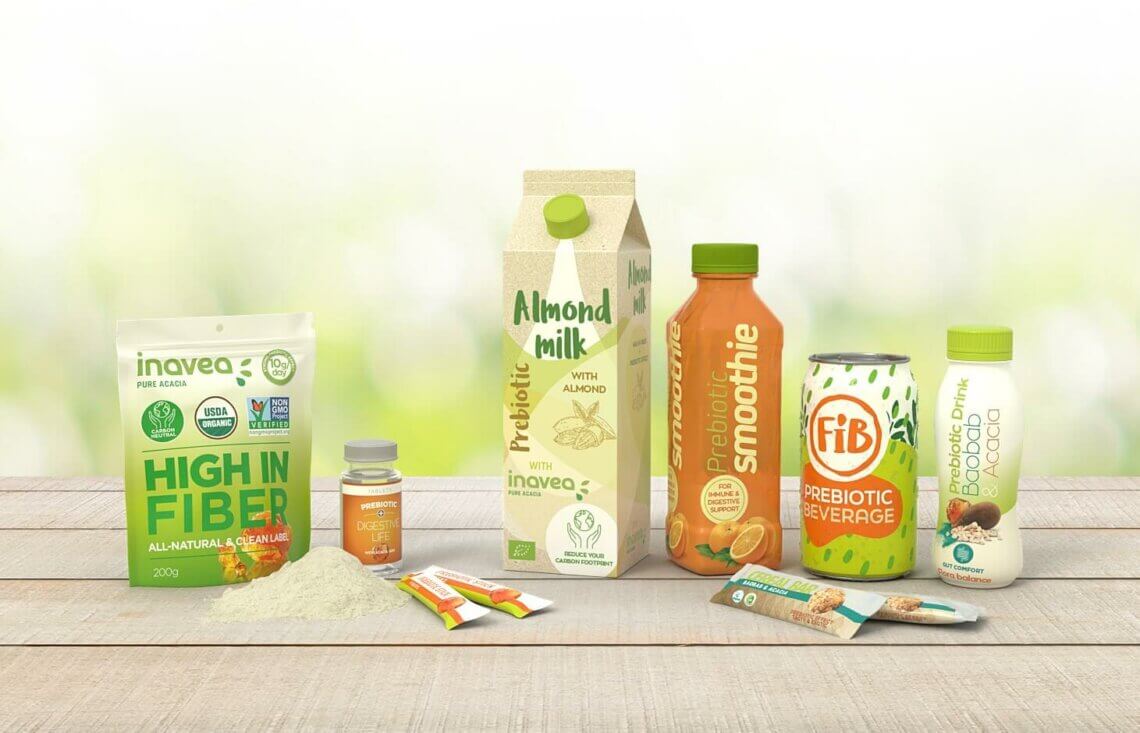 Ready to formulate?
Get your samples!
---
This communication is not intended to the final consumer. It provides scientific information for professionals only. Communications to the final consumer have to be checked according to local regulations in force, since the conditions of use are beyond our control. This statement has not been evaluated by the FDA. This product is not intended to diagnose, treat, cure, or prevent any disease.