Balance Emotional Well-Being and Support Mental Health
The global mood has evolved in recent years, owing mainly to increased consumer emphasis on mental well-being.
Consumer attitudes related to mental health, including the constant quest of happiness, mental load and tiredness, are expected to continue to drive the need for innovation to improve mood, reduce stress and happiness.
In 2023, Nexira provides a new set of evidence on mental & emotional well-being with its new consumer study conducted on Serenzo™. Download our infographic to get more data!
Holisitic Health: New Opportunities for Mental Health
With modern day living significantly impacting mental well-being and sleep quality, the proportion of consumers who say that they feel stressed or anxious is growing.
However, people are becoming more mindful and aware of what their bodies and mind need to live their life to the fullest. Innova Market Insights reports that 53% of global consumers say they have taken action to improve their physical well-being. Another 44% say that they have taken action to improve their mental and emotional well-being.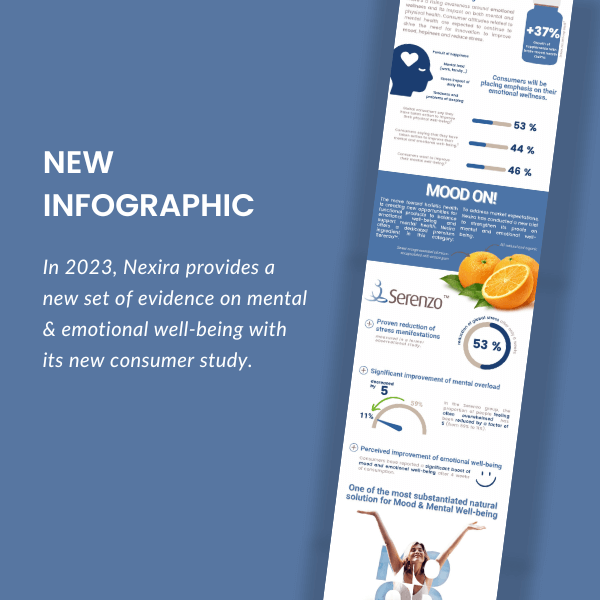 According to Innova Market Insights also, there has been a 26% increase in supplement launches over the past five years (Oct 2017 – Sep 2022). After immune health, the second most launched claim is brain-mood health with +25%.
Learn more about the mental health market and discover the new consumer study conducted by Nexira.
Well-being has emerged as a definitive global trend with consumers moving to a holistic view that encompasses mental and physical health. The move toward holistic health is creating new opportunities for functional products to balance emotional well-being and support mental health.

Balance Your Mental & Emotional Well-Being with Serenzo™
To put emphasis on well-being and mood health in 2023, Nexira is highlighting Serenzo™, a premium supplement ingredient specially designed for mental and emotional well-being improvement based on sweet orange essential oil formulated with acacia gum.
Acting at the neuronal level, Serenzo™ has exceptional properties:
Identification of Serenzo™ as Adenosine
Activation of the stress regulation
Inhibition of the stress response receptor
Historical data from a 12 weeks observational study had shown the significant benefits of Serenzo™ for stress improvement and mood enhancement. The efficacy was assessed using normative psychological questionnaires and a physiological marker. The first benefits were demonstrated after only 6 weeks:
50% reduction of subjective feeling of stress
53% reduction of global stress, measured through normative questionnaire
New Observational Study Conducted on Serenzo™
In 2023, Nexira provides a new set of evidence on mental & emotional well-being with its new consumer study conducted on Serenzo™.
Recent consumer data from 2022 on 134 people have confirmed these results and added some granularity: a significant improvement on mental load and a better management of « all the things that need to be done » (sic) via PASS-10 normative questionnaire as well as a perceived boost of mood and emotional well-being after 4 weeks of consumption making Serenzo™ one of the most substantiated natural solutions for Mood and Mental well-being.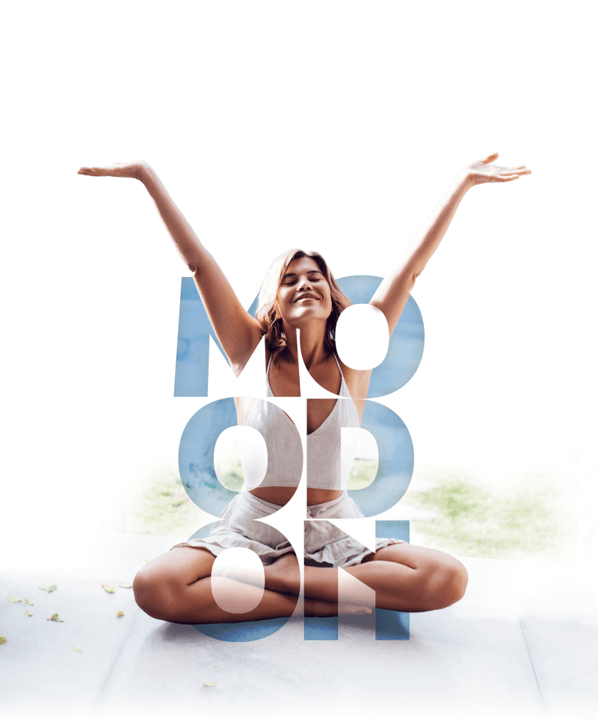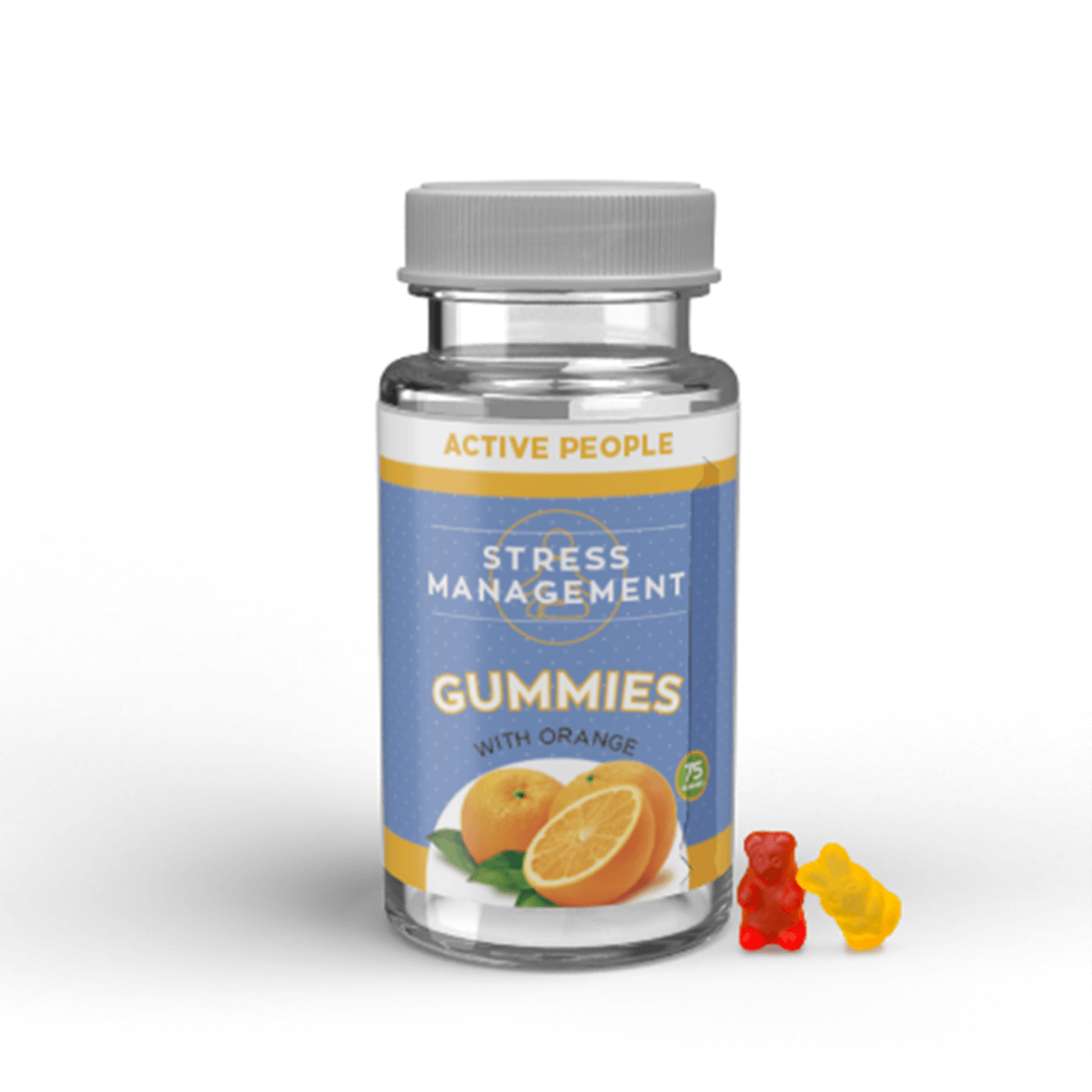 From classic tablets to trendy gummies format, Serenzo™ is easy-to-use in a wide array of Nutraceutical formats.
Ready to formulate?
New Identity for Nexira's Health Range
Nexira has redesigned its entire range with a new segmentation to address consumer needs as well as a provide a good clarity of the range. 4 Health categories – covering main consumer needs – have appeared: Biotics & Protect, Fit & Strong, Mood & Balance and Women & Care.
Bold and sharp, Nexira Health's range delivers on what matter to consumers in Nutraceuticals: Preserved Origin, Made in France with expertise and a robust proof of Effectiveness to make a significant difference on the market.
Nexira Health is also proud to unveil its new visual identity, a bold and agile positioning that drives positive energy as well as makes no compromise on scientific substantiation and robust proof of evidence.
---
This communication is not intended to the final consumer. It provides scientific information for professionals only. Communications to the final consumer have to be checked according to local regulations in force, since the conditions of use are beyond our control. This statement has not been evaluated by the FDA. This product is not intended to diagnose, treat, cure, or prevent any disease.