At Vitafoods 2022, Nexira will confirm its strong focus on science to remain a trusted and supporting partner for nutraceutical industry. Nexira will present four new scientific studies on different health benefits: gut health, urinary comfort, beauty-from-within and sports nutrition. New results that will impact supplement manufacturers with new product developments and new on-pack claims!
Four New Scientific Studies to Shape your Product Innovation
Digestive Health: The Fabulous Prebiotic Acacia Fiber with Proven Potency in Improving Constipation for IBS People
Every day, 70 million people are subject to digestive discomfort. Irritable bowel syndrome [IBS] is the most highly diagnosed functional gastrointestinal disorder, affecting between 10% to 15% of the population worldwide [1]. Many IBS sufferers turn to a low FODMAP diet to limit their digestive issues.
In the Digestive Health category, the demand for efficacious prebiotic ingredients is quickly rising, due to a diversity of market drivers.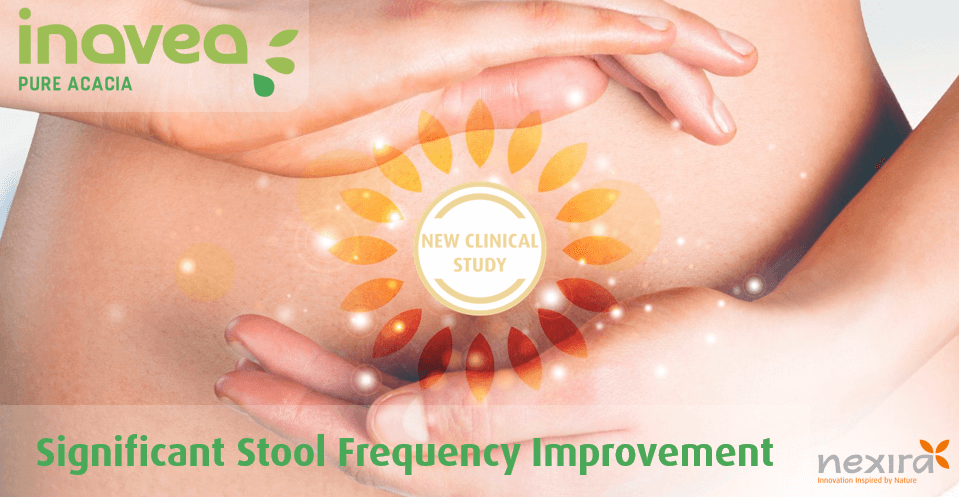 inavea™ PURE ACACIA is an all-natural, organic and GMO-free dietary fiber sourced from carefully selected acacia trees. inavea™ PURE ACACIA offers a carbon neutral footprint and the value of high digestive tolerance for fiber enrichment and prebiotic effect in a large array of applications. inavea™ PURE ACACIA has been recently evaluated on the predominantly constipated category of IBS people: inavea™ PURE ACACIA has demonstrated its potency in improving constipation for IBS people which is also valuable for occasional constipation in general population.
Women's Health: Addressing Natural Solution for a Specific Women Health Issue: Urinary Tract Health
Women have a wide range of genetic, lifestyle and career considerations when managing their health. Their health evolve at every age and stage of their life.
Considering these different needs, supplement brands are increasingly targeting various and specific women's related health issues, like urinary tract health. Urinary tract health supplements grew 13% in sales over the past year, according to proprietary SPINS data.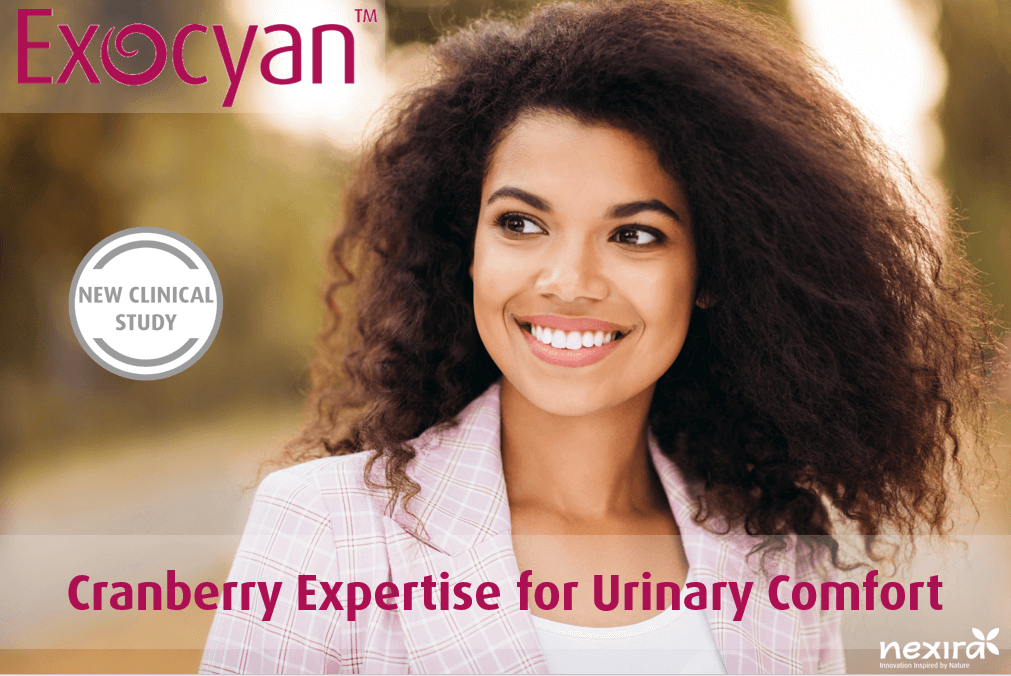 Nexira offers an extensive range of cranberry extracts standardized in PACs (proanthocyanidins) or in fruits solids. Nexira has recently conducted a 6-month clinical study on 209 women having current urinary discomforts with characterized impact on quality of life (QOL). Exocyan™ CRAN 40G has shown very good results during the 1st month of administration by improving the urinary comfort and the psychological status. Exocyan™ CRAN 40G had also better results on the Quality of life. 93% of the consumers would recommend Exocyan™ CRAN 40G to a friend.
Beauty-from-within: The First Supplier to Study the Selective Science of Nutrigenomic in Nutricosmetics
Shifting towards a more holistic approach, the beauty-from-within market has expanded to welcome consumers who believe achieving glowing, radiant skin, strong hair and nails starts from within, grounded by the whole health and a good nutrition.
Expected to reach U.S.$ 11.4 billion by 2027, according to Brand Essence Market Research, the global market for nutricosmetics is growing driven by consumer trends, product innovation and effective ingredients.
The NutriBeauty range by Nexira offers natural, organic and clean label solutions that cover 3 main categories: Glow & Beauty, YOUTH & PREVENTION and HAIR & NAILS CARE.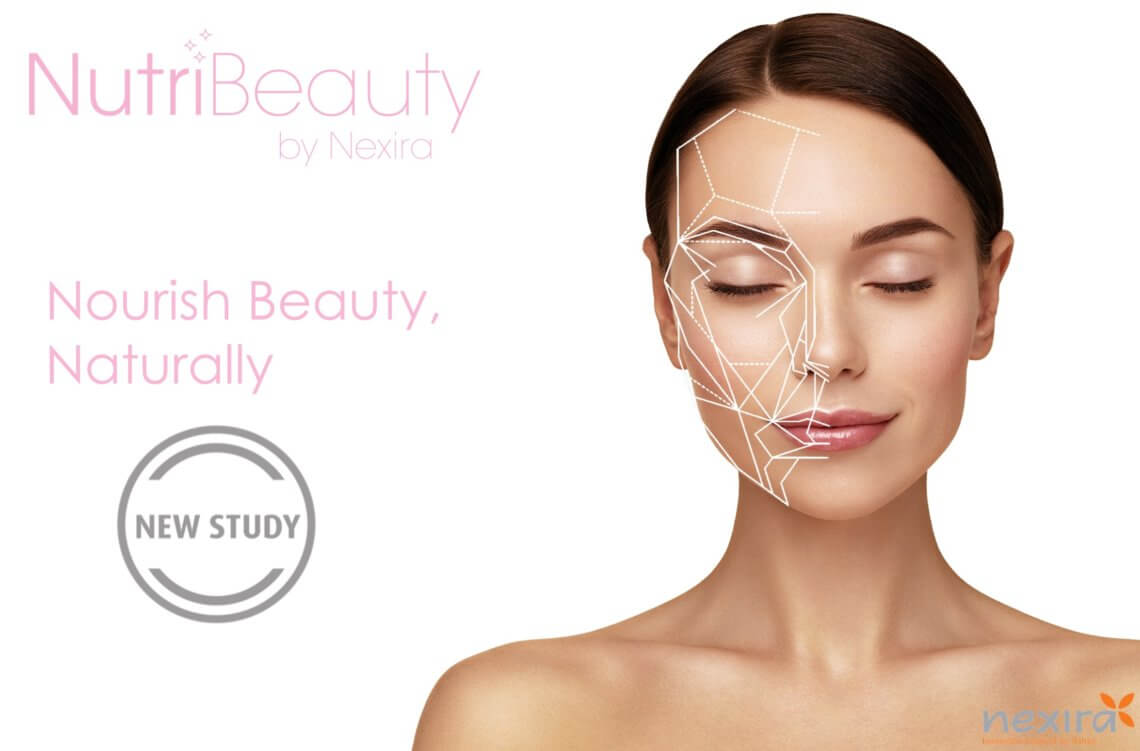 In 2022, Nexira is going one step further with its new study: IN-TEST-PASS. Nexira is pioneering the development of a specific methodology combining genes expression assessment and model that mimic bioavailability of oral ingredients: the Nutrigenomic for skin.
The scientific study shown amazing results on three products:
HEPURE, our synergistic formulation of immortelle and clove for skin cleansing,
Our very sensorial HIBISCUS extract for skin toning,
Oli-Ola, our brightening ingredient that helps to reduce premature signs of skin aging.
Sports Nutrition: Time to Power Up with Vinitrox™
The COVID-19 pandemic led to a shift in lifestyle choices across the globe with the sports nutrition segment becoming increasingly mainstream as consumers are now more focused on and aware of their overall health and fitness. The most popular options are sport and energy drinks and sport and protein snack bars. The global sports nutrition market was nearly US$45 billion in 2021; however, it is now expected to reach US$72.5 billion, growing at a rate of 10%, by the year 2026 [2].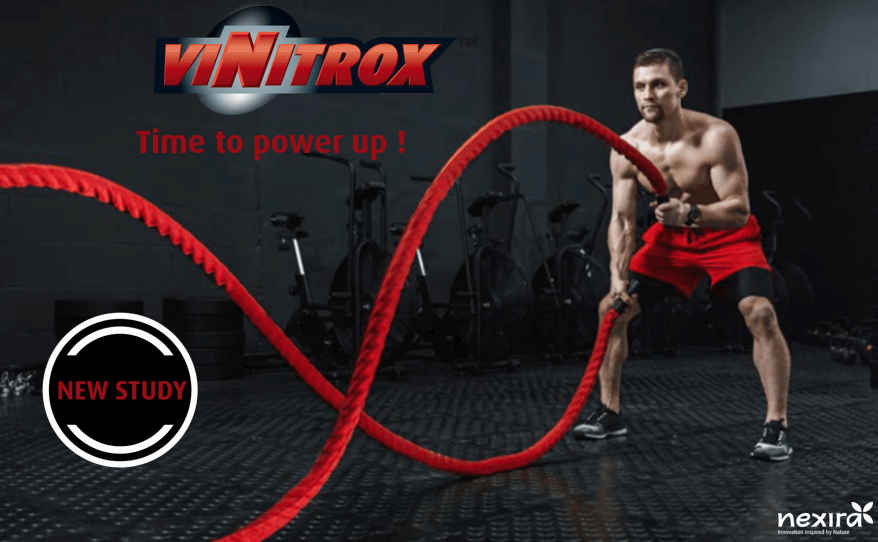 ViNitrox™ offers a number of exceptional sports nutrition properties including enhanced and lasting performance. Already supported by a clinical study, Nexira has conducted two new consumer studies: 70% agree that ViNitrox™ reduces muscle fatigue and cardio-respiratory fatigue and consumers said that ViNitrox™ increased individual power during "Clean" exercise from the first intake.
Overcome your challenges and take your business to the next level with our super team at Vitafoods.
---
National Institutes of Health, U.S. Department of Health and Human Services. Opportunities and Challenges in Digestive Diseases Research:
Recommendations of the National Commission on Digestive Diseases. Bethesda, MD: National Institutes of Health; 2009. NIH Publication
08–6514
This communication is not intended to the final consumer. It provides scientific information for professionals only. Communications to the final consumer have to be checked according to local regulations in force, since the conditions of use are beyond our control. This statement has not been evaluated by the FDA. This product is not intended to diagnose, treat, cure, or prevent any disease.