Nexira is Delighted to Announce that Acacia is Now Officially Confirmed as a Dietary Fiber by the FDA!
Rouen, December 17, 2021 – In accordance with the FDA's new food and nutritional labeling rules, acacia fiber is now classified as dietary fiber in the U.S.
With more than 125 years as a family-owned company, the world leader in acacia gum Nexira started an enthusiastic campaign five years ago endorsing dietary fiber status for gum acacia, and they are pleased with the positive outcome!
Nexira's ongoing discussions with the FDA were at the forefront of this effort and became a catalyst that brought together other acacia gum manufacturers in order to reinforce the evidence supporting the beneficial physiological effects of acacia fiber on blood glucose attenuation.
In 2019, Nexira launched a proprietary clinical study which supplied solid evidence that acacia gum consumption has beneficial physiological effects on human health by attenuation of post-prandial blood glucose levels. On behalf of Nexira and representatives of the acacia gum industry, Keller and Heckman LLP submitted a Citizen Petition in January 2021 to request that Acacia [arabic gum] finally be recognized as a dietary fiber for nnutrition labeling and claims on foods and beverages marketed in the United States.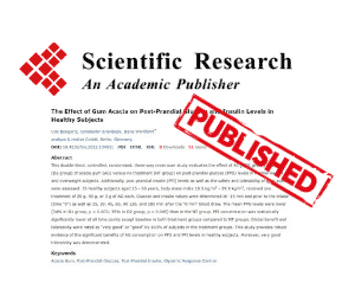 Results from our new clinical study conducted with Analyze and Realize under the supervision of Pr Uebelhack: "The effect of gum acacia on post-prandial glucose and insulin levels in healthy subjects" are now published.
The FDA confirmed today that acacia gum has physiological effects that are beneficial to human health, and therefore is in compliance with the dietary fiber definition. "Considering the strong scientific evidence on acacia fiber we were confident, but we are satisfied with the FDA decision to add acacia fiber to the approved list of dietary fibers," declared Olivier Bove, Nexira Regulatory Affairs Manager. Nexira is extremely proud to have led this important campaign and immensely pleased with the results.
In terms of labeling and formulation, this outcome is also excellent news for Nexira's US customers who use its brands inavea™ and Fibregum™ for fiber enrichment to actively position their products as a source of dietary fiber. Untill the FDA completes rulemaking, the agency intends to exercise enforcement discretion to allow manufacturers to include the amount of acacia fiber in the dietary fiber declaration on the Nutrition and Supplement Facts labels.
"Acacia fiber is easy to use in a large array of nutritional applications and we are convinced it has a huge potential for food and drink developers who want to formulate healthy, natural and organic products. As the first Carbon Neutral brand of ingredients, inavea™ now carries additional claims, to satisfy the demands of manufacturers and end consumers," says Mathieu Dondain, Managing Director of Nexira. "Nexira would like to thank all of its customers for their patience and for believing in our acacia fiber and its multiple benefits. We extended our capacity in prevision of this promisins outcome and are hoping to soon manufacture acacia products in the USA" Dondain adds.
Nexira, World Leader in Acacia
As a pioneer in the production and supply of acacia, Nexira has emphasized its value as a natural ingredient for many years. Nexira sustainably sources acacia from the Sahel region of Africa, where it has been used locally in indigenous remedies for centuries. With its high soluble fiber content, acacia gum possesses many nutritional and health advantages for overall gut health, in addition to the attenuation of blood glucose. Acacia's importance over the years has increased significantly and it is now appreciated as a natural ingredient that appeals to health and wellness-conscious consumers because of its multiple fonctional and nutritional benefits.
The decision of the FDA confirming acacia as a dietary fiber is a game-changer for Nexira and their customers, who are sure to experience the beneficial results for years to come.
Nexira's Dietary Fiber Solutions
Pioneer in scientific research on the nutritional benefits of acacia gum as a native source of soluble dietary fiber, Nexira, world leader in acacia, recently conducted new and ambitious experiments to demonstrate the prebiotic effect of inavea™.
inavea is the 1st range of premium and sustainable ingredients combining two promises: strong science and carbon neutrality. With a minimum of 90% fiber content guaranteed, inavea™ PURE ACACIA is a natural and organic ingredient offering a proven prebiotic effect and high fiber content for enhanced digestive health and general well-being.
Clean label, inavea PURE ACACIA is easy-to-use in a large array of applications, from supplements like ready-to-use powders or stick packs to functional foods and beverages, including dairy products, plant-based alternatives, cereal bars and drinks.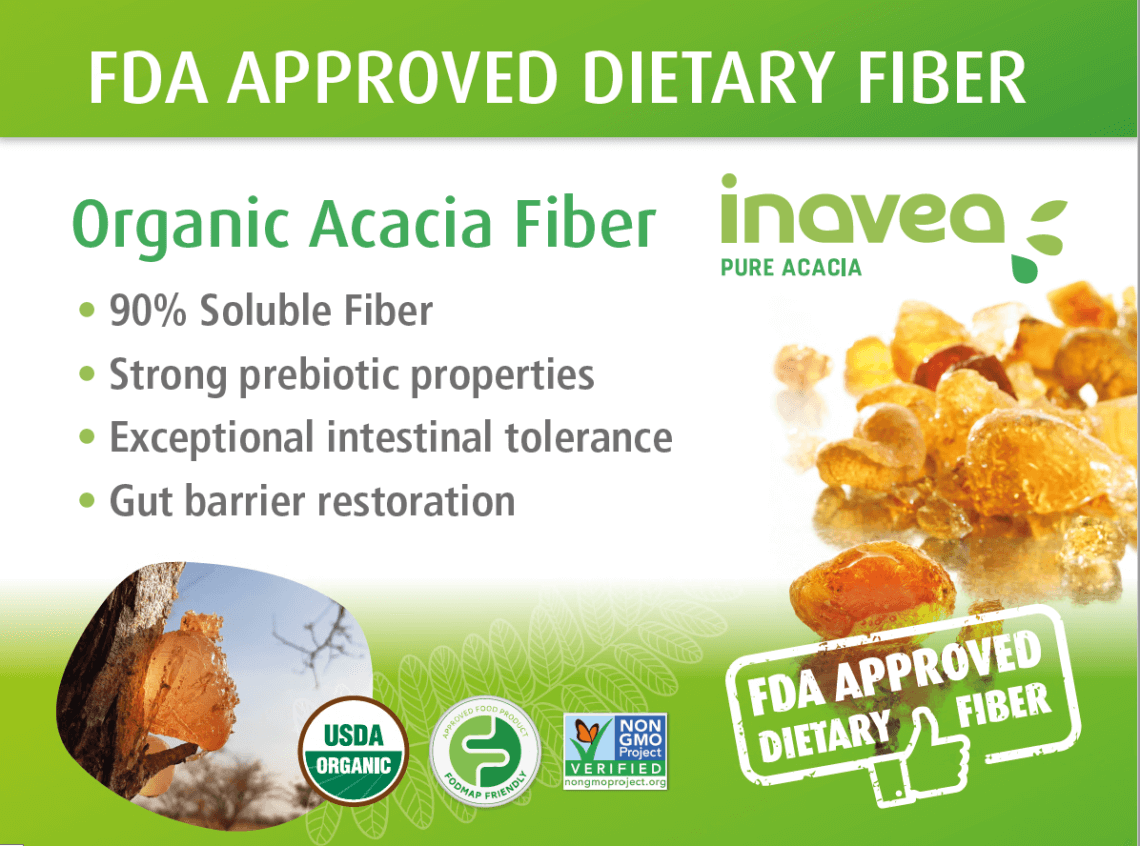 Fibregum™ is the genuine acacia fiber specifically developed by Nexira to boost the nutritional profile of products.
The Fibregum™ product line provides all-natural dietary fiber sourced from carefully selected acacia tree. With 90% fiber content guaranteed on dry weight, Fibregum™ is the choice ingredient for fiber fortification of finished products.
---
Journal Food and Nutrition Sciences, Vol 13 No.4 (2022) : « Bongartz, U., Erlenbeck, C. and Wohlfahrt, I. (2022) The Effect of Gum Acacia on Post-Prandial Glucose and Insulin Levels in Healthy Subjects. Food and Nutrition Sciences, 13, 424-438. https://doi.org/10.4236/fns.2022.134031 .
This communication is not intended to the final consumer. It provides scientific information for professionals only. Communications to the final consumer have to be checked according to local regulations in force, since the conditions of use are beyond our control. This statement has not been evaluated by the FDA. This product is not intended to diagnose, treat, cure, or prevent any disease.