Nexira Proprietary Study, The Game Changer in FDA Approval
Since 2016, Nexira has worked on providing further evidence to support the dietary fiber status of acacia gum and has launched in 2019 a new proprietary clinical study to strengthen the body of evidence supporting the beneficial physiological effects of acacia fiber.
Nexira's New Clinical Results: inavea Attenuates Post-prandial Blood Glucose and Insulin Levels
The proprietary clinical study launched in 2019 by Nexira has supplied solid evidence that acacia gum consumption has beneficial physiological effects on human health by attenuation of post-prandial blood glucose and insulin levels. 1
Thirty-five normal-weight and overweight men and women who were otherwise healthy participated in a randomized, double-blind, placebo-controlled, cross-over design study.
Postprandial blood glucose and postprandial insulin were measured at baseline and at several time points for 180 minutes after consumption of the breakfast meal. Postprandial blood glucose, as measured by AUC and peak concentration, was statistically significantly lower after consumption of gum acacia compared to control at both doses, 20 g and 40 g (P < 0.05 for both doses). Postprandial insulin, as measured by AUC and peak concentration, was also statistically significantly lower after consumption of gum acacia compared to control (P < 0.05 for both doses). There was no dose-response effect observed between the two doses of gum acacia (P > 0.05).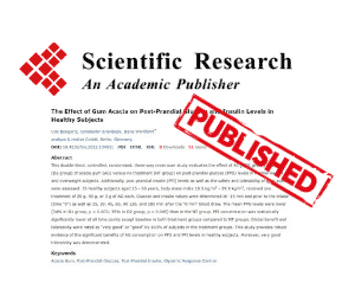 Results from our new clinical study conducted with Analyze and Realize under the supervision of Pr Uebelhack: "The effect of gum acacia on post-prandial glucose and insulin levels in healthy subjects" are now published.
inavea™, The Prebiotic Acacia Fiber With High Digestive Comfort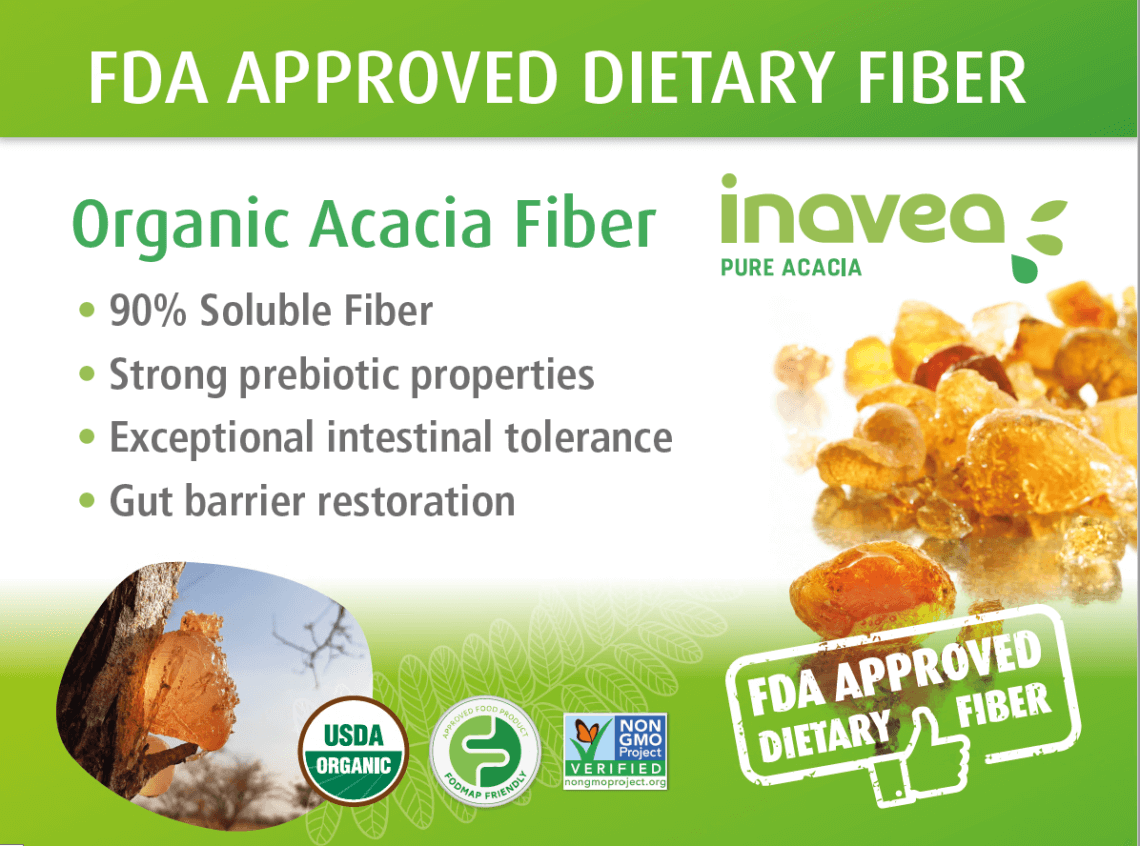 With a minimum of 90% fiber content guaranteed on dry weight, inavea™ PURE ACACIA is the ideal clean label ingredient for fiber fortification.
Thanks to its highly branched structure, inavea™ PURE ACACIA is gradually fermented from transverse to descending colon with a high digestive tolerance, up to 50 g daily. Certified FODMAP-friendly, our ingredient can be consumed by people with digestive disorders.
Prebiotic effect of acacia fiber has been largely demonstrated for 40 years in more than 40 studies. inavea™ PURE ACACIA has a strong prebiotic effect at a dose of 10 g/day, stimulating healthy bacteria and contributing to the Short Chain Fatty Acids production. Our latest study, using the SHIME model*, has demonstrated an increase of microbiota diversity (healthy marker) thanks to our prebiotic acacia intake.
inavea™, The First Carbon Neutral Ingredient Brand
inavea™, the premium brand of organic and sustainable ingredients preserving natural resources, supporting local communities and offering proven health benefits for all nutritional Foods & Beverages, has achieved carbon neutrality. Embarked in a 100% voluntary approach, from harvesting to the ingredient delivery, Nexira measures, reduces its greenhouse gas emissions before to offset its residual emissions for its range. inavea™ PURE ACACIA counts as zero in the carbon footprint of your finished product.
In 2021, inavea™ has been selected as a finalist of the 2021 World Food Innovation Awards in the Sustainability category.
---
*With Prodigest
Journal Food and Nutrition Sciences, Vol 13 No.4 (2022) : « Bongartz, U., Erlenbeck, C. and Wohlfahrt, I. (2022) The Effect of Gum Acacia on Post-Prandial Glucose and Insulin Levels in Healthy Subjects. Food and Nutrition Sciences, 13, 424-438. https://doi.org/10.4236/fns.2022.134031.
This communication is not intended to the final consumer. It provides scientific information for professionals only. Communications to the final consumer have to be checked according to local regulations in force, since the conditions of use are beyond our control. This statement has not been evaluated by the FDA. This product is not intended to diagnose, treat, cure, or prevent any disease.