Why You Should Use Prebiotic Acacia Fiber
In our Western diets, increased production of processed foods have led to a shift in dietary patterns. People are now consuming more foods high in energy, fats, and sugars, and many people do not eat enough fruit, vegetables, and other dietary fiber. This unbalanced nutrition could lead to some diseases and troubles.
As it is difficult to meet the fiber recommendations via traditional foods, innovative high-fiber fortified products may help consumers to increase their fiber intakes.
All-natural, organic, and Non-GMO Project Verified, inavea™ PURE ACACIA is the Best-in-Class Acacia Fiber on the market with several unique selling points and significant advantages. Discover Nexira's fabulous prebiotic acacia fiber in our NEW White Paper!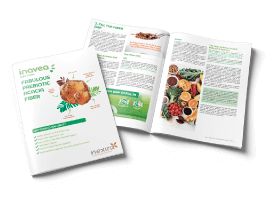 Fabulous Prebiotic Acacia Fiber,
The New White Paper by Nexira
This white paper shows the excellent tolerance of inavea™ prebiotic acacia. This tolerance is notably due to the slow fermentation of acacia fiber by the gut microbiota. This gradual fermentation and high tolerability make acacia a very powerful tool to increase dietary fiber content, even for people suffering from high digestive discomfort such as IBS. When inavea™ PURE ACACIA was administered, there was an increase in overall levels of healthy bacteria, improving the gut microbiota and increasing diversity. Consumption of inavea™ PURE ACACIA helps to improve intestinal well-being and overall gut health.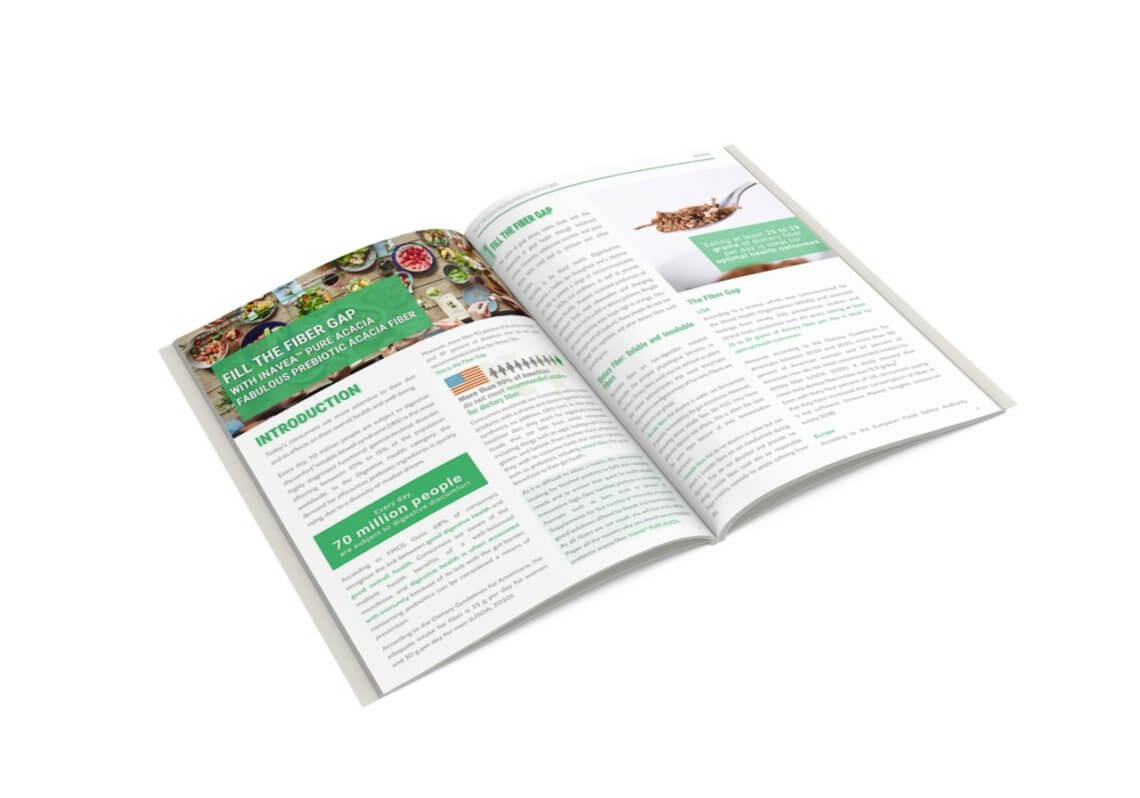 What's in it?
Market Demand to Fill the Fiber Gap
Acacia Fiber Approved in USA
Easy-to-Use in High-Fiber Fortified Products
Clean-label, Organic
The First Carbon Neutral Ingredient
Strong Proprietary Scientific Support for Health Benefits
Why Should we Eat Fibers?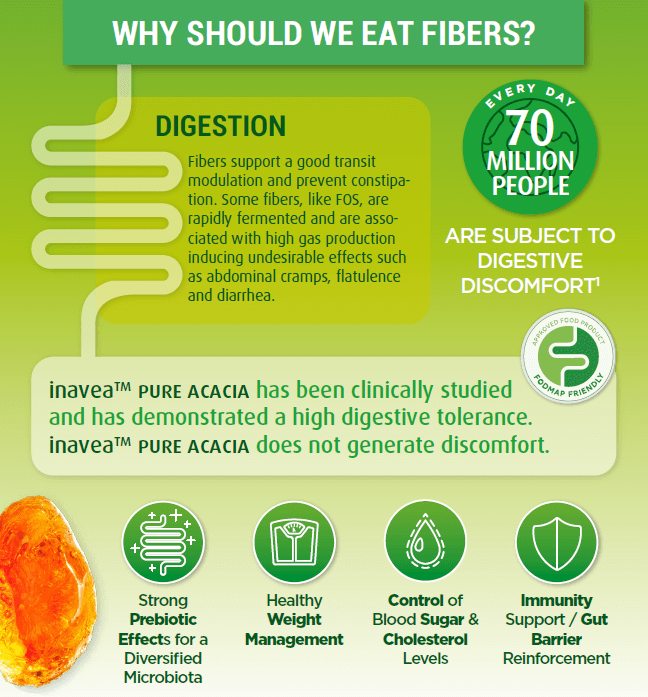 The notion of good dietary habits deals with the maintenance of good health through balanced nutrition. Conversely, unbalanced nutrition and poor dietary habits could lead to diseases and other troubles.
According to the World Health Organization, consuming a healthy diet throughout one's lifetime can help to prevent a range of noncommunicable diseases (NCDs) and conditions, as well as provide digestive benefits. However, increased production of processed foods, rapid urbanization and changing lifestyles have led to a shift in dietary patterns. People are now consuming more foods high in energy, fats, free sugars and salt [sodium]. Many people do not eat enough fruit, vegetables, and other dietary fiber such as whole grains.
The advantages of a diet rich in fiber relate to the digestive process and a healthier intestinal tract. A healthy digestive system is characterized by its ability to efficiently process nutrients, to properly nourish the entire organism.
Fill the Fiber Gap with inavea™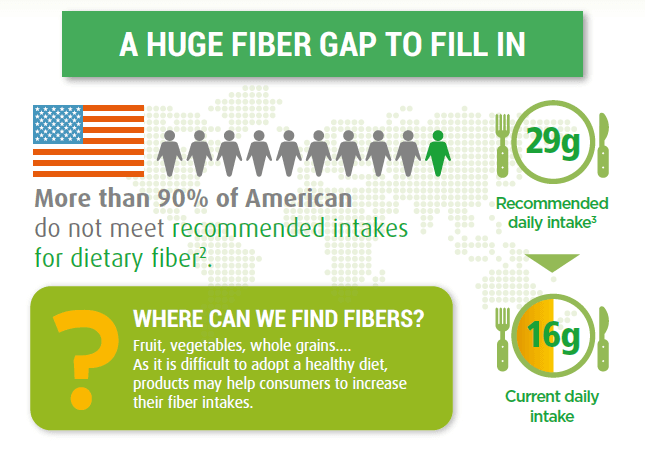 According to the Dietary Guidelines for Americans, the adequate intake for fiber is 25 g per day for women and 30 g per day for men (USDA, 2020). However, more than 90% of American do not meet recommended intakes for dietary fiber.
This is commonly known as the FIBER GAP.
Download our infographic to learn more about the fiber gap:

Innovative high-fiber fortified products may help consumers to increase their fiber intakes.
From another crucial perspective, consumers worldwide are increasingly seeking natural products, with a shorter and cleaner ingredient list, and organically-produced foods. As they adopt a healthier diet, they wish to consume foods that contain ingredients such as prebiotics that can be beneficial to their gut health.
Nexira, world leader in acacia, is a pioneer in scientific research on the nutritional and health benefits of acacia as a native source of soluble dietary fiber. Nexira recently conducted new and ambitious experiments to demonstrate the prebiotic effect of inavea™ PURE ACACIA, the premium and sustainable organic prebiotic acacia fiber combining two promises: strong science and a sustainable commitment.
In addition, thanks to Nexira proprietary study, acacia is now officially confirmed as a dietary fiber by the FDA.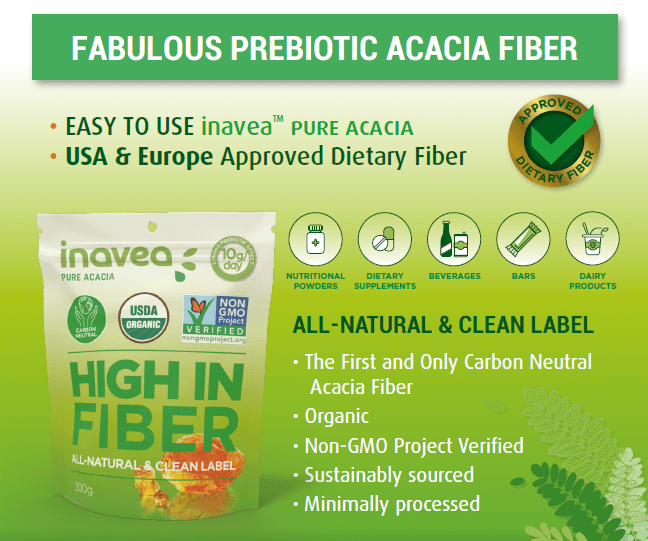 Nexira, the Prebiotic Acacia Fiber Expert
✔️ Ready to turn this fabulous prebiotic ingredient into new success concepts?
Clean label and organic, inavea™ PURE ACACIA is easy-to-use in a large array of applications, from supplements like ready-to-use powders or stick packs to functional foods and beverages, including dairy products, plant-based alternatives, cereal bars and drinks. 

We're here to help:
If you have any question and need more information regarding the new experiments we recently conducted to demonstrate the prebiotic effect of inavea™,
If you are looking to develop a new product for enhanced digestive health and general well-being.
We will be happy to support your product development from scratch to market success 🚀
---
Inflammatory Bowel Dis. Author Manuscript available in PMC 2014 Apr.1
Dietary Guidelines for Americans between 2020 and 2025,
J Acad Nutr Diet. 2012 May;112(5):642-8. doi: 10.1016/j.jand.2012.01.019. Epub 2012 Apr 25. Trends indietary fiber intake in the United States, 1999-2008. King E1, Mainous AG 3rd, Lambourne CA
This communication is not intended to the final consumer. It provides scientific information for professionals only. Communications to the final consumer have to be checked according to local regulations in force, since the conditions of use are beyond our control. This statement has not been evaluated by the FDA. This product is not intended to diagnose, treat, cure, or prevent any disease.