Leading Global Supplier And Manufacturer Of Acacia Gum
Acacia gum is an environmentally-friendly ingredient, good for the ecosystem and the local population, providing jobs for farmers in Africa's "Gum Belt". The Acacia gum is harvested during the dry season from November to May, principally from the Acacia senegal and Acacia seyal trees, which are grown primarily for the gum, but also play a secondary role in agricultural systems, restoring soil fertility and providing fuel and fodder.
What is Acacia Gum?
Acacia gum, also known as gum Arabic, is mainly harvested from the Sahelian drylands from Senegal to Somalia. Commonly used at the local level for indigenous remedies, food preparation, ink, and paint, it has now become a key raw material used internationally in the production processes of multiple industries including food and beverages, pharmaceuticals, and cosmetics. It functions in a broad range of applications as a prebiotic ingredient, source of fiber, natural emulsifier, stabilizer, texturizer, etc.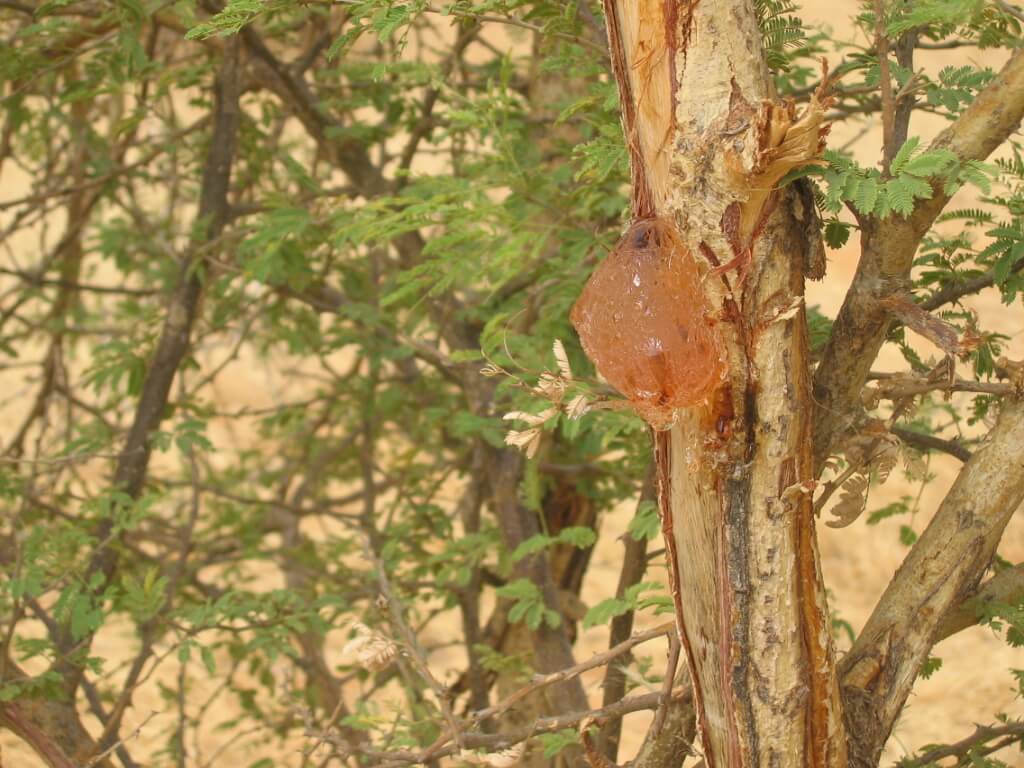 The name "gum Arabic" can only be used in reference to either the hard gums obtained from harvesting the natural exudate from the Acacia senegal and Acacia seyal, with an initial "letting" from the trees before collection, or the more brittle gums collected from the Acacia seyal, with the gum being directly drawn from the trees.
With more than a 40% market share, Nexira is the world leader in acacia gum, elegiacally called the "golden tears of the Acacia tree" in the Sahel.
How to use Acacia gum?
Acacia gum has a wide range of uses in various industries, including food, nutraceuticals, cosmetics, and pharmaceuticals. Here are some common ways to use acacia gum:
Food and Beverage Industry:
Emulsifier: Acacia gum is often used as an emulsifying agent to stabilize mixtures of oil and water in products like salad dressings, beverages, and confectionery.
Thickener: It can be used as a thickening agent in soups, sauces, and desserts to improve texture and mouthfeel.
Stabilizer: Acacia gum can help stabilize the structure of certain foods, such as ice cream and whipped toppings.
Coating and Glazing: It is used as a coating or glazing agent for candies and nuts.
Pharmaceuticals:
Acacia gum is used as a binder in tablet formulations, helping to hold the active ingredients together.
It can also be used as a suspending agent for liquid medications to keep particles evenly distributed.
Cosmetics and Personal Care:
In cosmetics and personal care products, acacia gum is used as a thickening agent in lotions, creams, and hair care products.
Gum acacia can provide a smooth texture to products like mascara and foundation.
Nutraceuticals
Prebiotic effect of acacia fiber has been largely demonstrated for 40 years in more than 40 studies. Nexira's organic prebiotic acacia fiber has a strong prebiotic effect at a dose of 10 g/day, stimulating healthy bacteria (Bifidobacterium longum, Prevotellaceae, Lachnospiraceae and F. Prausnitzii) and contributing to the Short Chain Fatty Acids production (butyrate).
Acacia fiber help to improve digestive health and overall well-being.
Art and Craft:
Acacia gum is used by artists and crafters as a binder for watercolors and as a adhesive for collage work.
What Makes Nexira the Leading Acacia Supplier and Manufacturer?
With more than 125 years as an independent, family-owned company, Nexira's continuing success is built upon its history of deep commitment to sustainability and on strong bonds with suppliers and customers alike. Nexira's reputation as an expert in natural ingredients, and as a world leader in acacia gum, is enhanced by the company's desire to achieve new heights of performance with long-term partnerships, innovative products, and expanded global supply capabilities.
Having had an established presence in Africa for more than a century, Nexira is a true pioneer in acacia fiber research. Very early in its history, Nexira focused its scientific research on the nutritional benefits of acacia gum as a native source of soluble dietary fiber*. As part of its scientific corporate culture, Nexira has performed a large number of research studies and clinical trials with acacia fiber, enabling the company to file patents for the health benefits of its natural ingredients, augmenting their global reputation in the nutraceutical industry.
Nexira offers natural and organic ingredients for nutrition including dietary soluble fibers* with prebiotic properties, as well as value-added ingredients which offer functionality in multiple categories including emulsifiers, stabilizers, texturizers, encapsulation and coating agents, etc. Throughout the value chain, Nexira is an authentic partner to its customers, with guaranteed sourcing, certified quality, customized solutions, technical advice, and regulatory support.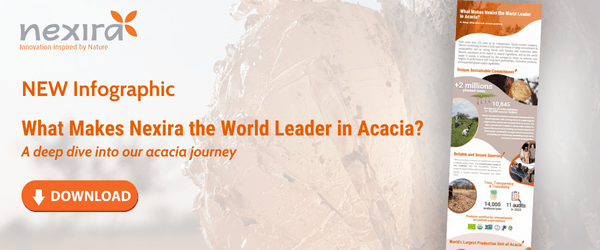 All our assets, intervention on the entire value chain: from sustainable and reliable sourcing, manufacturing in France, worldwide distribution and added values through science, technical & regulatory support and marketing to our large portfolio of specialties.
Download our new infographic!
From Gum Belt Production to French Factory
Nexira controls the full supply chain of its acacia gum, from the production in Sahel [the 'Gum Belt'] to its factory in France, thereby ensuring the highest quality for their customers. Sourced with environmentally-friendly cultivation [no use of pesticides or fertilizers], Acacia is a natural GMO-free product, which is not chemically transformed.
Acacia Gum: Collection Process
The product must be pure, with no mix between genera and species of different trees. The process involves pruning the trees with secateurs, to prepare them for harvesting the acacia gum, also providing fodder for livestock. This operation is done prior to the exudation step, allowing the harvesters to see if the leaves are ready to fall, with the acacia gum harvest beginning a month later. The collector uses a utensil enabling a fine incision on each branch, on which the natural exudation will dry in the sun for several days. The gum arabic must be kept clean, by transporting it in a fresh [or new] canvas bag, and must not have any contact with the ground beneath the tree on in the building, or with other products. It then must be polymerized [or dried] during the wiping step, which utilizes a waterproof cover that allows the gum to harden. After that, it can be bagged without agglomerating.
If a tapping step is necessary, the harvesting is done using a "gum picker" and a collecting container. In this scenario, the nodules are harvested at regular intervals, at least every ten days. The collected nodules will be stored in a building and placed on the waterproof cover, for at least a week in a dry, ventilated place, protected from light and dust. The next steps involve sorting the nodules manually to remove the impurities [stones, wood, etc.] and the gums being agglomerated in block, not polymerized. Mechanized sorting and systematic quality control eliminates residual impurities, ensuring the reliability of the raw material before packaging the gum arabic in new canvas bags made of natural jute or artificial [polypropylene] fibers, which are permeable and allow the gum arabic to "breathe".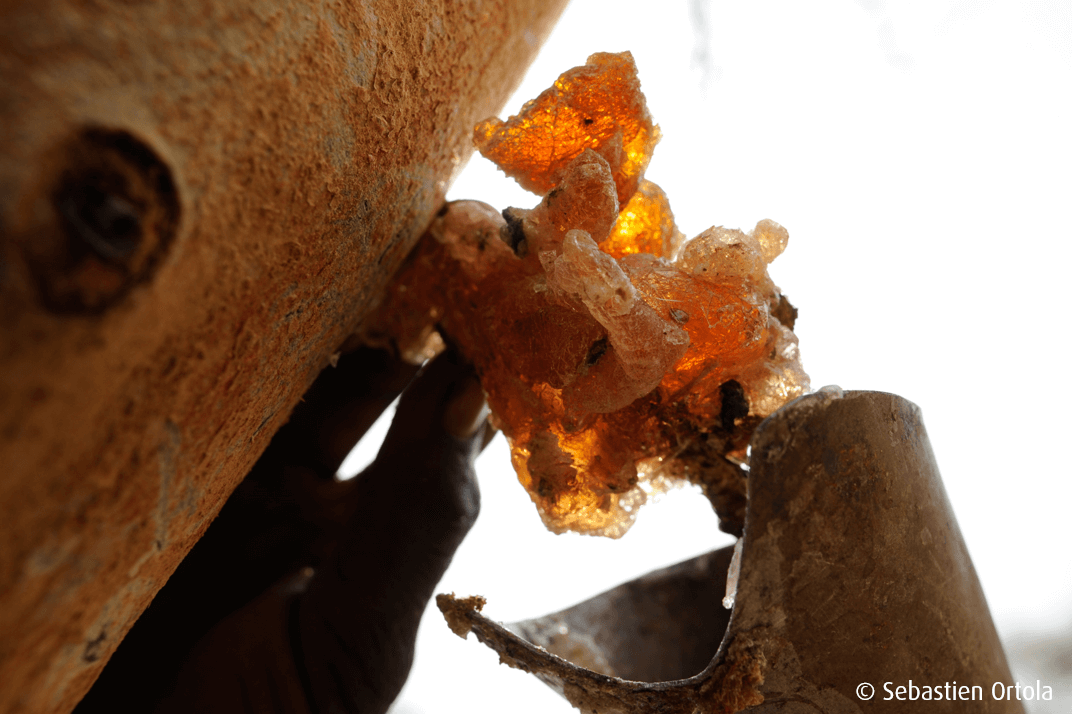 The gums are exported to the state-of-the-art Nexira facilities in Normandy, France.
Acacia Gum: Manufacturing Process
Once at the factory, the gum arabic is manufactured through a stringent physical process that includes quality control at every stage. It follows a very fine purification in liquid form to remove any organic or mineral foreign matter. The refined gum syrup is then sterilized utilizing a short time/high temperature system, spray-dried or instantized, aseptically packed, and delivered to customers in the soluble form of a white powder.
Beyond Leader: A Committed Supplier
Beyond being the World Leader in the supply and manufacture of Acacia Gum, Nexira is substantially committed to sustainable development in Africa, working with the NGO SOS SAHEL and its partners. This innovative, collaborative approach combines social and economic development for local populations and promotes environmental protection.
"With the help of SOS SAHEL, local producers have been able to increase their production of gum arabic. This has helped improve the economic situation of households. From an environmental standpoint, resources have been protected through nursery and planting activities: 2,600 acacia seedlings have been planted to promote natural regeneration. This has made a significant contribution to the repopulation of gum trees and to the fight against desertification and climate change." Testimony from ANNOUR ALI TASSI, program director at the Association for the Dynamization of Local Initiatives who supports rural communities in Chad on the exploitation of acacia gum.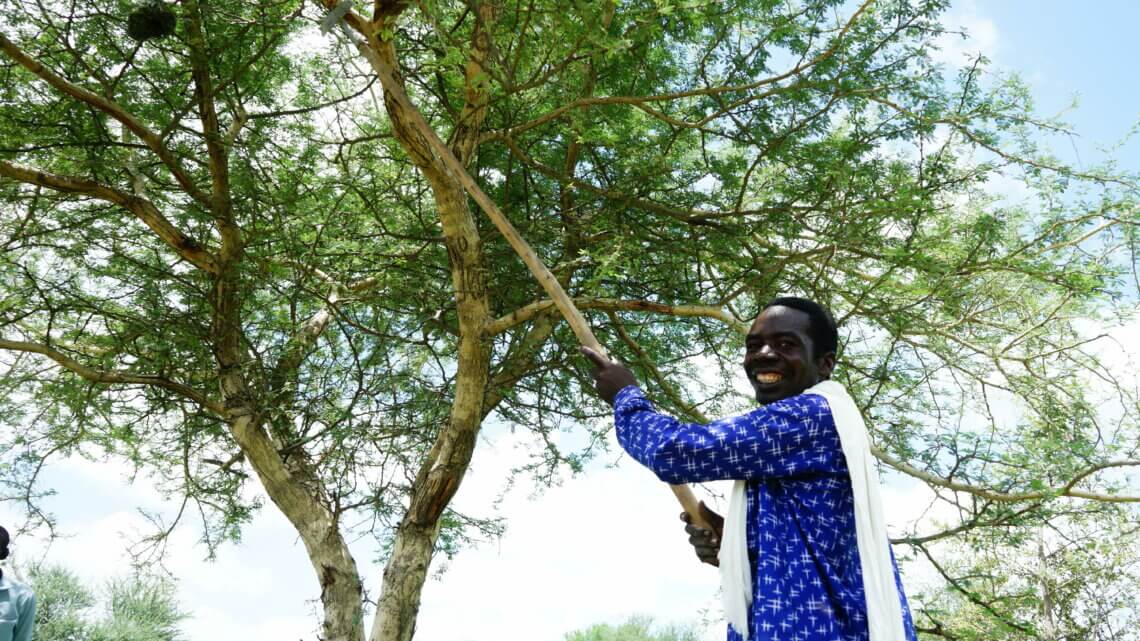 Nexira offers ongoing, personalized customer support. Contact us today to find out how we can help develop customized solutions for all your formulations.
---
*Dietary fiber status must be checked according to local regulations.
This communication is not intended to the final consumer. It provides scientific information for professionals only. Communications to the final consumer have to be checked according to local regulations in force, since the conditions of use are beyond our control.