Acacia: The Lasting Impact of Sustainable Sourcing on the Environment

World leader in acacia, Nexira, shares their story of long-term commitment to sustainable sourcing and development of acacia gum in the Gum Belt and its lasting positive impact on the environment.
Acacia: A Secure and Accountable Supply Chain from Beginning to End
With more than a 40% market share, Nexira is the world leader in acacia, sometimes elegiacally referred to as the "golden tears of the Acacia tree". Nexira controls the full supply chain of its acacia gum: from production in the Sahel Gum Belt to the time it arrives at the Nexira factory in France, consistently ensuring the best acacia gum for their customers.
Harvesting Acacia Gum in the African Gum Belt
Acacia gum, also known as gum arabic, is primarily harvested in the Sahelian region.
Nexira practices environmentally-friendly cultivation and harvesting of acacia gum with zero use of pesticides and fertilizers. A natural and native GMO-free product, acacia gum is neither chemically nor enzymatically transformed.
Traditionally used by the local people in food preparation and indigenous remedies, the long history of acacia spans back to ancient Egypt where it was used in the ink-making process. In recent times, as the many potential health benefits of acacia fiber have gained recognition, the global demand for the raw material increased incrementally.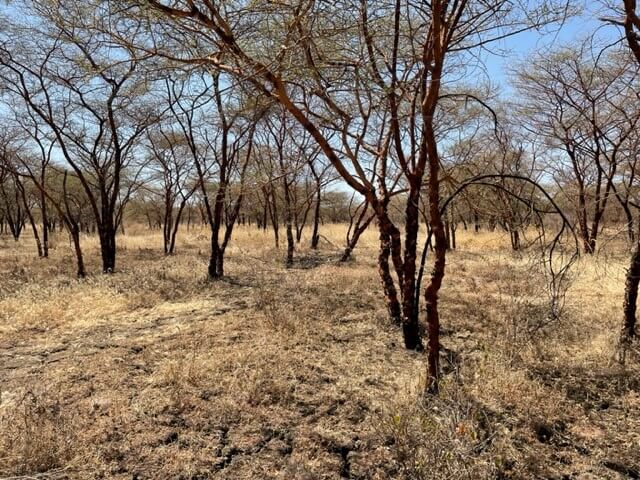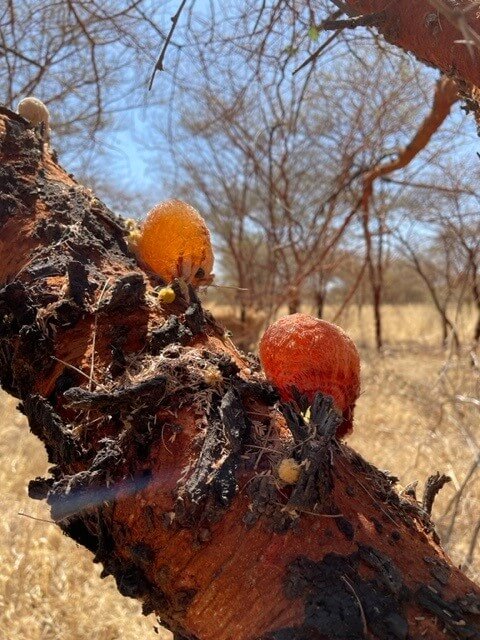 As a leading acacia fiber supplier, Nexira has met the challenges of sustainable harvesting and production of natural acacia gum and expanded its line of high-quality acacia powders, which are available in organic, FODMAP-friendly and Non-GMO Project Verified grades. Natural acacia gum is a functional, beneficial ingredient which enables manufacturers to offer clean-label packaging that appeals to a thriving worldwide market of conscientious shoppers.
Harvested from the thick, amber-colored sticky sap exuded by the hardy Acacia tree, the name gum Arabic can only be used in reference to either the hard gums obtained from harvesting the natural exudate from the Acacia senegal and Acacia seyal, with an initial "letting" from the trees before collection; or alternatively, the more brittle acacia gums collected from the Acacia seyal, being directly drawn from the trees. Though the acacia trees are grown primarily for the gum arabic, they play a secondary role in agricultural systems, restoring soil fertility and providing fuel and fodder for the local population, improving the socio-economic situation in many households.
Collection Process of Acacia Gum
High quality acacia gum is pure, with no mix between genera and species of trees. The harvest begins with pruning the acacia trees using secateurs, to prepare for the acacia gum harvest. This step is done prior to exudation, enabling the harvesters to observe when it's time for the leaves to fall.
The acacia gum harvest begins a month later. The collector makes a fine incision on each branch, on which the natural exudation will dry in the sun for several days.
The gum arabic is kept clean by transporting it in a fresh canvas bag and must not have any contact with the ground beneath the tree, or in the building, or with any other products. It is then polymerized (or dried) during the wiping step, which utilizes a waterproof cover that enables the acacia gum to harden, so it can be bagged without agglomerating.
If a tapping step is necessary, the nodules are harvested at regular intervals, at least every ten days. The harvesting is done using a tool called a gum picker and a container, in which the nodules are collected. They are then stored in a building and placed on a waterproof cover for at least a week in a dry ventilated place, protected from light and dust.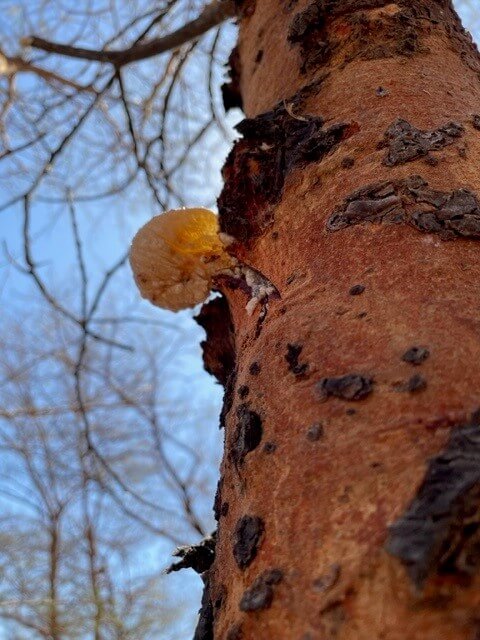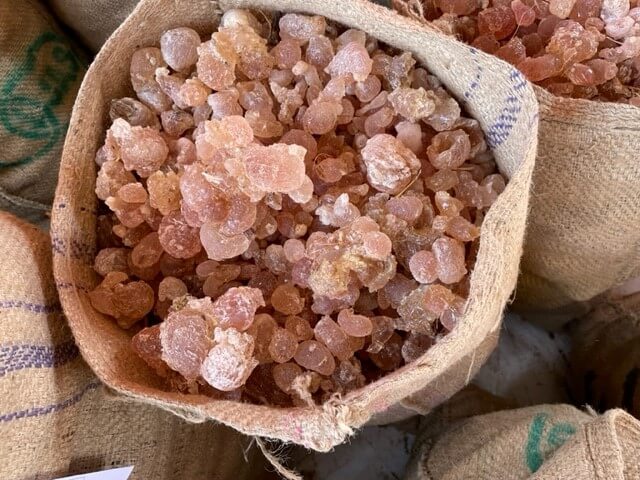 The next steps involve sorting the nodules manually to remove the impurities (stones, wood, etc.) and the acacia gums being agglomerated in block, not polymerized. Mechanized sorting and systematic quality control eliminates residual impurities, ensuring reliability of the raw material. The gum arabic is packaged in canvas bags made of natural jute or artificial fibers, such as polypropylene, which are permeable, enabling the gum arabic to breathe.
Manufacturing Acacia Powder: A Stringent Physical Process
Acacia gum follows a very fine purification in liquid form to remove any organic or mineral foreign matters. The refined acacia gum syrup, sterilized with a short time/high temperature system, is then spray-dried or instantized and aseptically packed. It's delivered in the form of a white acacia powder, which makes it a very soluble substance.
Acacia Gum: Impact on the Local Population
Working with the NGO SOS SAHEL and its partners to ensure the sustainable supply and manufacture of acacia fiber, Nexira has taken the lead with an innovative, collaborative approach that promotes environmental protection in the gum belt region. Local producers of acacia have been enabled to significantly increase gum arabic production. The establishment of SOS SAHEL has had an incredibly positive socio-economic impact on the local population.
Resources continue to be protected through nursery and planting activities: 2,148,600 trees have been planted to promote natural regeneration. This has played a significant role in the battle against desertification and climate change.
As the importance of natural, organic ingredients has increased significantly over the years, acacia fiber is now valued as a natural prebiotic ingredient that appeals to health-conscious, ethically-minded consumers, in addition to its many functional and nutritional benefits for food and beverage applications.
What Makes Nexira the World Leader in Acacia?
With more than 125 years as an independent, family-owned company, the continuing success of Nexira, the world leader in acacia, is built upon its history of deep commitment to sustainability and is enhanced by the company's desire to achieve new heights of performance with long-term partnerships and innovative products. Nexira is passionate by this fabulous ingredient and is the recognized expert
With an established presence in Africa's Gum Belt for more than a century, Nexira is a true pioneer in acacia fiber research. Very early in its history, Nexira began scientifically researching the nutritional benefits of acacia fiber as a native source of soluble dietary fiber. Nexira has performed a large number of research studies and clinical trials with acacia fiber, enabling the company to file patents for the health benefits of their natural acacia ingredients.
In addition, thanks to a Nexira proprietary study, acacia is officially confirmed as a dietary fiber by the FDA. Nexira was the game changer in FDA approval by conducting an enthusiastic campaign during five years and confirming Acacia as a dietary fiber in the USA in December 2021. This FDA decision has opened new market opportunities for Acacia in the overall health and nutrition markets.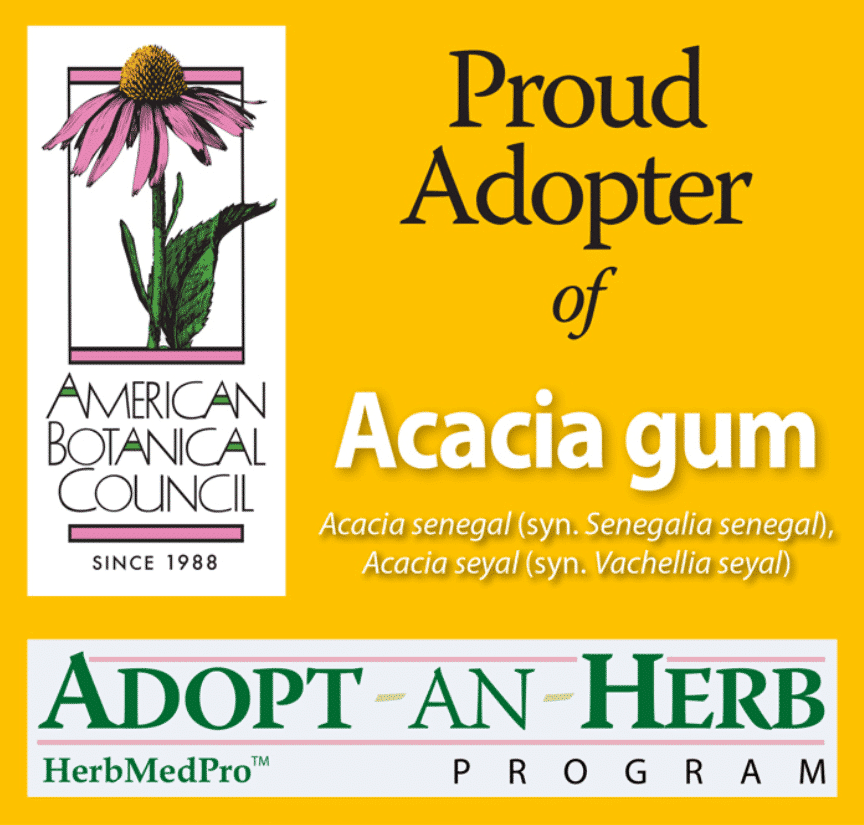 Always working and investing to valorize acacia fiber, Nexira is on all fronts, such as sustainable development, industry, quality, regulatory, marketing and science. In 2022, Nexira joined the the American Botanical Council (ABC) and adopted Acacia through ABC's Adopt-an-Herb botanical research and education program. Nexira's adoption supports ABC's extensive HerbMedPro database, ensuring that this unique research and educational resource remains up to date for researchers, health professionals, industry members, students, consumers, and other members of the herbal and dietary supplement and natural medicine communities.
With their innovative vision, and unparalleled expertise in acacia fiber, Nexira continues to discover even more uses for acacia, which benefits manufacturers and consumers alike, all the while maintaining their leadership status in promoting social and economic development.
For customer support, information or sample requests, please contact us.
---
This communication is not intended to the final consumer. It provides scientific information for professionals only. Communications to the final consumer have to be checked according to local regulations in force, since the conditions of use are beyond our control. This statement has not been evaluated by the FDA. This product is not intended to diagnose, treat, cure, or prevent any disease.