Functional Beverages: Trends, Ingredients and Targeted Benefits
Considered as healthier, cleaner and more natural, functional beverages highlight "better-for-you" ingredients considered to be especially beneficial for health and well-being, thanks to their high nutritional content. In addition to improved nutrition, consumers are more than ever conscientious about making responsible, ethical, sustainable food choices with minimal environmental impacts.
8 out of 10 consumers worldwide plan to eat and drink more healthily as a result of COVID-191
Meeting functional drinks needs, botanical extracts inherently deliver key nutrients such as: fiber, antioxidants, vitamins and minerals that can boost energy, promote relaxation, or uplift general well-being. They can also support targeted, personalized benefits like improving gut health, enhancing immunity, weight management or heightening beauty.
Inspired by Nature since 1895, Nexira has developed a wide range of natural & plant-based powders for beverages. From superfoods and botanical extracts for nutritional fortification, to branded ingredients with targeted health benefits, Nexira's solutions meet consumers' increasing demand for functional & clean label drinks.
Fortify Your Beverages with Targeted Nutritional Health Benefits
Try adding one of our natural ingredients to fortify and add targeted, nutritional health benefits, in addition to creating a cleaner label!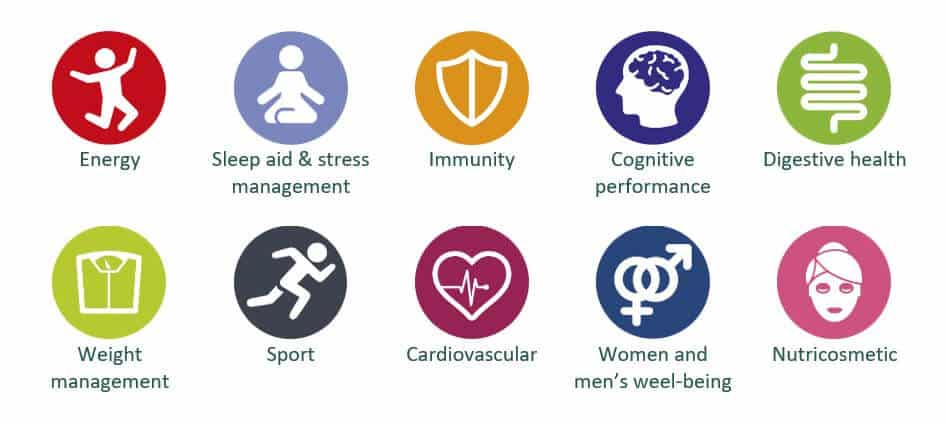 Sustaining Energy with Fortified Beverages

Insights
63% of global consumers are interested in products that offer a natural energy boost.1 Natural products are perceived as healthier for 65% of consumers, better for the environment for 60%, safer for 57% and tastier for 34%.2
Nexira's solutions
For clean energy and vitality, Nexira recommends its Acerola and Guarana extracts. Directly sourced from Brazil and carefully selected through long-term supply chain partnerships, Nexira offers a range of Guarana & Acerola Extracts respectively standardized in from 1 to 22% caffeine and from 17 to 36% vitamin C. Our Acerola  and Guarana extracts are available in organic grade.
Functional Beverages for Sleep aid & Stress management

Insights
58% of global consumers are interested in products that alleviate stress levels and 66% in products that improve sleep quality.1
Nexira's solution
To supports calmness and to contribute to maintain a healthy sleep, Nexira recommends its natural & organic Lemon Balm extract for its relaxing well-known effects.
Enhancing Immunity With Fortified Drinks

Insights
Sustained trend boosted with the covid crisis: consumers are looking for immunity products. 3 in 5 consumers are increasingly looking for food and beverage products that support their immune health. Vitamins, minerals and fibers are the top 3 ingredients cited by consumers to achieve immune health.2 Ingredients contributing to the natural defenses and proper functioning of the immune system are called adaptogens.
Nexira's solutions
Discover Nexira's Acerola Extracts standardized from 17 to 36% in vitamin C to support the immune system to work properly.
Nexira's Extracts are manufactured in France in our own factory using a gentle process (water extraction and spray-drying in fine powder) to preserve the high content in vitamin C. Discover inavea™ PURE ACACIA: all-natural acacia fiber sourced from carefully selected acacia trees. inavea™ PURE ACACIA has a guaranteed minimum content of 90% soluble dietary fiber.*
Promoting Cognitive Health with Nootropics

Insights
Consumers believe that the best way to address cognitive health problems is to look to prevent them from occurring. As such, consumers are making day-to-day changes to their diet and lifestyle with long-term goals in mind. Functional beverages that improve cognitive functions like focus, memory, attention, reactivity, clarity and creativity are gaining traction. In these functional drinks, ingredients enhancing cognitive health are referred as nootropics.
Nexira's solutions
Widely used in traditional Chinese medicine for its nootropic properties, Ginseng Extract can be used for enhancement of mental capacities in case of weakness and loss of concentration.
Improving Digestive Health with Prebiotics and Dietary Fibers

Insights
57% of consumers want to use beverages as a vehicle for digestive health benefits.3 The phenomenal growth in digestive health interest will continue to drive demand for functional beverages featuring prebiotics and dietary fibers.
Nexira's solutions
For enhanced digestive health Nexira offers its unique and sustainable inavea™ range. inavea™ PURE ACACIA and inavea™ BAOBAB ACACIA are carbon neutral prebiotics for healthy lifestyle. Synergistic formulation with Baobab & Acacia, two African treasures, look at inavea™ BAOBAB ACACIA for proven prebiotic effects on flora balance & gut comfort at 5g/day.
Functional Beverages Targeting Weight Management Benefit

Insights
Weight loss and management is the most common benefit sought from food.4
Nexira's solutions
Cactinea™ is a weight management ingredient derived from the cactus fruit of Opuntia ficus-indica, called prickly pear. Look at Cactinea™ and learn more about its unrivaled detox properties! Cactinea™ helps to eliminate water and preserves body cells from oxidative stress.
Interested in more?
Get in touch with our team ⤵️
Develop Innovative Functional Drinks with Nexira's Expertise
Supported with more than 125 years of experience in natural and innovative best-in class ingredients, Nexira's raw materials are carefully selected and gently processed to fulfill your needs (solubility, clarity, taste, color).
Focused on food safety, Nexira's Quality Assurance Policy complies with the most stringent international regulatory standards such as FSSC 22000, ECOCERT, National Organic Program, Non-GMO Project verified, Sedex…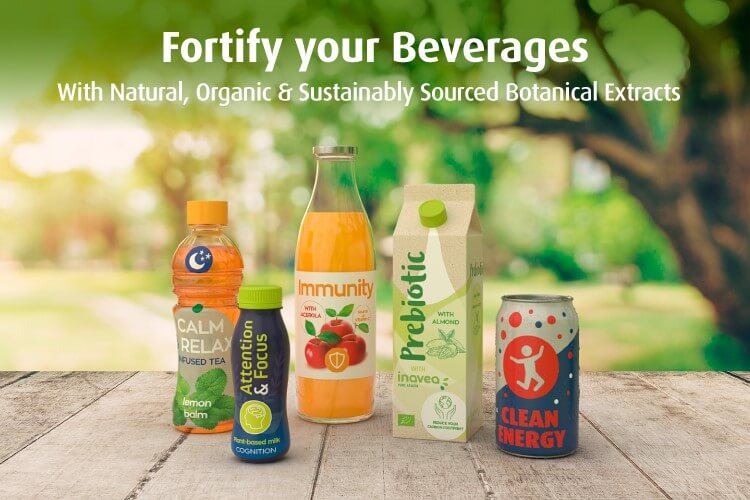 Depending on your needs, our experts will provide you personalized solutions: whether it is hibiscus for its unique color, baobab superfood for its fruity, tangy taste, acacia for its natural fiber*, or Grape extracts for their exceptional antioxidant properties, and so on!
Last but not least: by experience, we know functional beverages can sometimes be challenging to solubilize due to the presence of insoluble compounds. If you are looking for technical solutions to texturize, emulsify or stabilize; Nexira can help! With its deep expertise in hydrocolloids, Nexira has the natural and ideal solution meeting your needs.

---
References

[1]: FMCG GURUS: Top Ten Trends for 2021
[2]: Innova
[3]: Global Data (link)
[4]: IFIC – 2021 Food & Health Survey (link)
*To be checked according to local regulations
This communication is not intended to the final consumer. It provides scientific information for professionals only. Communications to the final consumer have to be checked according to local regulations in force, since the conditions of use are beyond our control.
This statement has not been evaluated by the FDA. This product is not intended to diagnose, treat, cure, or prevent any disease.