New Investments in Active Nutrition with Acacia Fiber
With more than a $10 million investment, Nexira's main industrial site benefits from a new production capacity of acacia fiber, in line with its strategic focus on the ever-expanding nutritional and health markets.
Nexira announced today that its acacia processing capacity has increased by more than 20% at its French site. The plant, located in Normandy, can produce more acacia fiber to meet the rapidly growing global demand for nutritional ingredients.
Huge Investment on Nexira's Industrial Facilities
Nexira has made an investment of more than $10 million on its industrial facilities, including a new spray dryer to enhance productivity and energy performance.
« With these investments, we are significantly increasing our production capabilities, while pursuing a strategic focus on the health and nutrition markets and reducing our carbon footprint. We are confirming our leadership in acacia with a market share of over 40% and are further accelerating our diversification by adding new natural and organic ingredients to our portfolio. The growing market of nutritional products is boosting the demand on acacia fiber, particularly in the United States. It has been heightened by the Food and Drug Administration's recent decision to grant dietary fiber status to acacia, following the citizen petition supported by Nexira. Our new production capacities will allow us to meet this demand not only for acacia fiber but also other natural ingredients; we have additional long-term plans for production in the U.S. to better serve our customers on the North American continent », states Mathieu Dondain, General Manager Development of Nexira.
Nutritional Line to Fill the Fiber Gap with Acacia Fiber
The World Health Organization [WHO] asserts that dietary fiber intake should be 25-30g/day for a healthy lifestyle. The advantages of a diet rich in fiber relates to the digestive process and a healthier intestinal tract. Fiber consumption can enable additional positive health activities including colonic fermentation stimulation, reduction of cholesterolemia and reduction of postprandial glycaemia [European Commission, Regulation [EU] n°2016/854].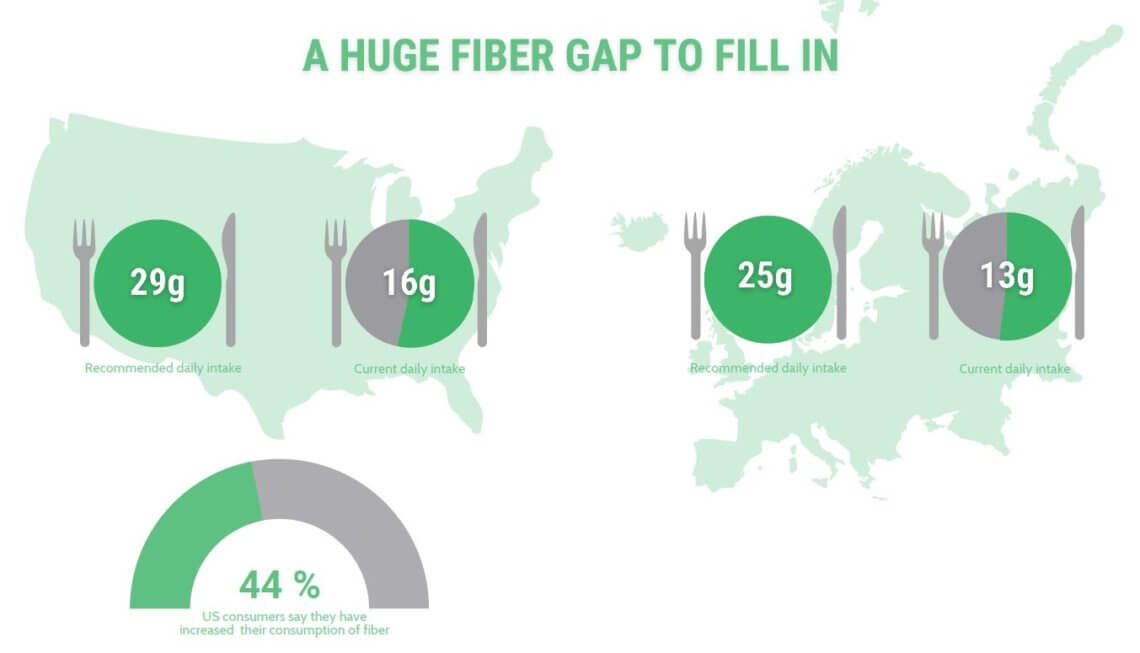 Pioneer in scientific research on the nutritional benefits of acacia as a native source of soluble dietary fiber, Nexira offers the perfect acacia fiber: Clean label, FODMAP-friendly certified, natural, organic and even carbon neutral. Nexira's acacia fiber is also easy-to-use in a large array of applications.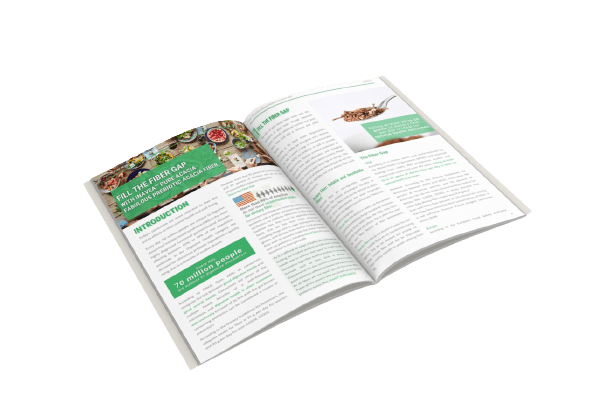 NEW White Paper – Fill the Fiber Gap with inavea™ PURE ACACIA, Fabulous Prebiotic Acacia Fiber
What's in it?
Market Demand to Fill the Fiber Gap
Acacia Fiber Approved in USA
Easy-to-Use in High-Fiber Fortified Products
Clean-label, Organic
The First Carbon Neutral Ingredient
Strong Proprietary Scientific Support for Health Benefits
inavea™, the Fabulous Prebiotic Acacia Fiber
With a minimum of 90% fiber content guaranteed, inavea™ PURE ACACIA is the ideal clean label ingredient for fiber fortification; it's certified FODMAP-friendly, and has proven prebiotic effects. inavea™ acacia fiber is used to enrich food and beverage recipes with dietary fiber, or to add a prebiotic claim. Thus, inavea™ is a particularly appropriate ingredient for use in the expanding markets for functional beverages, nutritional powders, healthy snack bars or supplements that promote gut health. In addition, inavea™ is carbon neutral, responding to the growing demand from eco-conscious consumers.
Following the various scientific studies conducted by Nexira, demonstrating the beneficial physiological effects of acacia fiber on human health, the FDA decided to grant acacia "dietary fiber" status in December 2021. Nexira welcomes this decision for its American customers who use the patented inavea™ and Fibregum™ brands , enabling them to indicate « dietary fiber » on their labels.
New Clinical Results to be Released At Vitafoods
For more than 40 years, Nexira has been focusing its scientific research on the nutritional and health benefits of acacia fiber, and new clinical results demonstrating the benefits of inavea™ on digestive health will be released soon.
inavea™ PURE ACACIA has been recently evaluated on the predominantly constipated category of IBS people: inavea™ PURE ACACIA has demonstrated its potency in improving constipation for IBS people which is also valuable for occasional constipation in general population.
Come and join us at Vitafoods in Geneva!
👉 Check out the full program of event and schedule a meeting with the team!
Synergistic Baobab & Acacia: the Only Baobab-based Formulation You Can Claim Fiber!
Combining the baobab fruit pulp and the acacia fiber, our ingredient offers a content of 45% dietary fiber. Acacia fiber that you can label as fiber in your nutrition facts, has been recognized as a dietary fiber by the FDA.
inavea™ BAOBAB ACACIA is an all-natural and organic synergistic formulation of Baobab & Acacia with a carbon neutral footprint.
inavea™ BAOBAB ACACIA offers proven prebiotic effects at 5g/d which contribute to the balance of microflora for enhanced digestive health and general well-being. Our study has demonstrated the complementary & significant prebiotic activities of inavea™ BAOBAB ACACIA : decrease of pH, ammonium and bSCFA[1], increase of lactate and SCFA[2]. The study showed the promotion of beneficial bacteria, including the Bifidobacterium spp., and specific bacteria families such as Akkermansiaceae and Christensenellaceae.
Our study has demonstrated a gradual fermentation across the entire intestine, i.e. a full spectrum gut fermentation. inavea™ BAOBAB ACACIA is suitable for a low FODMAP diet.
Need more information?

---
This communication is not intended to the final consumer. It provides scientific information for professionals only. Communications to the final consumer have to be checked according to local regulations in force, since the conditions of use are beyond our control. This statement has not been evaluated by the FDA. This product is not intended to diagnose, treat, cure, or prevent any disease.