Why Is Acacia Gum The Perfect Solution For Food Applications?
Natural formulation is a high priority for consumers and is associated with a variety of benefits. Consumers want maximum transparency over the ingredients that are in the food and drink that they purchase. This is driving demand for simplified nutritional information and innovative ways of communicating formulation information, as well as free from claims, understandable ingredient lists and story-based communications.
69% of global consumers say it is important that food and drink products are 100% natural.1
Natural products are perceived as healthier for 65% of consumers, better for the environment for 60%, safer for 57% and tastier for 34%.2
Acacia Gum: All-Natural & Performing Solution For Optimal Sensorial Food Performance
Sensorial experience is becoming more important for consumers. Although taste is still king, they also value texture, color and visual appeal in general.
Carefully selected from the acacia tree, acacia gum is a dried exudate from the stem and branches of Acacia Senegal or Acacia Seyal trees found in the acacia gum belt in Africa. Acacia gum is 100% plant-based and natural.
It is minimally processed, free from artificial colors and flavors. The manufacturing steps go from raw material to ingredient make use of no chemicals and have been around for centuries: dissolution in water, filtration, centrifugation, pasteurization & atomization.
Acacia gum has many natural and intrinsic technological properties. It is available in organic grade.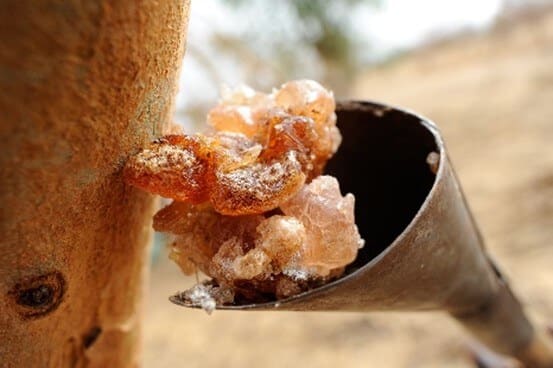 Acacia gum is largely used in Food & Beverages as:
Carrier for encapsulation,
Stabilizer for colloidal systems,
Texturizer in sugar and polyol mediums,
Binder for sugar & polyol compressed products,
Emulsifier for oil in water emulsions,
Nutritional and healthy ingredient for fiber enrichment* and prebiotic effect, contributing to enhanced digestive health and general well-being.
Acacia Gum: A Multifunctional African Treasure For A Large Range Of Food Applications
Aroma, Flavors and Colors
With enhanced emulsifying properties, acacia gum is the all-natural ingredient of choice for stabilization and the most efficient when it comes to protecting liposoluble liquid products with encapsulation. Sensitive products are protected from external factors and enjoy an extended shelf life.
Bakery
In Bakery, acacia gum is particularly used for moisture regulation, which will play a major role for preservation and optimized shelf-life. Acacia gum stabilizes the texture on storage, which avoids hardening or softening and avoids the sticking effect on the packaging thanks its superior water regulation properties. This also allows an improved water retention over the shelf-life, thereby bringing freshness and chewiness over a longer period of time.
Beverages
Emulsifiers have always played a key role in providing the sensorial experience consumers want. With our range of high-quality acacia gum emulsifiers Instantgum™, Eficacia™, Superstab™ and Efistab™, Nexira is well-positioned to meet this demand.
Confectionery
In Confectionery, acacia gum prevents recrystallization of polyols, reduces hygroscopicity. It also avoids the stickiness of the candy to the wrapping paper… and to the teeth!
Dairy and Dairy Alternatives
In Dairy, acacia gum helps to preserve the creaminess, while reducing the fat content of your products, making it the perfect answer for healthier high-quality products.
In Dairy Alternatives as well as in Plant-Based Drinks, acacia gum builds texture and mouthfeel. It also contributes to emulsify and stabilize fat and suspend insoluble particles (pulp, minerals, proteins, etc.).
Acacia fiber is well-known in Dairy for fiber fortification and its prebiotic properties, which can be associated with probiotics for a symbiotic formulation! 
Meat, Sauces and Dressings
The exceptional emulsifying properties of acacia gum will enable you to create creamy, silky sauces and dressings.
Oenology
Acacia gum is ideal to meet many of your needs in the field of Oenology, including color and flavor enhancement, stabilization and the reduction of astringency.
Snacks & Cereals
Acacia is an excellent solution both easy-to-use, highly effective, organic and natural for convenient and healthy on-the-go snack options. Acacia gum plays a unique role as a binding and texturing agent. With its binding properties, acacia gum keeps all of the ingredients bound together without making the finished product sticky. It improves the processability and profitability. It also improves texture, extends shelf life and enhances the nutritional profile of your snacks and cereal products.
Pet Food and Feed
The functional and technological properties of acacia gum do not stop at Human Food; all the acacia gum benefits can be applied to Animal Food & Feeds.

Go Nuts: Why Choosing Nexira's Acacia Gum?
Inspired by Nature since 1895, Nexira built its reputation as world leader in acacia gum. With more than 125 years of experience, Nexira has established a wide expertise in hydrocolloids. Nexira has developed natural and organic solutions based on acacia gum, specifically designed for Food and Beverage.
Our acacia gum is carefully selected to match your criteria. Depending on the application, we will recommend you acacia Senegal or acacia Seyal for their unique intrinsic properties.
If you are looking for technical-backed ingredients that can help optimize or solve your formulation challenges with clean-label options, our technical team can deliver tailor-made support.
---

[1]: FMCG GURUS: Top Ten Trends for 2021, December 2020
[2]: Innova Survey 2019
*Dietary fiber status must be checked according to local regulations.
This communication is not intended to the final consumer. It provides scientific information for professionals only. Communications to the final consumer have to be checked according to local regulations in force, since the conditions of use are beyond our control.